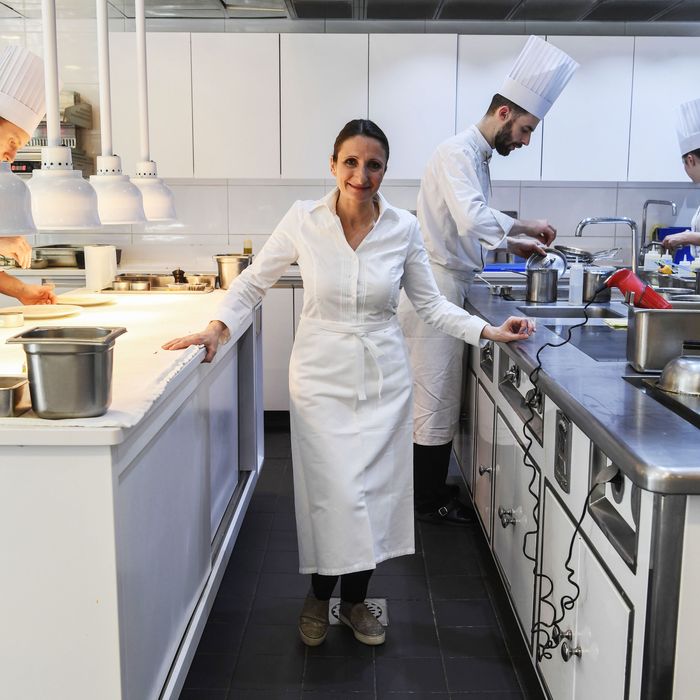 The featured chefs include Anne-Sophie Pic.
Photo: Philippe Desmazes/AFP/Getty Images
Netflix will add another plate to its dinner table. Today, the streaming giant announced that it will debut a new food show this fall called The Final Table. Billed as a global culinary competition show (Top Chef meets No Reservations?), it will be hosted by Bon Appétit editor-at-large Andrew Knowlton, who spent eight years as the magazine's restaurants editor.
For the show, 12 teams of two chefs will cook the national dishes of Brazil, England, France, India, Italy, Japan, Mexico, Spain, and the U.S. The lineup of countries does lean heavily toward Western Europe; there's nowhere in Africa, the Caribbean, or Central Asia represented. Every episode will focus on a different country, with celebrities, food critics, and the individual deemed "the country's greatest chef" judging the hopefuls. Speaking of chefs, they've recruited some big names to come along for the ride: Grant Achatz for the home team, France's Anne-Sophie Pic, Brazil's Helena Rizzo, England's Clare Smyth, India's Vineet Bhatia, Japan's Yoshihiro Narisawa, Mexico's Enrique Olvera, Spain's Andoni Aduriz, and Italy's Carlo Cracco. For the last episode, the last team will join the nine big-name chefs.
Knowlton isn't the only big name from food media involved. The Final Table was created and will be executive-produced by MasterChef producer Robin Ashbrook and MasterChef co-executive producer Yasmin Shackleton. The show is more proof that Netflix is investing in robust food programming, and isn't the only new food show it will release this fall. Samin Nosrat's Salt, Fat, Acid, Heat is also due to hit computer screens everywhere this October.