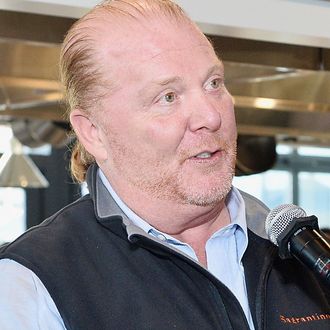 Mario Batali.
Photo: Stefanie Keenan/Getty Images for Eataly
In May, the owners of Batali & Bastianich Hospitality Group declared in a statement that they intended to fully buy out co-founder Mario Batali by July 1. The timing of this announcement was not random: It came the day after a 60 Minutes report that included two more allegations against Batali — adding to many others — by women who say he drugged and raped them. (The NYPD opened an investigation into one of the two claims, which was reported to the police by the victim.) "Our partnership with Mr. Batali is ending," the statement read. As of August 14, it has not ended.
While B&B responded to a report on television's most influential news program with strong words and a hard date, the company has been coy and vague on details since. A company spokesperson confirmed to Grub in late July that Batali had not been bought out and that the process was taking more time than initially expected. When asked about a new timeline, the response was that answers have been difficult to get during people's summer vacations. Asked again about the timeline and for the reasons behind the delay, the spokesperson offered only that a deal is expected very soon and that the cause is the complex process of divesting from so many restaurants. Presumably, B&B was aware of the number of restaurants involved before announcing the buyout or the July 1 date.
The public announcement of the date of Batali's exit from the company is noteworthy because, for some, the declaration that he would no longer run his restaurants assuaged any potential guilt diners may have felt about supporting the businesses. It's disappointing then, but hardly surprising, that the people who run the restaurants are now less than forthcoming about when his involvement with the group will actually end.