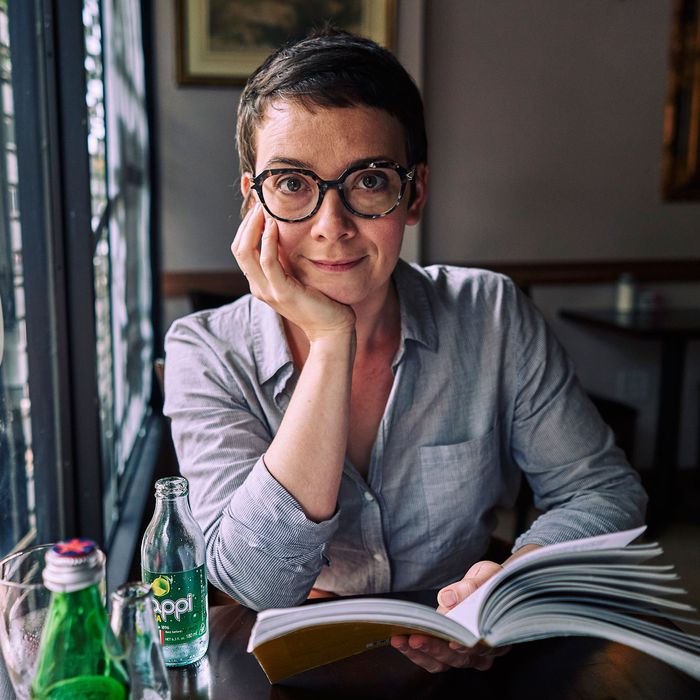 "All the guys are from different parts of Europe. There's a looseness. Often, I'll get offered a shot of Fernet at 1 p.m. from the owner — just because he feels like it."
Photo: An Rong Xu
In many ways, Ops in Bushwick is the perfect neighborhood restaurant: welcoming and relaxed, with an undeniable sense of understated panache. One reason for that is Marie Tribouilloy, a co-owner who hails from France, where her parents taught her that "you don't need money to live a good life." Here in New York, that sensibility translates to (affordable) rituals like Thursdays at her local "simple and honest" European café and Fridays at Joe Jr., beer on the Williamsburg bridge, and nights out split among dosas at the Ganesh Temple Canteen, drinks at an Irish pub, and a nightcap of Asian-American desserts. Read all about it in this week's Grub Street Diet.
Thursday, July 26
I'm not big on breakfast, and am very rarely hungry until midday. This spring when I was home in France, my Chinese-medicine practitioner told me that I anticipate too much and that my liver needed help. No coffee. Since we opened the restaurant, I've seriously limited my intake to avoid high anxiety later in the day. I'm on a "one coffee a week" regimen.
It was my day off, so I had a late-morning outing at my little coffee shop Amma Café. The owner is Albanian. It's a simple and honest European place. They have a fridge with cute little sodas and beers, ten seats, two large TV screens, and you'll most likely have a good conversation with an older local. I read there, or watch National Geographic. There's barely anybody in there, so they'll put on whatever you want. It's where I watched all the World Cup games.
I had an Italian soda, Stappj Gassosa, which tasted like a soft and bubbly lemon juice, that I mixed with San Pellegrino. All the guys are from different parts of Europe. There's a looseness. Often, I'll get offered a shot of Fernet at 1 p.m. from the owner — just because he feels like it.
At home, I made myself Japanese brown rice, which my rice cooker will consistently deliver. I put it in a beautiful small bowl that a friend, Kate, gave me. I topped that with bonito flakes, dried shiso, soy sauce, and canned tuna from France — the one my mom always gets. There is something about good canned tuna that drives me crazy, like Hobbes in the comics.
In the afternoon, I met my friend Nastacia for a movie at the Alamo Drafthouse, where she works. During it, I was told that a produce delivery never came to the restaurant, so as soon as the credits rolled, I rushed to Whole Foods to buy fancy radicchio.
After dropping the stuff off at Ops, I poured myself a half-glass of a natural red wine from Spain at the restaurant. My partner, Mike Fadem, asked what my plans were. Usually when Mike has asked that, it means he has some kind of master plan you may or may not be included in, depending on what you are doing then, and which most likely involves food. It turned out that our friend Josh was in town and they planned to have a bar snack at Momofuku Ko before his flight back to San Francisco. I said yes to that!
Josh imports wine. When we met him he was already at work on a delicious bottle of Italian wine. We ordered a few snacks, including the cold fried chicken leg that tasted surprisingly good and a bowl of jasmine rice with tiny little flakes of nori that made me change my mind about rice needing moisture.
We parted ways, and I decided to walk back to Brooklyn. On the Williamsburg Bridge, I ran into two Ops regulars. They were living the good New York life, eating pizza and drinking beer, and I joined and chugged a Corona as the sun set and the orange moon rose above the luxury condos. I dragged them along to go to Diner, where the party was. An artist had covered the building with colorful fabric patchworks and food was cooked on a large grill outside. We ordered a bottle of a French red and ate grilled corn served with a jalapeño aïoli, and it was all perfect.
Friday, July 27
Friday was market day. I woke up earlyish and took the L to Third Avenue. Like most Fridays, I grabbed breakfast at Joe Jr.
It is both a blessing and a curse to be dangerously aware of the quality of ingredients used in restaurants. It's a challenge to not become dogmatic about it because, Jesus Christ, the amount of crap in most food these days.
Joe Jr. is an old diner, the kind you see in Jim Jarmusch movies, and they definitely use some lowish-quality ingredients, but the love and care they put into it are enough reasons to go. Alberto got me a fresh orange juice as soon as I walked in; he's one of the best servers I've ever met. Jose knows how to cook the eggs. I don't order food if he's not behind the grill. He was, so I ordered a soft-scramble with grilled onions and avocado, and had a good conversation with a regular. (He is the owner of a nearby Italian restaurant.) Joe Jr. has a lot of wonderful regulars.
There aren't diners in France, so I've always liked them; they're unassuming and simple. Everyone is relaxed, whereas I think the culture shock for me was to go to fancier places here and see how unrelaxed everyone is. For my first year or so here, when everything was very confusing, I would go to McDonald's just because I knew how to order stuff.
Back to market day. Union Square Greenmarket is pretty much as good as it gets, and we are in that very special window with all the good stuff. I picked up a couple of orders while snacking on radicchio leaves at Lucky Dog and a shishito pepper at Campo Rosso.
At Ops, I made a family snack of toasted sourdough bread topped with roasted radicchio and a funky, creamy cheese from Rodolphe Le Meunier. I dredged it all in thick and sweet cooking liquids that I'd saved from some early project. I drank a half-glass of a delicious Australian wine.
I had Friday night off, as I usually do, and made plans with my friend Brian, who picked me up at 7 p.m. We headed over to Flushing for Indian food.
Brian is a talented drummer and film composer who is always at work on an interesting documentary. He has the kind of scientific mind that remembers all the specifics. We talked about the Satanic temple and growing up in Connecticut over dinner at the Ganesh Temple Canteen, a humble cafeteria under a large Hindu temple. Our appetizers were vada and idli, both lentil-flour-based plain, savory pastries that tasted great with coconut chutney and sambar. We also got a masala dosa, filled with stewed potatoes; onion and chili uttapam, which remind me of blini and are incredible; and bisi bele, stewed lentils and rice with vegetables.
After, we got a drink at Kelly's Pub, an old Irish bar around the corner. The bartender yelled at this customer and threw him out, but the crowd was so great. There was this Chinese man who was probably 100 years old talking to this Mexican woman at the bar, and a group of five or six older African-American men who were playing reggae on the jukebox.
I had Pastis, of all things. I saw that they had the Pastis de Marseille, which I never have in the States, and miss. So I asked how long it had sat around for because there was almost none left. The bartender told me that the last time someone ordered it was a few months back when a regular who was an Algerian-Frenchman came in. He passed away right after. Which, I was like, That was intense, but it tasted great.
We ended the night at 1 a.m. with a ridiculous dessert at a place called Spot Dessert Bar. Brian got the matcha lava cake. Mine was soft cheesecake and berries in a plant pot, covered with crumbled Oreo cookies (for the dirt), and garnished with a stem of parsley (for the plant). There was also raspberry sorbet. It looked like I ate a high-school planting project. Actually, the whole experience was ridiculous.
Saturday, July 28
I went to the East Village for my martial-arts class called Shorinji Kempo, which is Japanese but inspired by kung fu. I only just started, so I suck at it, but I love it.
I drank a lot of water before and after, and even though I was hungry when I left, it was 12:30 p.m. and all the brunch eaters were out. I walked by Hi-Collar (a wonderful place) and hoped to find a seat, but there were 20 people out front and there are only ten seats. So I gave up and went back to Brooklyn.
At work, I snacked on marinara sauce and sourdough bread. One of our employees, Mallory, also made me a salad of radicchio and gem lettuces, marinated cucumbers, and Sun Gold tomatoes with a ricotta-and-chives dressing. I added my own gomasio, which made the salad all nutty.
I went right home after work. It was so busy, and it was all friends. I knew the entire restaurant, which was really beautiful, but also overwhelmed me.
Sunday, July 29
I went to a new Ridgewood place called the Seneca. It's an all-day café and bar with breakfast tacos, which I love. (I still miss Whirlybird.) I met a friend there, we got all the stuff and left full and happy.
I needed to pick up cucumbers at Norwich Meadows; they have a stand at the Tompkins Square Park Greenmarket. Thia Lay, who's in charge of the stand, gives me a little basket of juicy Sun Golds that I try not to eat all at once. I then went to Superiority Burger to pick up the family meal, a Sunday ritual. I hate routines, but rituals I need, if that makes sense. When I go I talk to them for a while and just hang out. Not necessarily comfortable, but I find it comforting.
The owner, Brooks Headley, was there. I gave him a Sun Gold tomato and he gave me a Sun Gold–tomato salad with okra and basil. A nice little tomato exchange. He also gave me a cucumber salad with some magical green dressing. Superiority Burger is more than just six seats and veggie burgers. The ice cream is some of the best in the city, and there will most likely be a secret special that will blow your mind. The problem is, there are enough regulars who know that, so he will probably be sold out of every special.
After work, I ate a slice of pizza with some wine. I've tried to limit my pizza intake, but it appeared behind the bar and it took too much control to say no.
Monday, July 30
Monday is our prep day, so I headed over around 10 a.m. I made mayo, fresh farmer cheese, beans, beets, chocolate cakes, and by noon I had eaten a bit of it all.
It was just me and Thomas there since the restaurant was closed at night, so I ordered a feast from Guadalajara de Dia Dos, which is the best name: al pastor picaditas, steak tacos, and a chorizo-and-egg torta. It was too much food, but we did well. I don't go to a lot of taquerias around here, really. I go to the truck right by the Myrtle-Wyckoff stop, Guadalajara, and to Santa Ana Deli.
Also, I treated myself with an espresso at Variety, my one coffee.
That night, Mike and I had dinner. We try to have one weekly meal together, usually lunch, but preferably dinner because that means more drinks. We went to Estela; Mike worked there a while ago and it's a regular spot.
I find it hard to explain my relationship to Estela. I'm not exactly into fine dining after experiencing it from the inside, and not very much into the
competitive, individualistic, egocentric, masculine chef culture. But the consistency of the food has blown me away. It's pricey, though, and definitely a treat.
We drank a beautiful Pinot Noir, and ate the shrimp with peas, crab salad, black rice with squid, and monkfish with baked cabbage. They also sent a couple of oysters and an endive salad. Dessert was the milk ice cream, the chocolate cake, and a grappa. Our whole time there felt like a three-hour-long vacation.
I've been friends with Mike for a while, and somehow, after we opened this business where we spend all of our days together, we still have things to talk about. We also spend a good amount of time eating in silence, and that feels great, too.
After, we walked to Il Buco Alimentari for an amaro each. Both made our mouths feel like we ate a bunch of ripe pine needles, very good.