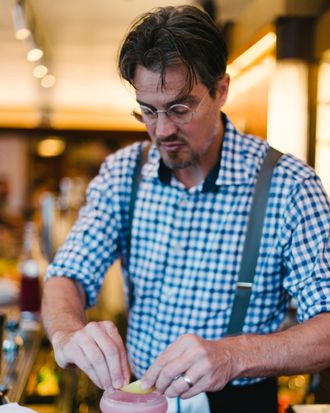 The Long Island Bar's Toby Cecchini.
Photo: M. Cooper
Sometimes it feels like the Long Island Bar is every south-Brooklynite's favorite cocktail bar. Everyone who has been (including Grub Street) tends to be charmed by the high-caliber drinks and the casual, unflashy approach of Toby Cecchini and his partners. It's not surprising then, given the bar's popularity, that Cecchini and co-owner Joel Tompkins are expanding. Early this fall — possibly as soon as late September but likely a little later — Cecchini and Tompkins will open their second bar, at 31 Rockwell Place in Fort Greene.
The two have been working for months on building out the space, which does not yet have a name. Cecchini says they've been calling it Rockwell, and haven't landed on anything final. Either way, they're leaning into the discreetness of the location. It's near Fort Greene Park and BAM Harvey Theater, but the bar's block is one you'd never walk down except to get to somewhere else.
"It's a small, narrow garage space with no storage and no basement. Off of what is literally a service alley that is two blocks long," says Cecchini, who adds the caveat that he was not so enthusiastic about the location. "It has big skylights in it, which won't have much relevance at night when we're open."
They're planning to make the space constraints work to their advantage. The Long Island Bar is tight and focused in its approach, and the team will take that approach even further here. The Long Island Bar's more expansive list of spirits will be reduced to six favorites of each booze, and there will be only a couple of beers on tap. The particulars of the menu haven't been decided; out of necessity, the cocktail list will be even slighter and the food less ambitious. "But we won't pare the experience down," Cecchini says.
New Yorkers who've been around the cocktail block may remember Cecchini's old Chelsea bar Passerby, which also occupied a long, narrow space with skylights. The similarity isn't lost to Cecchini or, apparently, Tompkins. "Here, I am starting virtually the same bar. It's kind of horrifying and a cosmic joke on me," Cecchini says. He himself has wondered if people will want to go to a narrow bar on a service alley, but he's started to come around. "It's like that line about asylum in My Man Godfrey: All you need is a room and the right people."