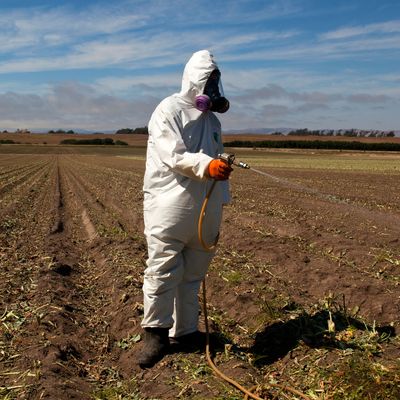 Photo: Andrew Holbrooke/Corbis via Getty Images
Over the weekend, the New York Times published a damning report by journalists Danny Hakim and Eric Lipton about recent changes to the Environmental Protection Agency's policies on the use of academic studies in determining what pesticides should be banned. This year that policy could become an official rule known as Strengthening Transparency in Regulatory Science.
Under this policy — spearheaded by the agency's disgraced former head Scott Pruitt — epidemiological studies of the effects of pesticides and other pollutants on human subjects might be rejected or heavily policed for a lack of "transparency." As it turns out, the STRS rule is heavily favored by major pesticide manufacturers like Monsanto and Dow Chemical. Here's a breakdown of the report and why, as Lipton pointed out on Twitter, it's incredibly important if you happen to like fruits and vegetables.
What is an epidemiological study?
Epidemiological studies are studies that are carried out on human subjects already exposed to a certain disease or chemical in their day-to-day life. The Times report centers around Chamacos, a long-running study of the children of farmworkers in Salinas, California, which has linked their parents' exposure to pesticides to "respiratory complications, developmental disorders and lower I.Q.s." in children. Researchers are increasingly relying on these types of studies rather than animal testing or the more unethical human testing.
Did the EPA previously approve of these studies?
Yes. For decades, the EPA has contributed funding to hundreds of epidemiological studies on the effects of pesticides on humans. But it wasn't until 2015, during the Obama administration, that the EPA finally began using the information from these studies in its policy-making decisions. Carol Christensen, a former EPA epidemiologist, wrote in a 2015 email to a colleague that this was "a watershed event in our Program, and one which I feel particularly proud to be a part [of]."
So, why did the Times get involved?
In 2016, the EPA under the Obama administration determined that the pesticide chlorpyrifos, used on apples, oranges, and strawberries, should be banned following mounting evidence of the "potential adverse neurodevelopmental effects in infants and children as a result of prenatal exposure to chlorpyrifos." Much of this evidence came from epidemiological studies.
But the pesticides industry and its lobbyists protested the proposed ban over the use of the epidemiological studies, saying these types of studies were "prone to a number of biases," and that "the evidence from these studies is insufficient." Lo and behold, when Pruitt took office in 2017, he decided not to ban chlorpyrifos despite EPA researchers' desire to do so. That's when Times reporters started investigating.
Why didn't Pruitt and the pesticides companies trust these studies?
Pruitt and pesticides lobbyists claimed that these studies lacked transparency, or what they called "secret science," and that without more information on the human subjects, these studies couldn't fully be trusted. But as the researchers conducting these studies have pointed out, it's normal for the privacy of study subjects to be protected. In other words, a supposed lack of transparency on their parts is being used as an excuse to disregard their studies.
Has this "secret science" argument been used before?
Funny that you should ask because yes, and by one of the most notorious lobbies out there: the tobacco lobby. As regulators began coming down hard on tobacco companies in the '90s, these companies actively worked to dismiss scientific data showing the dangers of smoking, which they called, wait for it, "secret science."
Well, Pruitt's out, so everything is cool now, right?
Nope. Right now, the Trump administration is mulling a proposal called Strengthening Transparency in Regulatory Science, which would drastically cut the weight of epidemiological studies in determining not only regulations around pesticides, but around air-quality rules and other pollutants as well.
Or as James Kelly, a manager of environmental surveillance at the Minnesota Department of Health, told the Times, "It is a naked attempt to use a false claim that something nefarious is going on with these studies in an effort to allow industry to challenge conclusions that are not in their favor."
What can I do about this?
Not much. The public comment period ended on August 16, 2018. But luckily, a few great organizations, including the Natural Resources Defense Council, the American Lung Association, the Moms Clean Air Force, and the Environmental Defense Fund have stepped in and are actively working to fight the rule.
As for chlorpyrifos: Earlier this month, a federal court ordered the EPA to finalize a ban on it. So, everything isn't complete garbage.