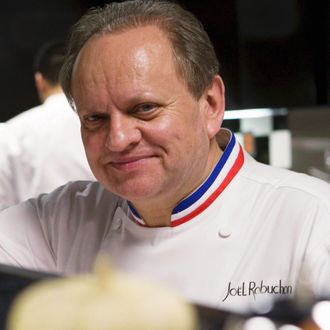 Robuchon, who passed away today at the age of 73.
Photo: Maurice ROUGEMONT/Gamma-Rapho via Getty Images
Long before he ever sent out dishes sporting inch-thick layers of sevruga caviar or tiny morsels of quail stuffed with foie gras, Joël Robuchon was something of a misfit. The acclaimed French chef, who died today at the age of 73, was one of four children who lived in a cramped apartment above a cobbler's shop in a small town. One of his only options for change was to enroll in seminary to become a priest, and he seized it. He was 12.
Robuchon's parents divorced three years later, and in a moment of crisis, the future chef remembered one of the few consoling experiences he'd had — cooking weeknight dinner with the nuns — and made it the basis for a stratospheric, world-changing career.
Even early on, he won awards: After what was by all accounts a grueling kitchen apprenticeship, and still under the age of 20, Robuchon won five competitive medals for his cooking. With the chef and his mentor Jean Delaveyne, Robuchon took a first fateful trip to Japan before returning to helm his first restaurant. At his second, Jamin in Paris, the chef made an unprecedented ascent, from zero Michelin stars in 1981 to three in 1984. He would go on to receive more Michelin stars than any other chef in the world.
The concept of "celebrity chef" can be traced to figures like Paul Bocuse and Roger Vergé. (The latter, in particular, seemed perpetually amused by fame after being "discovered" in 1972 by Shep Gordon, who took a break from managing the likes of Alice Cooper and the Pointer Sisters to promote nouvelle cuisine.) Robuchon never fit in with these chefs. He was too young to qualify for membership in the so-called "Bande à Bocuse," and as his cooking began to gain prominence in the '80s, Robuchon was so private that interviewers weren't even sure whether he was married. At cooking demos, he was discernibly unenthused by the prospect of wearing a lapel mic, even in auditoriums packed with devout fans.
Any reluctance he may have had toward fame, however, was undone when he was named "Chef of the Century" — a truly onerous label. It was bestowed by Gault Millau in 1990, and tellingly, it stuck around for a decade, then into the new century, and beyond. The label was with him when he "retired," Michael Jordan–style, from cooking at the age of 51 to become a cheery TV chef, and in 2003 when he un-retired to open his chain of "Atelier" restaurants.
Perhaps the most startling thing about these chef's counters was that they managed to detach fine dining from any sense of place. For the luxury ingredients that filled out his menu, Robuchon took sourcing to an extreme: Urchin from Hokkaido might touch down in Paris at the same moment spears of white asparagus from Provence hit the Las Vegas tarmac. L'Atelier outposts, which have numbered nearly two dozen around the world, are all decked out in the same handsome black and red visual cues. The rooms are decidedly un-atmospheric, but not airless, because the cooks working just in front of customers are intended to be the most breathtaking aspect.
As such, the cooking rarely disappoints in its presentation. Quenelles of caviar are fixed into pristine dollops of emulsified cauliflower, and gently cooked fish is topped with thickets of precision-cut black-truffle bristles. Like his mentor Delaveyne, Robuchon always borrowed liberally from Japanese tradition. For one of Robuchon's most famous dishes, his chefs "caramelize" slices of Japanese eel in soy sauce and classic veal stock. These are set in a terrine that's padded out with cold-smoked foie gras, and garnished with wisps of savory whipped cream.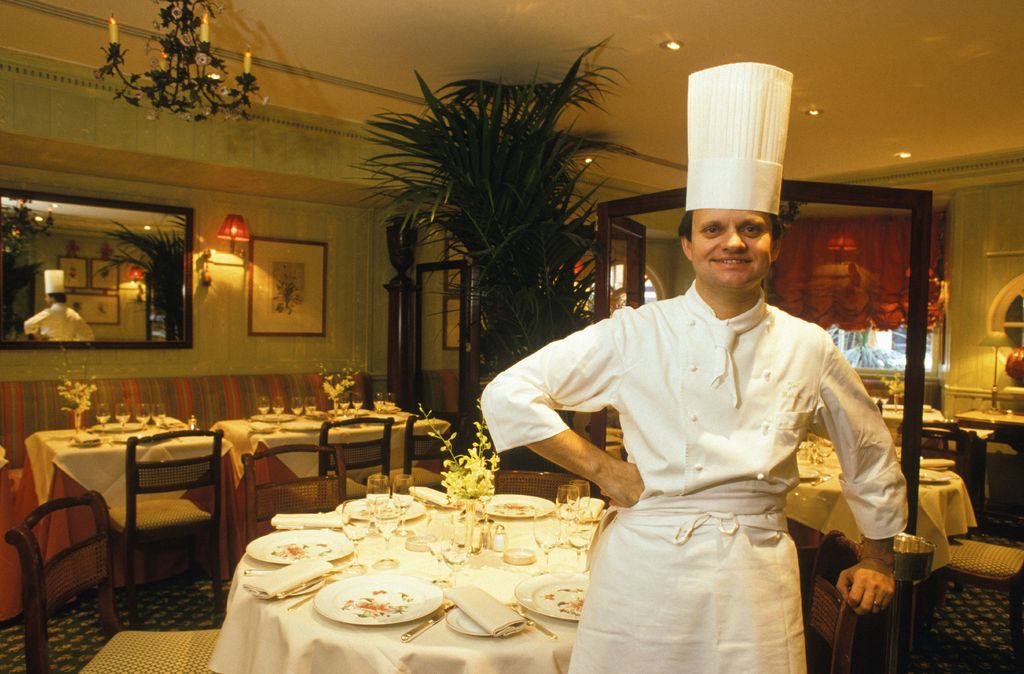 His talent for seamlessly mingling old and new is what made Robuchon's influence so immeasurable. As you have no doubt already read today, his signature recipe will forever be his impossibly exacting pommes purée. But just as "Robuchon potatoes" is shorthand for the particularly silky side dish, the long list of techniques that Robuchon's kitchens introduced over the chef's career has become a kind of lingua franca for line cooks, even if they aren't aware of it. In the 1980s — while working on a project to update meals served by the state-owned French railway service — Robuchon began to use sous-vide cooking, the now-widespread use of preparing proteins in vacuum-sealed bags and slowly cooking then in carefully tempered water baths. That is to say: Robuchon introduced sous-vide to his kitchens decades before the technique was a blip on the radar screens of modernist chefs of the 2000s and beyond.
For cooks interested in becoming great chefs themselves, a stint working for Robuchon could be a demanding but eye-opening experience. Joan Roca of Spain's Celler de Can Roca, a frequent sight atop the "World's 50 Best" restaurant list, spent time under Robuchon, as did Yosuke Suga, Matthew Kirkley, and Tom Aikens. David Bouley spent two crucial months in Jamin's kitchen. And in his 2016 memoir, Le Bernardin's Eric Ripert wrote that he had recurring nightmares about the tiny dots of sauce — 90 in all, of uniform size, spaced equidistantly — that Robuchon required his cooks to put on each plate of lobster salad. Nevertheless, "Joël Robuchon was not violent," Ripert told NPR. "And he was not a screamer." (Later in his career, Robuchon did acknowledge the culture of fear he perpetuated, but insisted that he only ever threw one plate; it contained langoustine ravioli, which had been cooked incorrectly by a young Gordon Ramsay.)
In recent years, Robuchon had continued to embark on a surprising number of new projects. There was a counter in Montreal, and a bakery in Roppongi with foie gras croque madames. This spring, with the sake producer Dassaï, Robuchon opened a deluxe new Paris property that feature 36,000 white luminous tubes suspended from the ceiling. Just last year, he reopened the New York location of L'Atelier. As ever, he seemed aware of the culinary pantheon, but maybe not as sure of his own place within it. "There's so much competition, and these young chefs like Daniel Humm are doing incredible things," he said at the time. "I want to be among them."