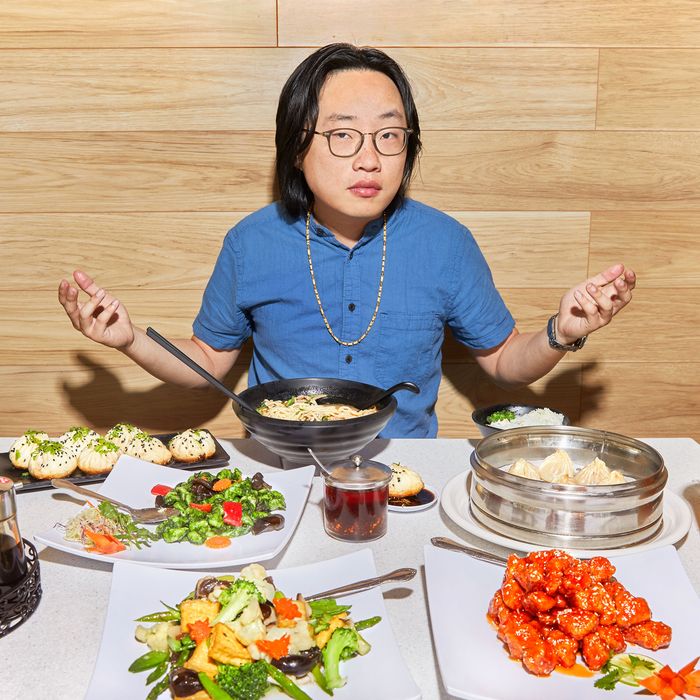 "I would like to say I am single-handedly keeping this place afloat," Jimmy O. Yang jokes of his neighborhood spot Tasty Noodle House.
Photo: Yuri Hasegawa
You know Jimmy O. Yang from Silicon Valley, his stand-up, and his book, How to American. And this week, he's also in the movie that's all anyone is talking about right now: Crazy Rich Asians, Jon M. Chu's adaptation of Kevin Kwan's 2013 book. It's the first studio movie in 25 years to feature an Asian-American lead and all-Asian cast. In it, Yang plays, as he told Vulture, "the fat asshole that throws the bachelor party." The cast has spoken about the movie with intense pride, something Yang's felt even in small ways: It's "made me more comfortable in my Asian foodie-ness," he tells Grub. This week in Los Angeles, he took Kwan to Night + Market Weho, Din Tai Fung, and Tasty Noodle House; ate steamers with his "overly critical Chinese father"; and more. Read all about it in this week's Grub Street Diet.
Thursday August 9
For lunch, my buddy Jeremy and I Postmated tacos from Guisados. It was fun, easy. Usually I just go there, it's close enough, but I had a guy doing work on my house so we couldn't really go nowhere. We got a variety of beef and pork tacos — Jeremy is Jewish, so I got to eat all the pork ones — and they were great. But it loses a little magic when the tacos are steamed en route in the tinfoil container. The normally delicious corn tortillas got a bit soggy.
I was born in Hong Kong and moved to L.A. when I was 13. When everything else is so different, one of the only comforts you find is through food, food you grew up eating in your old country. So I do eat Mexican food often and all kinds of seafood, but I mostly just eat Asian food. I think how maybe American people once in a while have a craving for Chinese food, for me it's the opposite. I like soupy noodle stuff, like rice and authentic Chinese food. A burger is my once-in-a-while craving. It's exotic to me.
Dinner was at Night + Market Weho. It's one of my favorite spots in L.A. I go there quite often, like once or twice a week. Harry Shum Jr., his wife Shelby, and I took Kevin Kwan and his friend David there for their first time. Kevin was in town, and he wanted some good Thai food. We got my favorites: uni fried rice and catfish tamales. Also, the classic pad see ew and a great roast-duck green curry. Kevin approved.
Friday, August 10
I almost never eat breakfast. I think, first of all, it's laziness. I don't wake up that early, if I can.
Also, back in the day and even now, I remember people always said, "Oh, breakfast is the most important meal" and "It's okay to eat as much as you want for breakfast because you're just going to burn it throughout the day." Bullshit. Bullshit! I was in Atlanta shooting a movie and I was just eating, like, three breakfast tacos dipped in biscuit sausage gravy with bacon. I gained, like, 15 pounds on that movie. So, the idea that you can eat as much breakfast as you want? That's bullshit. I was done with breakfast at that point.
So here we were at lunch again. I went to Tasty Noodle House. This place is family, they're a really cool group of people, and it's become my go-to spot. I treat it like my cafeteria. It's not very pricy and I can go there by myself all the time. Also, they give me free dessert.
I got my usual pickled vegetables and pork noodle soup, just like how my parents made it was when I was a kid. Of course, got an order of xiao long bao and they also brought some amazing items from their new menu. The star was the jade shrimp, stir fried and coated in a delicious and healthy spinach glaze with wood-ear mushrooms. It was beautiful and tasted just as good as it looked.
Dinner was at EMC Seafood, it's a great atmosphere for a chill dinner or date in K-Town. I got some raw oysters and my favorite, uni congee. I love it— when it's made right. I love seafood. I mean, Hong Kong has some of the best seafood. One of my favorite things, that I have a hard time finding here, are razor clams. The great thing about America is there's great salmon and sea bass variety. I love eating that, I love that little buttery taste from the flaky sea bass. Salmon sushi, too. That sounds a little unrefined to be like, "Oh I love salmon sushi." But it is great and it's so fresh here. And branzino is really in right now for some reason?
Saturday, August 11
I took my parents to lunch at Connie & Ted's, my favorite seafood restaurant in L.A. We binged on their clam steamers, which are giant and apparently, I don't know the story, handpicked in Rhode Island. We also got the grilled lobster, clam chowder, and, of course, an assortment of fresh oysters.
It's so good, even my overly critical Chinese father approved! He's overly critical about everything, but especially, especially food. Sometimes we'll go to Chinese spots in Monterey Park and with things that aren't great he'll be very vocal about it.
Dinner was at the Din Tai Fung in Glendale. Harry and I hosted Kevin and our Singaporean co-stars. It was ten of us and they don't ever take reservations, so we waited an hour or so. They are serious about having no exceptions: I even dropped Crazy Rich Asians. They didn't budge. This made me suspicious because I called them earlier. I was like, "Eh, can we maybe just get a dinner reservation? We're going to be there on the dot at 8 p.m. and there are ten of us." They were like, "We don't make exceptions but let me ask my manager." So she did ask her manager and so if it was someone else they might've made the exception? But her manager answered back: Absolutely no exceptions!
We need to do an investigation into this. We need to see if Tom Hanks goes there, if they'll give him an exception. 'Cause if you're a Chinese restaurant and you're giving other people exceptions but not Crazy Rich Asians, I've got a problem with that. I'm not saying I'm famous enough for an exception anywhere, but, I mean, come on, man: These are your people! Support the cause. Like, at Tasty Noodle House location in Sawtelle, for example, if you bring in a ticket stub from the movie they'll give you a free drink. That's the local community love that we need.
Whatever, we thoroughly enjoyed the entire menu. It lives up to the hype every time. The xiao long bao, I love the pork-chop fried rice. One of my favorite things is the spicy sauce wontons, those things are really great. Both the vegetable and pork and the shrimp and pork. That's probably my favorite thing, because I then use the spicy sauce to mix into my fried rice. It's the utility play.
Sunday, August 12
Lunch was leftovers from Tasty Noodle House. I gorged on what was left of my jade shrimp with white rice. Almost just as good. Great reheat value. So, sometimes I order a lot knowing I'll take it home.
Reheat value is a real thing. We don't talk about it enough. Certain cuisines have much better reheat value: Chinese food has one of the best reheat values, but not dumplings and noodles, those are hard to reheat. Pastas have an okay reheat value. A piece of steak or salmon? That has no reheat value. Sushi is probably going to go bad. So I'm mindful, especially because I rarely cook, so I like to have some leftovers.
It was a Tasty Noodle House dinner, too. Yes, I went there again. We took over the place with the 15 of us. It's a different dynamic with a big group. The whole menu opens up — you get to order everything, and we literally ordered everything. Namely, three orders of xiao long bao, stir-fried lamb, and, of course, two orders of jade shrimp. We got the classic tang yuan, round dough filled with sweet sesame, swimming in a dessert-wine soup. I used to make this with my mom growing up in Hong Kong.
I would like to say I am single-handedly keeping this place afloat. No, I'm joking. They do fine business. But I feel a responsibility because it's Shanghainese food and my parents are from Shanghai. That's what I grew up eating and it's very comforting to me.
I just think it's so underrated, I don't know why. First of all, I love it. But second of all, I make it a responsibility whenever I have a meeting or a group thing, I always go to Tasty Noodle House. That is seriously the only legit Chinese place around my neighborhood. If it ever closes down I might have to move.
Monday, August 13
Lunch was at Pho Saigon Pearl. It's a local for me that's a great chill spot with some great noodles. Got the phofax special, pho with rare filet and meatballs, but skipped the tendon, I was never a fan. I grew up eating it. I love tripe, pig intestines, and all that. I just don't like the texture of tendon. It's kinda gelatinous but soft and chewy at the same time, and very slippery. It's the ultimate test of the chopstick skills.
Pho is great. I used to eat a lot more ramen, then I realized it's so heavy, so I switched over to pho. And talk about reheat value! You ever put ramen in the fridge? You can't really reheat ramen. You try to just reheat the broth, but it's congealed, man. It's like, "Oh my god, this is what I'm putting in my body?"
Dinner was at Loteria. I really couldn't decide on what to eat, so I went to the Farmers' Market at Grove. Then eureka! I remembered Loteria, great Mexican food inside the farmers' market. I usually get the verde enchiladas but I thought I'd try something different this time. So I got the mole poblano enchiladas — not too different. Enchiladas are just so comforting. They're the first thing I order at a Mexican restaurant. The mole poblano was good, it's hearty and a little chocolate-y, but I think I prefer the green ones better. The tomatillo-y, lime-ish flavor mixed with the rice and chicken, it's just so comforting.