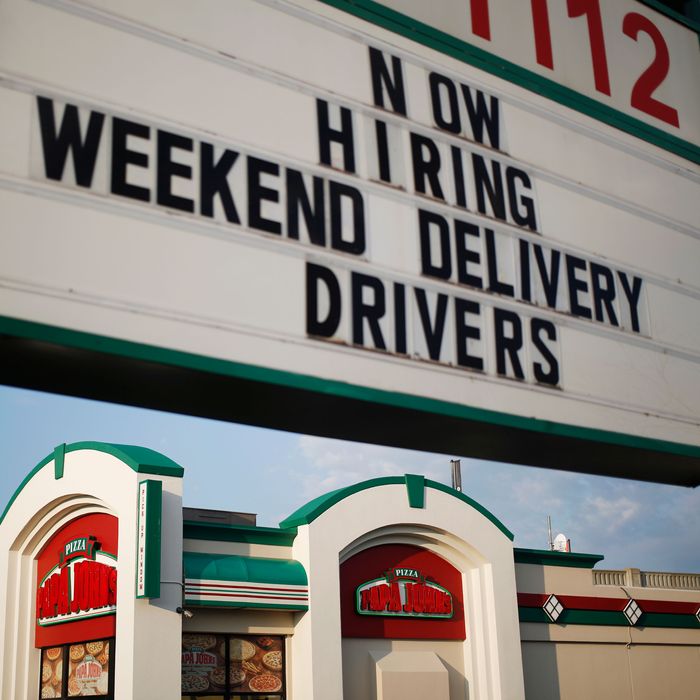 No amount of garlic sauce can clean up this mess.
Photo: Luke Sharrett/Bloomberg via Getty Images
The very public fight between Papa John's executives and disgraced founder John Schnatter will go down in history as one of the world's all-time greatest corporate shitshows. The pizza mogul resigned in July after admitting that he'd said the N-word on a conference call. He's since come to regret departing, sued his own company, claimed the marketing agency for Papa John's blackmailed him for $6 million, and most recently, laid out a conspiracy involving "detailed evidence of sexual misconduct, harassment, and intimidation by virtually everyone in [new CEO Steve Ritchie's] inner circle," including an IT-department affair that allowed for "[secret] access" to a memo demanding the board fire Ritchie. In the communiqués Schnatter posts to the site he set up, SavePapaJohns.com, the founder has become Ritchie's biggest detractor: "Right now, he's blaming me," Schnatter warns in one. "Tomorrow, it might be you. It will never, however, be Steve's responsibility."
But the constant back-and-forth between two wealthy businessmen is, frankly, tiresome — like an incredibly low-stakes episode of Succession. Reputations aside, they'll both be fine in the long run, even if some egos get bruised in the process. Instead, the people this fight most affects might very well be the people who own Papa John's franchises, and the workers who must interact with customers that are increasingly aware of the company's problems.
Grub Street spoke with about a dozen Papa John's owners and workers. Most say any changes that corporate has made in the wake of Schnatter's departure are largely cosmetic. The founder's face was removed from pizza boxes, and a week ago executives outlined plans to hire more minorities as well as launch companywide unconscious-bias training. But the people who spoke to Grub say these moves don't go far enough to address the problems that continue to plague the chain.
"Culture has remained the same within the store," an assistant manager from the Midwest says, "the only notable change being the removal of anything relating to John." His franchise is doing what employees in the Midwest, mid-Atlantic, and South all said their stores are doing: "We've been told to express how much our store is franchise-based, ergo locally owned and operated."
Indeed, all of the franchise workers Grub spoke with stressed their locations' autonomy. "We share name and product — nothing else," as a Virginia assistant manager for PJ United, Papa John's largest franchisee, puts it. There are currently 3,400 Papa John's locations in North America, and a full 80 percent are franchises. Opening one requires a $25,000 initial fee and $250,000 — comparatively low upfront costs that have made the chain a hit with aspiring small-business owners. (For example, it requires more than $1 million in capital to start a McDonald's or Taco Bell). To help encourage continued franchising, Papa John's has waived some royalty fees, but the company's income for the quarter ending in August was still only $11.7 million, down from $24.1 million last year.
The company might have even more trouble convincing new franchisees to sign on. In addition to the financial hit, morale inside the stores is alarmingly low. "Three other managers and I all quit together," says one three-year veteran of an Alabama franchise. He tells Grub that the list of reasons to quit had been mounting for a while, "but the reaction to Papa John using the N-word was it. I couldn't do it anymore after that."
Several employees confirmed that they continue to work in atmospheres where casual racism and vulgar humor go unpunished (a fact that remains alarmingly common in the fast-food industry). In an online forum asking colleagues for positive news, one worker in the Pacific Northwest replied, "I didn't get called the N-word by the manager at my store like I usually do, so that's a plus." Another employee told Grub it felt cathartic ripping a giant Schnatter poster down ("I heard stories about him for years"), but sex jokes made by male colleagues at her store are still a regular occurrence. A delivery driver notes that his own workday now generally includes abuse from passersby. "I get yelled at, and my car gets spit on," he explains. Adds another, more bleakly: "I'm actively looking for a new job because this culture is so toxic. I love what I do, but everything I do makes some rich fuck a little bit richer."
It doesn't help that stores' turnover rates and sales figures are equally disheartening. A lead shift manager at a Midwest franchise says sales have dropped 27 percent since the very public corporate feud began, after three years of "steady" increases. He also says that new hires rarely last beyond two months. "The change is really notable at my store, as it's the busiest store in my state," he explains, adding that work hours have taken a hit. "I've also noticed a decline in drivers' tips, be it amounts, or more stiffs than usual."
One driver in South Carolina says he delivers half the number of pizzas he used to; a four-hour "rush" shift may now only involve six or eight orders. Franchises in urban areas have reported sales declines of over 30 percent, and the company itself has admitted that two important demographics — people under 35, and African-American customers — are fleeing in droves. (Internal data shows "widespread" uninstallation of the Papa John's mobile app by both groups.) One crisis-management expert labeled the ongoing struggle, and the resulting press coverage, "public-relations brand suicide."
For every handful of angry workers, though, some employees are loathe to admit that the scandal has actually helped sales. "I live in a conservative area," said one delivery driver in suburban Louisville, Papa John's hometown. "Our sales are up, and I'm actually getting larger tips than I used to." Another worker in a Southern state says his store pulled in record sales for five of the past six weeks, right after the news about Schnatter first broke and #PapaJohnDidNothingWrong started trending on Twitter.
Publicly, Ritchie says efforts are underway to diversify the entire company's culture, and workers hear that forthcoming ads will prominently feature "people of color who work for our company." But employees wonder if that will go far enough to solve any issues, or if it's time for Papa John's to actually rebuild from scratch.