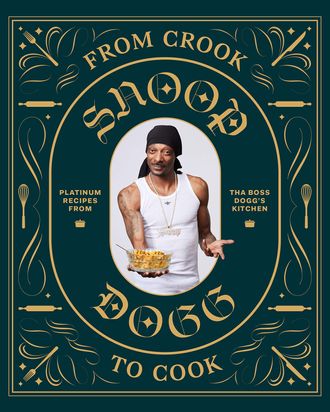 Snoop Dogg has never been one to do what's expected of him, whether that's briefly changing his name to Snoop Lion or co-hosting a cooking show with his good friend Martha Stewart.
Now, the rapper is entering the cookbook game. The Guardian reports that on October 23, Snoop Dogg will publish his first cookbook, entitled From Crook to Cook. Recipes in the book will include lobster thermidor, easy orange chicken, fried bologna sandwiches, a gin-and-juice cocktail, waffles, and other "snacks to satisfy those munchies," according to publisher Chronicle Books.
In his own statement, Snoop says, "I'm takin' the cookbook game higher with a dipped and whipped collection of my favorite recipes, ya dig?" The California rapper famously collaborated with Martha Stewart on Martha & Snoop's Potluck Dinner Party, which premiered on VH1 in November 2016, and earned the unlikely duo an Emmy nomination in 2017.