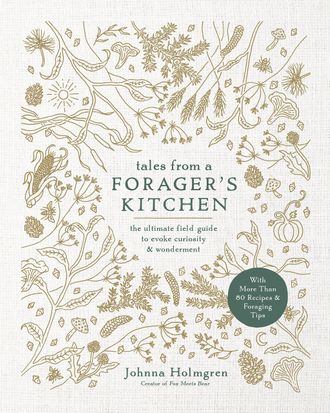 Photo: Courtesy of Rodale Books
Rodale Books has pulled an Instagram influencer's foraging cookbook, after criticism that some of the recipes could make people sick. In a statement, Rodale says that it and author Johnna Holmgren, who runs the whimsical lifestyle account Fox Meets Bear, have ended "publication and promotion of" Tales from a Forager's Kitchen, offered refunds for customers, and asked "retailers to return their stock."
Holmgren's book was criticized for recipes involving unsafe ingredients, and she initially defended it to BuzzFeed News as for "adventurous eaters." These ingredients include raw, peeled acorns, which are not dangerous but are inedibly bitter if you don't leech them; raw elderberries, which contain a compound called glycosides that can make people sick; and, most significantly, raw morels, which can cause nausea and vomiting and contain difficult-to-digest chitin.
The use of foraged morels is more alarming because foraging for mushrooms as an amateur is like playing Russian roulette on the forest floor. Morels can be confused for false morels, another mushroom that contains the toxic compound gyromitrin. Grub's expert advice: unless you know what you're doing, forage for mushrooms at your Whole Foods or something.
Others simply criticized the book for its, well, culinary quality, as one recipe for "Minnesota Wild Rice French Toast" instructs the readers to just soak and not cook the rice — which seems, obviously, like a recipe for disaster. Holmgren also posted the statement to her website, and has not posted to her frequently updated Instagram account since August 5. A book event in her hometown of Minneapolis at Foundry Home Goods was also canceled, though the shop's manager told BuzzFeed it was because of a scheduling conflict.