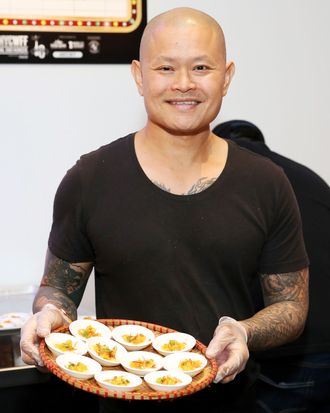 John Nguyen.
Photo: Monica Schipper/Getty Images
Bad news for New Yorkers who love pho: Chef John Nguyen has left Hanoi House, the East Village restaurant that's been called (by Grub Street, and others) the best Vietnamese restaurant in New York. Unfortunately, this doesn't mean he's going to open another Vietnamese restaurant in the five boroughs. In an email sent this morning, Nguyen writes that he is leaving New York for Hong Kong to work for the Black Sheep Restaurants group.
"Before I took the job in NYC, I was living in Chengdu for a year. My heart was always back in Asia. I went here to be here for one year, and one year became almost two years. I decided it was time for me to go back," Nguyen tells Grub over the phone. He says he'll first join one of Black Sheep's existing restaurants (which is to be determined) so he can get used to working in Hong Kong. "Then they are going to develop a new restaurant with me."
Opened last January by two alums of Stephen Starr's restaurant group, Ben Lowell and Sara Leveen, Hanoi House instantly became 2017's biggest sleeper hit. Adam Platt named it his fifth best restaurant of the year, Eater named Nguyen its chef of the year, and the New York Times' Ligaya Mishan gave it a NYT Critic's Pick.
The restaurant has been consistently packed since its early days, not just because Nguyen's cooking is ambitious and high quality but because it's also a fresh take in a city where good Vietnamese food is hard to come by. The chef grew up in California, and told Grub he didn't want his food to remind people so much of Vietnam but, instead, of his native Orange County. While the pho was Hanoi-style and some of New York's tastiest, the chef also cooks morning glory in brown-butter fish sauce, fried frogs' legs in Cajun rice batter, and makes shaking steak and eggs for brunch.
"We are very sad to see Chef John go. I'm so glad we had one-and-half years together build Hanoi House. Since he started, Hong Kong has been pulling on the back of his shirt!" Leveen wrote to Grub. "Our sous chefs Daniel Le and Albert Nguyen are taking over. They're awesome and we won't skip a beat."
Still, this is a big loss for New York's restaurant scene. Nguyen, though, says he could return in a more limited capacity. He says that he, Lowell, and Leveen remain on good terms, and that they talked on Tuesday.
"We might do a future project together. I would come back to consult for Ben and Sarah," he says. "But aside from that I cannot imagine myself living here for more than six months. And the winter is coming. And I don't like winter here in New York."