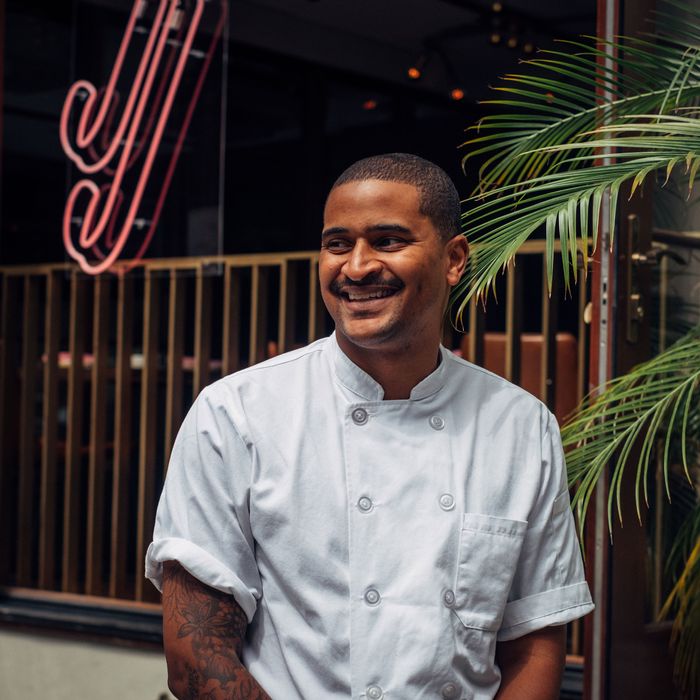 J.J. Johnson.
Photo: Christian Rodriguez
After departing Harlem's the Cecil and Minton's, the James Beard–nominated chef J.J. Johnson was left without a professional kitchen to call his own. He nevertheless published a cookbook, Between Harlem and Heaven, and began actively laying the groundwork for his next project. Those plans will come to fruition today when Johnson reopens Henry, inside the Life Hotel, with an exciting menu that promises to be unlike anything else in the neighborhood.
"I said the only way I'd do it is if I cook my food," Johnson says. "It has to be my food, my music, J.J. neon lights. The full J.J. experience."
Johnson's food takes its inspiration from both his travels across Africa and Asia, as well as his own experience growing up Afro–Puerto Rican. There's the seafood-centric Afropot featuring king crab, corncobs, clams, mussels, and Chinese pork sausage in a briny broth. The island-influenced tamarind jerk barbecue chicken is paired with soy-braised collard greens and a hearty plantain puree. And Johnson is particularly excited about a piri-piri clam appetizer; as well as the roti, which comes with a sunny side up egg and dipping sauces such as an eggplant-date purée and chili-yogurt chutney.
"Regardless of where I've traveled in the world over these last five years, I've always walked away with a good culinary perspective of food through the West African lens," Johnson explains. "Most people don't really know what I'm talking about because they haven't been to West Africa. So, I'm explaining that at Henry."
Initially, you may remember, Henry was the brainchild of Stephen Hanson, but after struggling to stand out, it shuttered this past winter. Nevertheless, much of the handsome décor remains in place: leather-bound booths, a 14-seat marble-top bar with top-shelf liquor, tarnished gold lighting fixtures, and carefully set two- and four-top tables, but Johnson has added a few touches of his own, most notably a pink "JJ" neon sign that's visible from the street. Additionally, Johnson has revamped the restaurant's soundtrack, which he hopes will take diners' energy from "1 to a 10 or a 10 to a 20," and will focus exclusively on hip-hop and R&B. ("You're definitely walking in to Mariah or Diddy or Jodeci," Johnson says.) Most importantly, Johnson has an ownership stake in the restaurant, and finally, a level of creative control that he's been chasing for more than two years.
Handling bar duties is Pam Wiznitzer, who helped open critically acclaimed bar the Dead Rabbit and Seamstress. When the latter project closed, Johnson reached out. "J.J. and I have always wanted to work together," says Wiznitzer. "I thought the timing was perfect." Wiznitzer has made it a point to play off the Pan-African theme of Johnson's menu in the form of cocktails that use similar ingredients. The Whirlwind, for example, features peanut-infused Dewar's, blueberry syrup, sorrel, fresh lemon juice, and egg whites, and plays well with Johnson's kohlrabi dish, which features many of the same ingredients.
It isn't lost on Johnson that he is opening the city's first hotel restaurant focused exclusively on cuisine of the African diaspora, or what Johnson calls Pan-African cuisine. In a city where black chefdom is almost solely equated with Marcus Samuelsson and black cuisine is viewed through the lens of a few African, Caribbean, and soul-food restaurants, a black-run restaurant this ambitious is virtually unheard of. "I was able to push, push, push, push, push and have someone believe in who I am and what I cook," he says. "Everything is on my own terms — this, for a chef of color, is big."