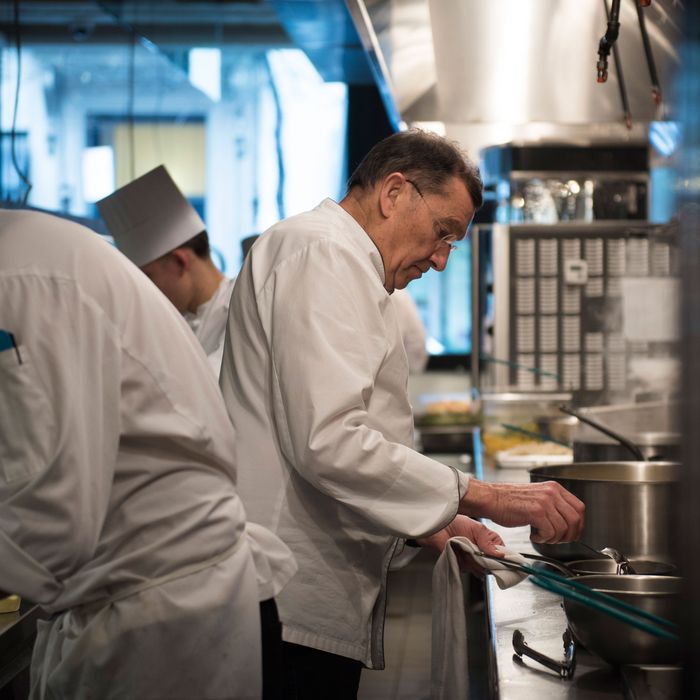 Antoine Westermann at New York's Le Coq Rico.
Photo: Liz Clayman
The chef Antoine Westermann has flown the coop at his poultry-centric bistro Le Coq Rico. Grub got a tip that he was out, and the owners at the restaurant confirmed, via statement, that "due to a recent restructuring in management, Antoine Westermann will have a less active role in the New York City outpost, but will remain a stakeholder." It's an unexpected exit. Le Coq Rico landed in New York with a splash in 2016, at the beginning of what has been a resurgence for French cooking in New York.
The excitement over Le Coq Rico was for good reason. Westermann is an accomplished chef, who once held three Michelin stars at his now-shuttered restaurant Le Buerehiesel, until he asked for them to be removed. He still runs restaurants in Paris including the original Le Coq Rico, which at both locations takes its poultry focus to very particular (and expensive) levels.
The New York outpost also received acclaim for serving excellent versions of classic French desserts that had became unfashionable in this city. Those included the île flottante, which noted dessert agnostic and Grub Street editor Alan Sytsma called his favorite dish of 2016. However, Le Coq Rico superfans should take note: Guillaume Ginther will continue as executive chef, a role he has held since the restaurant's opening.