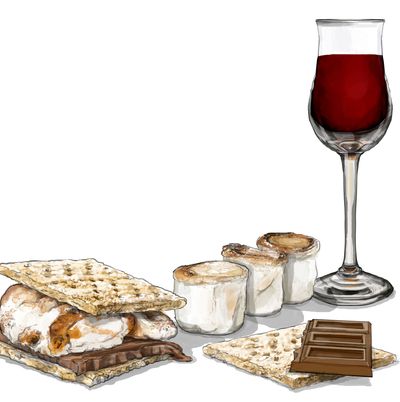 You'll be a campfire hero for at least the next few summers.
Illustration: The Ellaphant In The Room
You might think that chocolate and wine are a natural pair, but their clashing qualities make them surprisingly difficult to enjoy together. Chocolate has a bitter edge that must be tempered by sweetness, and the texture — so appealing on its own — creates a formidable challenge to find wine that will follow suit. Which is just one reason why I was extra apprehensive when my editor asked if there were any wines that might pair well with s'mores. ("Campfire" is also not a note you find too often in wine.) However, as luck would have it, the style of wine that does manage to work well with the famous summertime treat is a niche style that deserves a bigger profile of its own.
Valpolicella is an appellation in the Venetian region of Northern Italy. The area is known for its big red wines, but less known for its dessert wines. The main grapes used here are Corvina (the main event and most serious grape), Rondinella (adds a little fruitiness to the blend), and Molinara (a minor player that offers a boost in acidity).
Recioto della Valpolicella is a type of wine that isn't seen too often: sweet, red dessert wines. There aren't many in the world because it's very difficult to make strong acidity, bitter tannins, high alcohol, and dense sweetness all play equally prominent roles in the same wine without making it taste like grape-flavored Smirnoff Ice. Normally, balance and restraint are the qualities that make truly great wine, but in the case of these unique dessert wines, the all-in approach is exactly what makes them so appealing.
To make a Recioto, the grapes are left to shrivel and raisin on mats in the hot, dry conditions. After waiting for the grapes to dry, they are pressed to soak with the skins to draw color and tannin, then the syrupy grape juice is fermented. The resulting wines are an explosion of juicily dried fruit, with almost-chewy tannin and mouth-dribbling acidity. Without getting too deep into the wine weeds, the important thing to know is that Recioto della Valpolicella has the flavor of a dry red and the sweetness of a dessert wine — meaning they are sturdy and somehow never cloying.
Which brings us back to the s'mores. Sweet baking spice notes in the wine will match up well with the graham cracker; the wine has enough tannin to cut the bitterness of the chocolate while simultaneously matching the sweetness. Even the marshmallow's crisp, blackened edges will be helped along by the black-cherry and tobacco flavors of the wine.
One reason you don't see more people washing down their s'mores with bottles of this Italian dessert wine is that they're rare, and their import to the States is rarer still. But I promise that if you spring for one of these unicorn wines, you really won't regret it — and you'll be a campfire hero for at least the rest of the summer.
Adalia 2012 Recioto della Valpolicella Roasan ($34 for 500 ml)
Due to how intensely laborious these wines are to make and how many grape bunches are needed for just one bottle, this is as bargain-basement as the pricing gets. But there is still plenty of fun to be had.
Buglioni 2011 Recioto della Valpolicella Classico Il Narcicista ($55 for 500 ml)
Buglioni is an estate that started as a fun endeavor for the family that purchased the estate in the early 1990s. Today, the wines that the family produces are serious contenders at the top level of production in Valpolicella, and their Recioto is no exception.
Giuseppe Quintarelli 2004 Recioto della Valpolicella Classico ($169 for 375 ml)
Yes, this wine seems stupidly expensive, but anyone who has had the wine of Giuseppe Quintarelli will attest to its placement among the greatest of the greats. But look at it this way: The cost is only half the battle because you'll also want at least 20 years of age on the bottle to truly experience all the pleasures that have earned this producer such a cult following. So, admittedly, this is not really the place to start with Recioto, but once you work up to it, you will have ascended to the ultimate wine peaks.