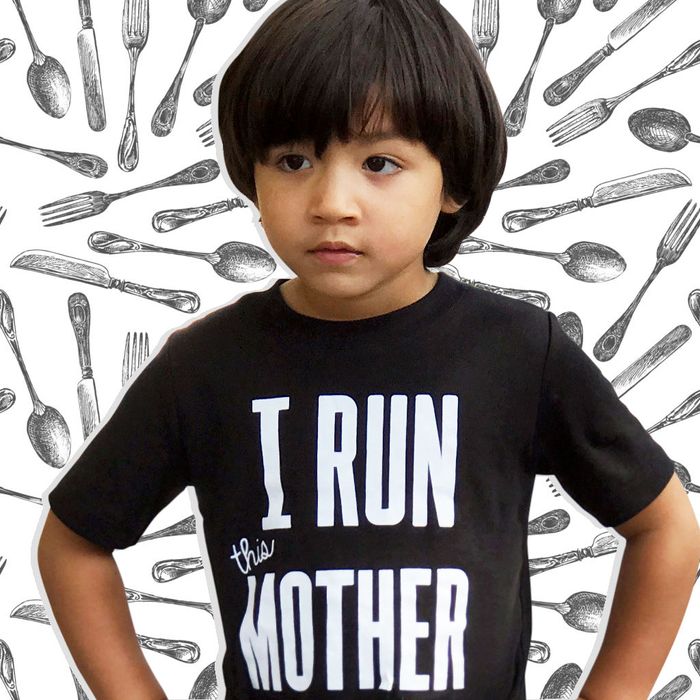 As the eldest child of Mike Chau, a.k.a. @foodbabyny, Matthew "Matty" Chau has truly eaten his way across the city. And though most of the page's posts feature the incredibly expressive face of Matty's 3-year-old sister, Samantha, he's the only one old enough to articulate what cafés and restaurants around the city are the best for kids. So, Grub asked Matty, who just turned 5, for tips on the best places to take little ones out for a bite. With some added insight from dad, here are his favorite kid-friendly spots.
Supermoon Bakehouse
190 Rivington St., nr. Essex St.; no phone
"They make the best croissants on earth. Make sure you get two plain croissants," says Matty. Mike adds: "Matty's mom is a traditionalist, and always likes a classic croissant whenever we go. I always have to order two, or I'll be in trouble since Matty and Sammy immediately want to share/destroy the one she is eating the second she picks it up." That said, the whole family is very into the Croissant Butter Soft Serve that the shop recently introduced.
Krave It Sandwich Shop & Eatery
40-15 Bell Blvd., nr. 41st Ave.; 347-836-8713
According to Matty, "The people are nice and the paintings and pictures on the walls are fun, like the sticky bandits from Home Alone. And I like the really cheesy pizza because it's fun to stretch." Said pictures include an octopus with one slice in each tentacle and a whole lot of movie memorabilia. A lot of people have written this place off as Instagram bait (they serve a cheeseburger pizza), but Mike says that it's worth checking out, at least for "some of the finest sandwiches Queens has to offer."
Queens Comfort
3618 30th Ave., at 37th St.; 718-728-2350
Matty, who is apparently on a first-name basis with the owner and the doorman, says he "loves Montana's doughnuts because they have a lot of flavor in them, they have lots of cool toys, and Avatar the doorman is so funny." Dad says, "These are for sure our favorite cake doughnuts in all of the five boroughs, and worth the visit, though the full brunch experience on Sundays should also be on everybody's list. Matty and Sammy love all of the toys and tchotchkes spread out in the entire dining room."
Ice & Vice
221 East Broadway, nr. Clinton St.; 646-678-3687
"They have the best chocolate ice cream because it tastes different than the other places," says Matty. That's because their take, dubbed Shade, features smoked dark chocolate and caramelized white chocolate ganache. Mike adds that Basic B, their version of vanilla ice cream, might just be "the best vanilla ice cream in existence."
Madcap Cafe
387 Court St., nr. 1st Pl., Carroll Gardens; 929-337-6117
Matty says his favorite part about this Carroll Gardens café is that "the eggs are really fluffy and their bacon is better than Mommy's." Or as Mike puts it, "This is one of those places where even the simplest things that may not seem so interesting on paper end up being shockingly good. We think the flatbread wrapped around fluffy eggs and crispy bacon is one of the most satisfying and perfect breakfasts imaginable."