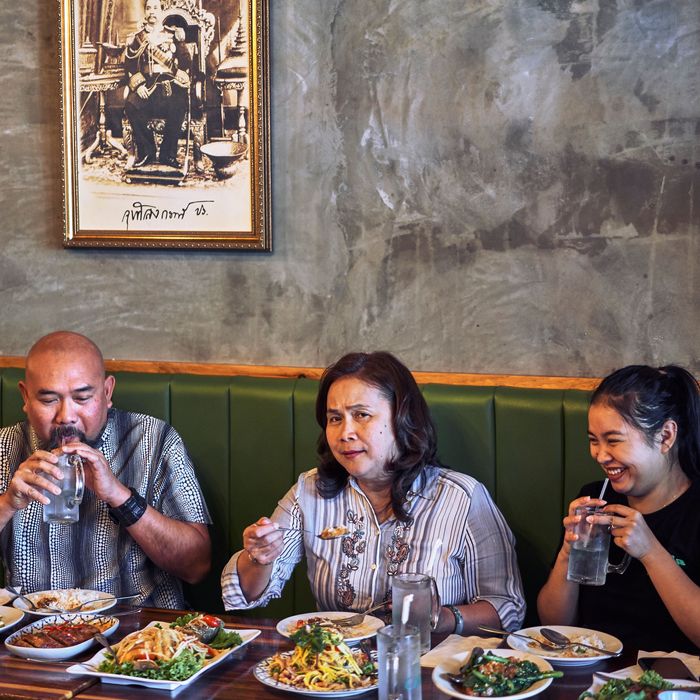 Polpat Klongkhayam, Duangjai "Kitty" Thammasat, and Ayada Thammasat at Ayada in Elmhurst.
Photo: An Rong Xu
If you were to draw up a map of the city's essential restaurants, you'd have to include Ayada. The Elmhurst spot is, some argue, New York's best place for Thai food, and an anchor of a local community that's blossomed around it. A decade after opening, the food remains invigoratingly great and the space unquestionably charming. Owner Duangjai "Kitty" Thammasat remains totally committed to the restaurant; when she travels, such as to visit Thailand, her sisters help run it. It's a bit of a surprise, then, that Thammasat will expand out of Queens and into the Chelsea Market this fall.
"I have been to one of Kitty's friend's restaurants," says her nephew and business partner Polpat Klongkhayam. He was eating from a plate of the restaurant's sharp and sunny raw-shrimp salad, to an afternoon soundtrack (courtesy of Spotify) of pop hits covered by unknowns. "Her friend does the duck salad, and I'm looking at it saying, 'This is duck salad? She's slicing it too thinly. This is not the duck salad.'"
Klongkhayam was speaking to the stubborn particularity that is in Ayada's DNA. That quality is one explanation for why Ayada remains so good and why the family has kept it small, expanding only into a slender space next door. As Thammasat tells it, she had not thought much about another location before and hadn't, she says, even heard of the Chelsea Market before. But some of the Market's staff would eat at Ayada, she says, and started asking if she was interested in Manhattan. She rebuffed their offers until her daughter started at the New School. "I said to this guy, 'Where is Chelsea Market? I have never been in Chelsea Market,'" Thammasat says she responded when asked about opening there.
"We have a lot of people who come offer us to open another Ayada. Like on the Upper East Side, which is not like the way we want," Klongkhayam says. "They're too uptight there, and I cannot be working in my T-shirt and shorts like this — and we would never compromise the food. But if I would have to act differently? I don't think I can do that, and I don't think she can do that."
For fans and even friends, it probably comes across as an unlikely development. There's a joke among Thammasat's friends, Klongkhayam says, that "if you cannot sell anything to Kitty, you should not be able to be a salesman." Anything except change — for the most part. The Chelsea Market is a tourist destination and very different from Elmhurst, but it's also a place that's continued to nurture and attract great food businesses. In recent years Los Tacos No. 1 and Very Fresh Noodles started in the Market, which was also the point of entry in New York for Philly-born Dizengoff and Israeli import Miznon. (Success is not guaranteed; Dizengoff will close its Manhattan location later this month.)
The second Ayada will be in the location of the old Chelsea Thai, a 1,300-square-foot space with seating for 45. The designer is the same one behind the original restaurant, Thammasat's longtime friend Francisco Diaz. "We're trying to save as much of the essence we have here already," says her daughter Ayada Thammasat. (She did compromise with the Market's operators on an open kitchen, something she's meeting them halfway on.) "She likes how the restaurant is now and she wants people to, I guess, incorporate themselves into her culture, as well, instead of her changing too much of it."
The family says they'll bring over cooks that have been with them since they opened in Elmhurst, and Thammasat herself will spend the first year working in Manhattan. (Her sisters will cover for her while she's away.) Klongkhayam will be there, too, but more long-term. The menu will be slimmer, more of a greatest-hits collection. Think that raw-shrimp salad, the famous Penang curry with duck, catfish with mango salad, and barbecued pork with papaya salad and sticky rice.
"It's the way that we eat. And I think if it's good enough for us, it should be good enough for everybody, too," Klongkhayam says. It is in Queens, and will be in Chelsea, too.