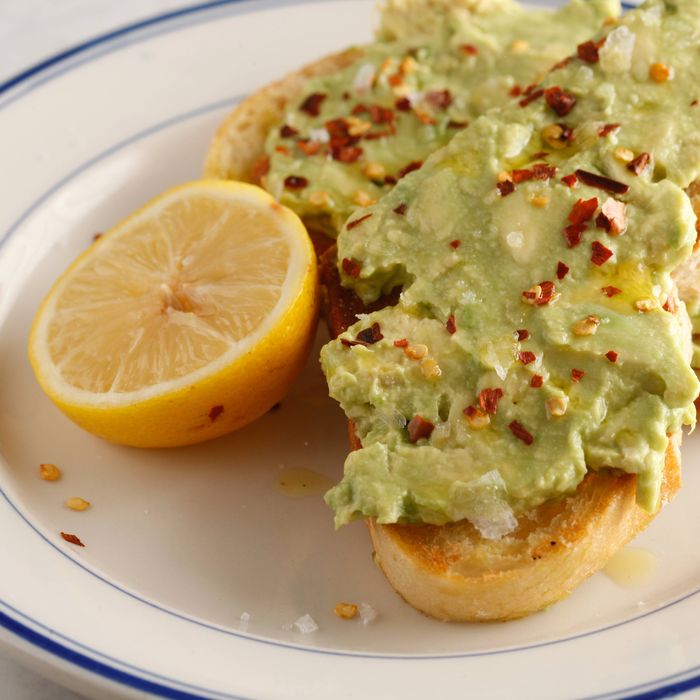 Avocado toast.
Photo: Melissa Hom
The patron dish of Instagram food now has its very own song, the creatively titled "Avocado Toast," which seems to be about sitting at home, watching Netflix, and "eating avocado toast on the West Coast." The song was created by someone named Emily Zeck, who sounds like what would happen if Halsey had decided to be Weird Al Yankovic. She's also an Instagram influencer turned musician signed to PMRD, the Swedish label launched by the late Avicii's manager.
The song is unfortunately not as catchy as the "LaCroix Boi" song, which should have won five Grammys, and Zeck is also the artist behind "Two Cents (Ice Cream Song)," so she maybe has a thing for food songs. Though "Avocado Toast" doesn't sound like a joke, which in turn makes you wonder if you're too dumb to realize it is a joke, and pretty soon, you find yourself spiraling out of control in a millennial nightmare of Youtube, Instagram food, and Spotify music.
Anyway, "Avocado Toast" has arrived randomly. (Or has it? It used to be that, in the washing-machine cycle of pop culture, Americans got nostalgic for things that happened a long time ago, like two decades or something. Now, everything moves so fast that it's 2018 and we're, apparently, pining for 2016 — or, more specifically, that year's dish of the moment.) It also comes days after a resurgence of avocado-toast articles in such august publications as The New Yorker and the New York Times, which both published stories about Bill "Avocado Toast" Granger over the last few days. Did someone at PMRD just see these articles and say, "Hans, we need an avocado toast now?" What is going on?