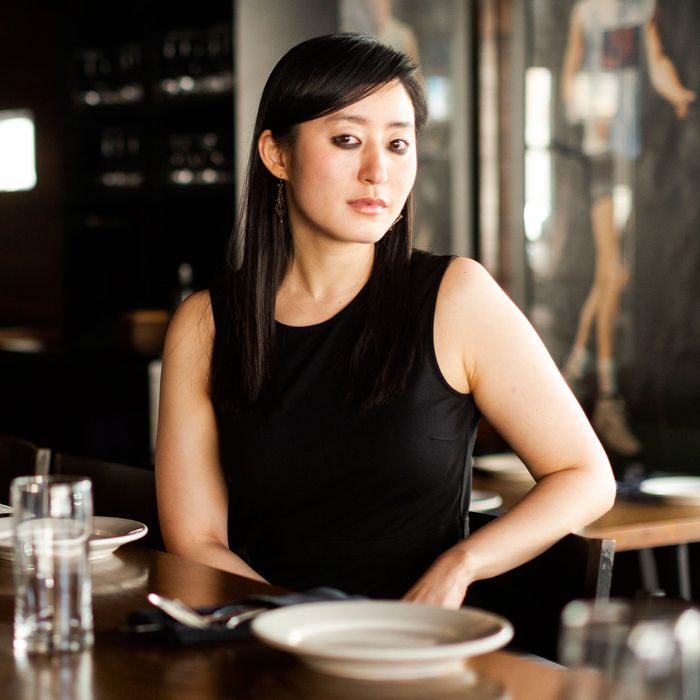 "I've been mainlining food that reminds me of childhood," says Kwon, at one of her favorite restaurants, Momofuku Ssäm Bar.
Photo: Mark Abramson
R.O. Kwon's debut novel, The Incendiaries, has found acclaim seemingly everywhere, including The New Yorker, The Atlantic, and from our friends at Vulture, who called it "one of those slim novels that contains multitudes." Kwon has handled the frenzy of publishing, she says, by "mainlining" the Korean food of her childhood, but now she's on book tour and presented with the new challenge of eating half-decently. Which, she's managed to do: hitting up the much-loved Jitlada in Los Angeles; going on a taco tour in San Diego; and splitting the famous burger at Emily in New York. Read all about it in this week's Grub Street Diet.
Thursday, August 2
I'm not a breakfast person. I'm really nocturnal. I usually go to sleep around 6 a.m. or 7 a.m. and wake up around noon or 1 p.m. So, I'll wait to have food until, like, 2 p.m.
I started the day with myulchi, which are stir-fried, spicy anchovies, that I bought from Kukje, a Korean market near my home. They sell it in small cartons that I've been buying six or seven of at a time. I've been eating up to a pint of myulchi a day, and I've been mainlining food that reminds me of childhood. I think it's because I live in the Bay Area: Korean food is quite good here, but it's not L.A., as a lot of people know, and it's also not my mother's own Korean food, which is my preference. I don't really cook very much, and I don't really know how to cook very much.
I thought that'd be enough until dinner, but then I thought again, and bought a couple of salmon-avocado sushi rolls from the San Francisco airport. I was flying down to L.A. The rolls were putatively from Koi Palace, which made no sense — Koi Palace is a delicious Cantonese place. The fish was okay, but the rice was a little dry, a little hard. I scraped off most of it before eating the fish. I do often find that I head for sushi at airports, even though it's noticeably not as good as at the restaurants I love. I don't like a mess, and if I'm going to carry around food and eat it over my lap, I want food that won't drip on me.
After I got to L.A., I went to Jitlada. My event was close by, so it seemed like a good opportunity to hightail it over there. I ordered the crispy morning-glory salad, and my husband ordered the khua kling, dry beef curry, and phangga jungle curry with pork ribs and Thai eggplant. Both were so spicy, I took one bite and had to stop. I was starving from just the salad, so we ordered a second one. Shit was delicious. It was fried and delicate, more like a tempura fry. What is a morning glory? Are we eating flowers? I looked it up. No! It's kangkong, water spinach. I felt anxious — I would be reading from my novel in front of much of my family — and it helped to nibble.
I also drank coffee, black, and then drank more coffee. After the reading, I had two vodka sodas with Tito's at Rockwell. I know, I know. Everyone judges this. I love Scotch. I love good wine. But vodka's the only liquor that never gives me a hangover, and I have no time for hangovers.
Friday, August 3
I grew up on the border of L.A. and Orange Counties in a town called Cerritos. It has a predominately Asian population, predominantly Korean-American at that, so there was a lot of that culture where I grew up. Korean food right and left!
I went to Han Yang in Buena Park for lunch. It's a standby; it's closish to my parents' place and has truly delicious Korean food. We had to travel from L.A. to San Diego and it was on the way — we always feel like it's a crime to be in Southern California, near my parents, and not eat Korean food. There's so much good Korean food.
They're best known for their galbi-tang; it's just a dish I happen to not enjoy, so I bounce between others. I had the hwang taeguk, dried pollack soup. Again, childhood food and a go-to for Koreans. It's also, surprisingly, excellent for hangovers. I wasn't hungover, but I craved it anyway. It tasted like safety.
We also had the dolsot bibimbap with kkaennip, or perilla. I had part of this. The kkaennip is such a lovely touch. Usually with bibimbap, people don't add that flavor. But it works so well. It has such a particular flavor. My mother used to grow this in the backyard. She didn't really garden; she basically only grew that one plant. I'm not sure why, maybe ease? I know mint, in general, is easy to grow.
I find it much easier to travel with my husband, so I bribed him to come to San Diego by talking about tacos. He was willing to see my family in L.A., and I was like, "Well, if you come to San Diego, we can have some tacos," and then he was confused. So I said, "We can have tacos all day," and he got more confused and then ended up coming. When we got to La Jolla, we went to Don Bravo for a snack of mini street beer-battered fish tacos with homemade tortillas. We got two salsas: chili de árbol and habanero and tomatillo. I preferred the first. Also, guacamole. The place was very casual. It was close to the ocean and felt like a seaside shack.
I hadn't eaten fish tacos in a while, so it's possible my memory is hazy, but these might've been the best I'd ever had. They were light, fresh, and so crispy, so delicate; the fish was flaky and flavorful. They were tiny, and I would have eaten more, but I couldn't be late to my reading. I was so sad — there was only time for me to eat so many.
After the reading, I had two more vodka sodas at our hotel, Grande Colonial La Jolla. Then we went to dinner at this place called the Spot. It was like 10 p.m. and there was only so much open in La Jolla. We had quickly looked online for places, and people said that the burger was legitimately delicious, and it was. I got mine medium-rare with avocado, tomato, onion, mayo, and ketchup. Coleslaw on the side, and, yes, a third vodka soda. It got me tipsy, full, and ready for a free day of taco tasting on Saturday!
Saturday, August 4
Our first taco stop was at Mariscos German Beyer, a taco truck, for more tiny fish tacos. These were cod. They weren't as delicious as the ones from Don Bravo — they tasted more like fry than fish. My husband liked these better, but that's because he tends to shy away from marine flavors. We once took a Supertaster Test — friends bought the kit — and it turned out I'm a Supertaster and he's not. This means, anytime we disagree on food preferences, I get to note that I am, as it so happens, a Supertaster.
After that, we went to Tacos El Gordo for tacos de adobada. They were spit-roasted pork with cilantro, onions, and an avocado-cream sauce. The restaurant was kind of big and super crowded, with different lines for different kinds of tacos. These were my husband's favorite, and they might've been mine if I hadn't tasted the Bahia Don Bravo tacos first! We ate at these other places and they were delicious, too, but the first were the best. It was sort of a melancholy decline after that. But, hey, at least I got to eat them at all.
Our last stop was at Tacos El Poblano, a smaller restaurant with far fewer people, for tacos de asada. People love these. I didn't get it. It wasn't a bad taco; it was clearly good, but I don't like extremely strong meaty flavors unless I'm straight-up eating a steak. The meaty flavor overpowered the others; there wasn't that delicate balance.
More tacos for dinner. We went to Puesto in La Jolla, a louder, more festive place, where everybody was drinking varieties of margaritas. I had Baja-style fish tacos, beer-battered cod with shredded cabbage, avocado, crema, and salsa quemada. Also, guacamole with lime, orange, and chile habanero. Dropped my vodka-soda routine for a spicy margarita made with reposado tequila, fresh lime juice, and jalapeño.
I found the food less interesting than the drink, which was delicious and striking. I only drank half, though, before I had to leave. Sensory overload. I hadn't had any coffee that day, and was very tired. I know my book just came out, and there's a lot happening emotionally, but I'd really just forgotten to have coffee!
Sunday, August 5
I had a flight to New York, so my first meal was at Bankers Hill Bar & Restaurant in the San Diego Airport. I got breakfast tacos — with eggs, tomato, onion, and avocado crema — that were disappointingly small. In airports, I'm heading for least amount of harm. I don't know why the food can't be better. Eggs felt like a safe option.
I had a coffee, then a second coffee for the plane. A few months ago, I learned that airplane coffee is filthy. I never drink it now.
Lunch was plane Sahale Snacks: the Honey Almond Glazed Mix with toasted sesame seeds, sea salt, Madagascar vanilla bean, and cranberries. Also, two sparkling waters.
I got to my hotel, the Blakely, and ordered a room-service "burger salad" (prime burger, lettuce, tomato, cheese, cucumber, pickles, scallion, bacon, special sauce, and my addition of avocado) from Black Tap. I was too exhausted to look for a tastier option; I couldn't even bring myself to do five minutes of research. The menu was all burgers and then burger salads and then more burgers and then falafel burgers. I don't have an affinity for burgers. It's just that when you travel and are in a rush, a good burger tends to be available. This was the most amount of beef I'd eaten since I don't know when.
Monday, August 6
I got a matcha-almond latte from Le Pain Quotidien before my first meeting; it was right next door to my publisher's office. I was proud of myself, like, Hey, I got nourishment before I met with these people! Had more coffee at the offices.
For lunch, we went to Emily. I had the kale salad with no Pecorino. Please allow me a short disquisition on the tragedy of my newly acquired cheese allergy. It makes me so sad. I think about cheese all the time, maybe every day. When they're with me, my friends say they shouldn't order the cheese, but my attitude is, "Go for it; have fun; be free!" On a scale of things, it's not the worst thing.
Anyway, I had the kale salad with no Pecorino. Even without the Pecorino, it's ridiculously, astonishingly delicious. Why did I never try kale with dried cherries? And those hijiki! The vinaigrette was sherry-thyme.
We also ordered the Emmy burger, with dry-aged beef, Emmy sauce, caramelized onion, and pickles. No cheese. It's very rich. We split it in half, but I ate a quarter and then gave up. I thought the burger was great — I was just full!
Had a midday snack of Sahale pomegranate-vanilla-flavored cashews and walnuts. Then I went on the So Many Damn Books podcast, and they made me a book-tied drink: Four Roses bourbon, amaro with California poppies, and thyme-infused simple syrup. They lit the thyme on fire; everything smelled delicious. It was delicious.
I don't even like sweet drinks, but wow! This also gets me a lot of flack often: I love gimlets, but will ask for them without sugar. I'll say, "I know this is an extremely strange request." It's in part because my family has a history of diabetes. My tongue is highly alert to sugar, and in a lot of ways I don't like it.
For dinner, I got Ageha Sushi. It was open and it was delivering. I felt so fraudulent, ordering delivery salmon-avocado-rolls and miso soup in one of my favorite food cities on earth, but I was so tired. The sushi was pretty good, at least, and I'd order it again.
Tuesday, August 7
Had lunch with my agent. We went to Park Avenue Summer. They were doing a restaurant-week prix fixe. I got the summer gazpacho with peekytoe crab, strawberries, and avocado; New Zealand king salmon with cucumber, avocado, and crispy taro; and four cups of coffee. The gazpacho was tasty, but afterward I didn't have all that much of an appetite for more.
Snacked on a handful of walnuts and leftover miso soup, cold!
I was in New York for another book event, and got there 25 minutes early, so I had an early dinner. I wandered a block until I found a restaurant where I'm sure I won't recognize anyone: El Nuevo Portal, which had a lot of delivery and takeout bags and only one other person sitting in there. Safest option for me and him. I used to live in New York and a lot of my friends came to the reading; I wanted to see them, but before that I wanted a moment to myself. I had an omelette with onions, ham, tomatoes, and half an avocado. It was all right. I was just glad for eggs.
After the reading, I had two Tito's and sodas at Boat. My friends didn't judge me for the vodka sodas. If they did, I'd talk to them!
I didn't get back to my hotel until after midnight, when even room service was closed. Of course, I could've walked down and found a deli, but I was exhausted and ordered delivery from Times Square Diner. I got the Greek salad with no cheese, plus an avocado, and got some coleslaw to put away for lunch the next day.