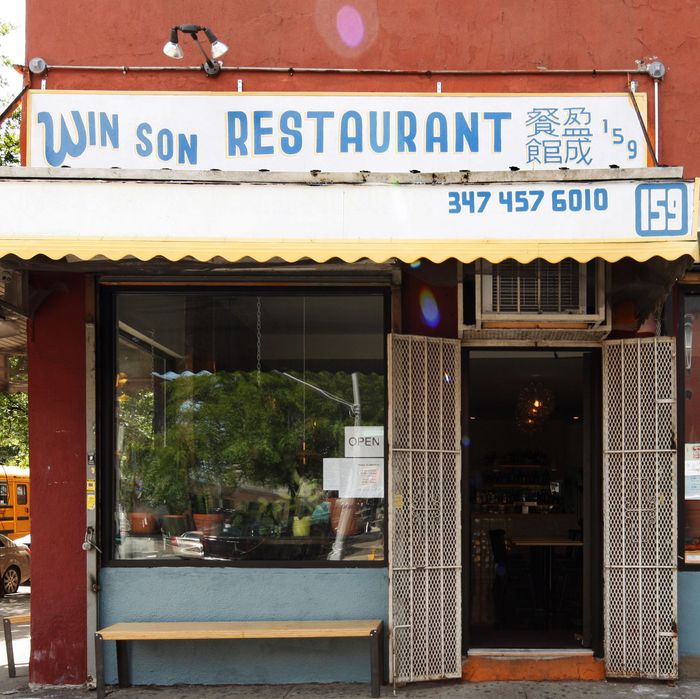 There are but three certainties in life for residents of North Brooklyn: Death, taxes, and repair work on the Canarsie Tunnel. That work, of course, will create a 15-month shutdown of the L train, and is scheduled to begin in about eight months. Already, the area is changing in response to the looming transit nightmare and business owners along the train line are understandably concerned about being cut off from the flow of tourists and city residents that for years have gotten their first glimpse of Brooklyn through the lens of Williamsburg. AMNY reports some owners have already seen 10 to 40 percent drops in business as a result of construction signage and equipment blocking storefronts. Meanwhile, retail rents, already down 10 to 15 percent, are expected to fall by that same amount again next year.
"I definitely see it as something commercial tenants are using as leverage," says Justin Losh, the commercial leasing director at real estate company Nooklyn. Landlords, Losh explains, are willing to offer concessions, but he also believes that the shutdown won't be as painful for the hospitality industry: "With the lack of mobility into the city," he says. "There's a theory that the bars and restaurants along the L train will fare the best."
And restaurateurs, many of whom increasingly identify themselves as owners of neighborhood-focused restaurants, are ready to double down on this theory. Just this past weekend, many got a preview of the so-called "L-pocalypse" when the MTA implemented the first of 15 weekend shutdowns between Eighth Avenue in Manhattan and Broadway Junction in Brooklyn — and business remained surprisingly brisk.
"The L was down this weekend and it was rainy, so our 15-seat patio was closed," says Trigg Brown, co-owner of Taiwanese hotspot Win Son off the Montrose Avenue stop. "But we still cranked out about 200-plus covers per night in our little 50-seater. With luck, determination, and hard work, that will be an indicator of what business will look like." He adds that between the J, G, and two bus lines, there will still be ways to get to Win Son, albeit with a little added travel time.
Brown isn't alone in seeing a silver lining. A few notable restaurateurs didn't want to discuss their plans, but the leadership at Meat Hook, St. Anselm, Ops, and The Meatball Shop all expressed something like optimism about attracting customers from outside Brooklyn over the next 15 months.
"I think when tourists come to New York they're so excited to be adventurous and see different neighborhoods that I wouldn't be surprised if we still have a lot of them coming to The Meatball Shop in Williamsburg," says marketing director Natasha Miller, adding that they'll also work with employees who need transportation help. "We can't tell the future, but we're pretty confident that things are going to remain pretty similar."
Joe Carroll, the restaurateur behind Fette Sau, St. Anselm, and others, is equally confident. "We're not convinced that it will have a great impact on business," he says. In fact, sales were actually up this past weekend. "Our thought is that this will have a far greater effect on commuters than diners," says Carroll.
It helps that real-estate owners are doing everything they can to entice residents into staying put. Last week, rental website StreetEasy reported that as a "result of price cuts, concessions, and a weakening market," about 48 percent of Williamsburg apartments previously listed on StreetEasy are "now renting for lower prices than two years ago, with an average reduction of $250." There's also 25 percent more rental inventory in Williamsburg than there was this time last year. In response, rents along the L train have dropped, on average, to 2015 levels and landlords are offering all kinds of incentives, from a month's free rent to discounts for signing two-year leases.
"Maybe it's foolish, but our worry for the shutdown and the unpredictability of it is tempered a little bit by the neighborhood feeling a bit more like a neighborhood for 15 months," says Meat Hook co-owner Ben Turley. "We're hoping people will explore their own neighborhood a bit more and appreciate all the great shops they have around them day-in and day-out."
"People make relationships within their neighborhoods and they're not going to abandon all that and start anew," says Nooklyn's Losh. "I think these businesses will do fine and potentially they'll even do a little bit better with a captive audience."