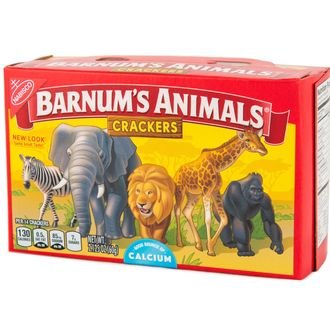 Sans cages.
Photo: Nabisco
Good news for everyone with young children and a general disdain for primate mistreatment: The Animal Crackers are now free to roam.
In a major win for people who care about snack packaging, Nabisco's parent company, Mondelez International, has redesigned Animal Crackers boxes after pressure from PETA. The snack takes its name from the now defunct Ringling Brothers and Barnum & Bailey circus, and the boxes previously depicted animals in cages. In 2016, PETA wrote to Mondelez that it should "show animals who are free to roam in their natural habitats."
Now, Animal Crackers feature an inspirational, chill crew of a zebra, elephant, lion, giraffe, and gorilla walking freely across the grassland. But will this do even more harm? It's well known that lions do not hang out with zebras, and who has ever seen a gorilla with a giraffe? Is this giving children unrealistic expectations of life in the animal kingdom? Will they go on safaris and be horrified when lions look at zebras as feast rather than friends? These are questions that Mondelez clearly did not ask itself.
Look, Grub doesn't mean to be a paranoid conspiracy theorist. But what if this is just a distraction from the fact that Nabisco continues to wage a 116-year-old campaign to convince the American public that these are crackers, not cookies?