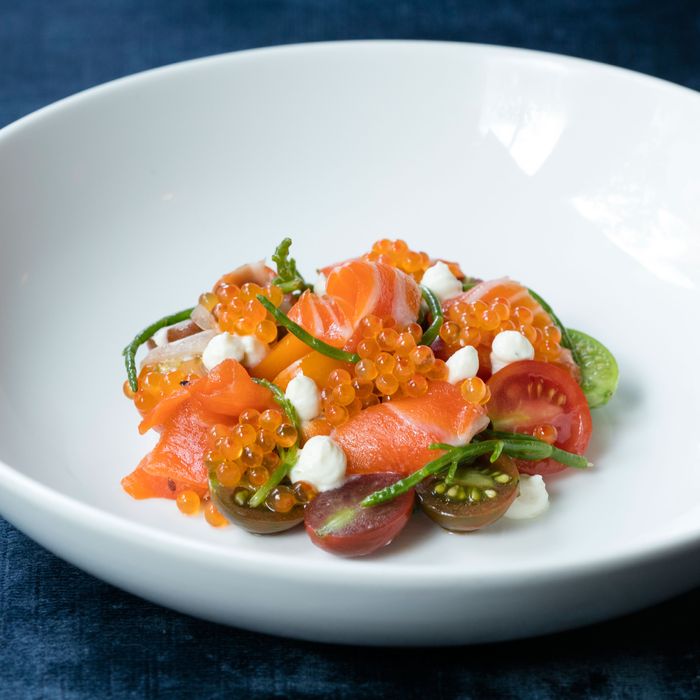 Mimi's sea-trout crudo.
Photo: Melissa Hom
By law, it seems, any new restaurant in New York must contain at least two raw-seafood preparations, often in the form of crudo, a vaguely Italian concept that essentially allows chefs to do whatever they want to fish. It's gotten to the point where we probably all have a touch of fluke-crudo fatigue, but when the idea is really embraced by talented chefs, these dishes can be some of the best showcases for creativity (and, yes, even healthfulness). Here are a dozen options that manage to stand out from the crowd and should definitely be on your must-try list next time you hit the town.
Yellowtail Jalapeño Crudo
Where: Bessou
Price: $15
The Japanese–meets–New American restaurant brings a touch of sushi to its crudo, with soy-pickled jalapeño and wasabi aïoli.
Hamachi Crudo
Where: Bombay Bread Bar
Price: $17
Hamachi, a fish commonly used for sushi, gets served with coconut broth, the fruit kokum, and crispy rice to bring a little bit of crunch to the plate — all good things.
Salmone alla Tartara
Where: Coco Pazzo
Price: $15
At the reboot of the '90s hit restaurant, Scottish salmon makes nice with crushed avocado (it's 2018!) and, let's not get too fancy, potato chips.
Fluke Tartare
Where: Frenchette
Price: $18
Yes, fluke — that old crudo warhorse — can be exciting. Before you gorge yourself on rotisserie lobster bathed in curry butter and duck-frites, go for the lighter fluke tartare roused with shisho, sea beans, and Tristar strawberries.
Hamachi Tartare
Where: Gabriel Kreuther
Price: $26
The bar at the high-end Gabriel Kreuther serves dependably excellent food. Pregame your truffled liverwurst with citrus-marinated hamachi tartare with snap peas and black radish.
Sweet Shrimp
Where: Hwaban
Price: $15
The new Korean restaurant makes a salad out of raw shrimp, serving it with a frozen tomato sphere, Korean pear, cucumber, scallion, and seaweed.
Tartar di Salmone
Where: Levante
Price: $17
Craving salmon in Long Island City? Head to this wood-fired pizzeria, where the tartare is made with avocado, radishes, celery, green apple, apple-mint cream, and lemon dressing.
Sea Trout Crudo
Where: Mimi
Price: $16
The French bistro makes its crudo with sea trout, changing the accoutrements around regularly. The current iteration is made with smoked roe, sour gherkin, tiny tomatoes, and sea beans.
Montauk Scallop
Where: Momofuku Nishi
Price: $16
What tastes more like summer than watermelon? Get as much of it as you can while the season winds down, like in this scallop crudo with black sesame.
Diver Scallop Crudo
Where: Mu Ramen
Price: $14
The Long Island City restaurant is known for its big, maximal flavors. Chef Joshua Smookler adds waves of flavors to these diver scallops with Afghan Kishmish raisins, Cantabrian anchovies, micro-shiso, and yuzu-infused extra-virgin olive oil.
Cured Hamachi
Where: Otway
Price: $13
The Clinton Hill bistro is a great place to get a glass of wine and a light snack or two, like its cured hamachi with chili, radish, tapioca, and scallion aïoli.
Ceci e Aragosta
Where: Una Pizza Napoletana
Price: $20
Surely you haven't had a crudo quite like this one, a ring of chickpeas encircling raw lobster electrified with green chili and citrus.