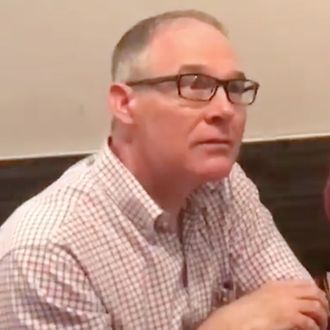 Look at that middle-distance stare.
Photo: Facebook/Kristin Mink
Another day, another member of the Trump administration getting confronted in a restaurant. This time, the dubious honor went to Scott Pruitt, the Environmental Protection Agency head tasked with rolling back many of the regulations established under President Obama.
According to the Washingtonian, this confrontation was led by just one woman: Kristin Mink, a sixth-grade teacher at Sidwell Friends, the highly selective Quaker school that counts Chelsea Clinton, Malia Obama, and other First Kids among its alumni. In a video of the incident, Mink is seen holding her 2-year-old son while reading from a statement she'd quickly scribbled down.
"This is my son. He loves animals. He loves clean air. He loves clean water," Mink tells the EPA chief. "Meanwhile, you're slashing strong fuel standards for cars and trucks for the benefit of big corporations."
She goes on to tell Pruitt that he should resign "before your scandals push you out." One of the scandals in question is a somewhat recent report that Pruitt rented a D.C. condo way below market price from an energy lobbying firm."We deserve to have somebody at the EPA who actually does protect our environment, somebody who believes in climate change and takes it seriously for the benefit of all of us, including our children," Mink said before departing.
While Mink and her husband claim that Pruitt "fled the restaurant" shortly after the exchange, an EPA spokesperson says the exchange was civil and even welcome.
"Administrator Pruitt always welcomes input from Americans, whether they agree or disagree with the decisions being made at EPA," the spokesperson told USA Today. "This is evident by him listening to her comments and going on to thank her, which is not shown in the video. His leaving had nothing to do with the confrontation, he had simply finished his meal and needed to get back to EPA for a briefing."
Whatever the case, check out the entire exchange below.