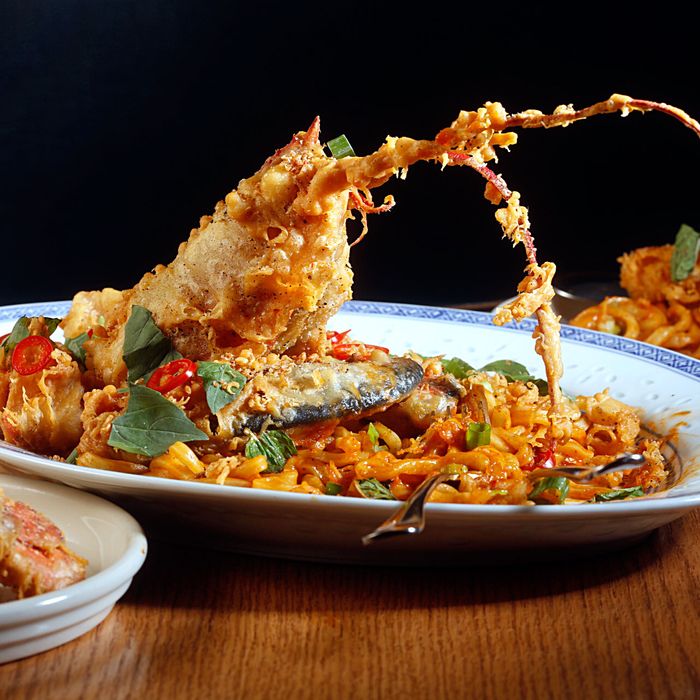 The lobster fra diavolo at Momofuku Nishi spices things up with a gochujang-based sauce.
Photo: Melissa Hom
Just a few months ago, it seemed like there might not be enough lobster to go around come summertime, but as it turns out, we're going to be just fine. And while it's tempting to keep it simple with plain steamed lobster and a side of melted butter, or even a few lobster rolls, chefs and restaurants are applying all sorts of creative and thoughtful approaches to the crustacean. Here's where you can get your lobster fix in New York City right now.
Lobster fra diavolo
Where: Momofuku Nishi
Price: $62
At David Chang's Italian-fusion spot, whole lobster is fried in a tempura batter in its shell (to maintain moisture) and then seasoned with a whole lot of garlic. Once it's laid on a bed of alkaline noodles, the lobster is covered with a mixture of gochujang, Momofuku's proprietary hozon sauce, more garlic, and housemade XO sauce before it's finished off with scallion, mint, basil, and pickled red chili.
Whole lobster Hong Kong style
Where: Chinese Tuxedo
Price: $52
The lobster treatment at this Chinese-Australian spot is pretty straightforward: Live Maine lobster is placed in the freezer for 20 minutes and then blanched. (Doing so makes it easier to remove the shell, the kitchen says.) The meat is then poached in garlic butter and tossed with housemade egg noodles, parsley, and chives.
Lobster thermidor
Where: Olmsted
Price: $12
Lobster thermidor is one of those super-classic French dishes — like pot-au-feu or bœuf bourguignon — that in this day and age can feel very old-school and staid. So leave it to Greg Baxtrom to put a creative spin on it: For his snack-y take on the dish, the chef restyles his crawfish-boil crackers, making them with lobster instead, and then serves them with a thermidor sauce — egg yolks, lobster, brandy, Gruyère, and mustard — cut with a bit of acid in the form of Sauvignon Blanc for a lighter finish.
Lobster toast
Where: Ferris
Price: $15
Move aside, clam toast. (Not really, still love you.) But we also need to talk about the lobster toast over at Ferris, where Greg Proechel prepares a farce of steamed lobster claws and tails, egg whites, sesame, ginger, scallion, and garlic, and then mixes it with chopped lobster tail. That's spread over toasted potato bread, breaded with panko, and then fried before it's garnished with tomalley aïoli, toasted sesame seeds, lobster roe, and torched lime.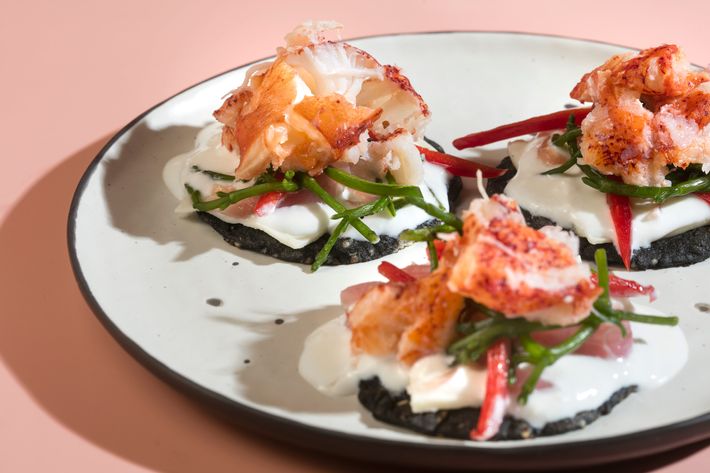 Lobster quesillo
Where: Chicha Cafetín
Price: $8
Over at one of the city's pinkest restaurants, diners can cop an elevated version of the quesillo, a mainstay of Nicaraguan street food. For its take, Chicha Cafetín poaches disks of lobster in coconut milk with lemongrass and plates the meat on squid-ink tortillas before topping everything with an herby fennel and sea-bean slaw.
Lobster and coconut fried rice
Where: Mission Chinese Food
Price: $30
Blanched, shelled, and salted lobster meat is heated in a wok with coconut oil, then set aside; a generous helping of rice is fried in the same wok with clarified butter, mushroom powder, salt, and sugar. The finished dish is dusted with toasted coconut and scallop floss, a riff on rousong made with dried scallops that have been soaked, shredded in a food processor, and stir-fried until puffy.
Baked lobster with white-corn polenta and red-wine-gumbo sauce
Where: Le Bernardin
Price: $90 (lunch prix fixe) or $160 (dinner prix fixe)
Uptown, Eric Ripert and his team remove poached lobster claws and tails from their shells, then brush them with a lobster glace before artfully plating them with green-pepper purée. In a riff on gumbo, the lobster is served with a soft polenta and a sauce made from shellfish and andouille sausage, and finished with red wine.
Maine lobster
Where: Aldea
Price: $38
In Union Square, the kitchen parcooks lobster and removes the shell. Meat is finished in salted butter with curry, vanilla bean, and lime zest. Also on the plate are summer beans and red peppers that have been charred, then peeled and puréed with piquillo peppers. The port-wine sauce spooned on at the end is enriched with stock made from roasted lobster heads.
Lobster spaghetti
Where: Charlie Bird
Price: $26
Maine lobster is poached in a court bouillon just until the meat pulls away from the shell. The kitchen makes a sauce with lobster stock mounted with butter, sofrito, white wine, and tomato paste, which is used to finish the pasta. Roasted Romanesco zucchini, Sun Gold tomatoes, lobster butter, basil, and citrus bread crumbs round out the dish.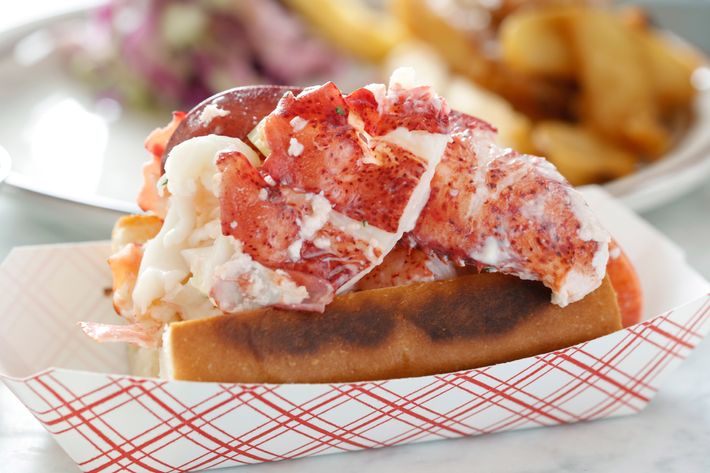 Lobster roll
Where: Greenpoint Fish & Lobster Co.
Price: $27
Lobster rolls aren't exactly hard to find, but some are definitely better than others. Greenpoint Fish & Lobster Co. just so happens to make the best one in the city. For its take on the New England staple, the restaurant mixes cold, hand-picked lobster with a little mayo, celery, lemon, tarragon, and Maldon sea salt. This is served in a buttered, toasted bun alongside a crispy citrus-cabbage slaw, a housemade pickle, and, of course, French fries.
Lobster egg foo young
Where: Talde
Price: $17
The closest you might get to lobster for breakfast (or at least brunch) is the egg foo young at Talde. The dish is inspired by one that dates back to the Qing dynasty and starts with garlic, ginger, and shallots cooked in butter or hot oil. Lobster meat, Chinese sausage, scrambled eggs, and a sauce made with chicken stock go into the mix, along with coconut milk, chipotles, garlic, shallots, lemongrass, makrut-lime leaves, and shrimp paste. The dish is served in a clay pot with toasted sourdough.
Homard à la broche
Where: Frenchette
Price: $48
For its homard à la broche, or lobster on the spindle, Frenchette fast-poaches a lobster in court bouillon, injects the tail with classic beurre fondue, and then spins it on a rotisserie for ten minutes. Claws and elbows are shelled and the tail is split. That's all served with a curry-based beurre fondue, and fennel radish salad to cut the richness.
Lobster ravioli
Where: Augustine
Price: $33
At Keith McNally Fidi restaurant, the lobster is poached and chilled lobster is made into filling with fennel and white onion, with crème fraîche, chives, lemon juice, and lemon zest. The filling is piped into housemade dough and served in a beurre-blanc sauce infused with ginger, scallions, makrut-lime leaves, and piquillo peppers.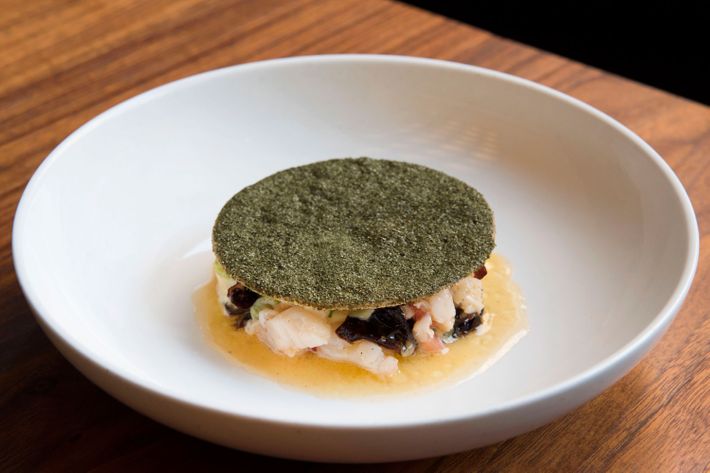 Lobster and dulse seaweed tart
Where: Flora Bar
Price: $28
If you find yourself on the UES and heading to the Met Breuer be sure to also pop down to the in-house restaurant for an enticing lobster and dulse seaweed tart. Lobster tail is blanched in its shell, then poached in butter and seasoned with salt, lemon zest, and yuzu-orange juice. It's all mixed with scallions, finger lime, and dulse seaweed, sauced with hollandaise, and then covered with a delicate nori-seaweed-dusted pastry disk.
Chou farci aux fruits de mer
Where: Le Coucou
Price: $36
Don't let the fancy name daunt you, this one simply translates to "stuffed cabbage with seafood," and that's what you get: Lovely Savoy cabbage filled with a mixture of lobster, scallop, and pike mousse. It's steamed and served with a rich sauce made from mushrooms, white wine, classic fish fumet, and butter.
All the lobster
Where: Nick's Lobster House
Price: Varies
If you really want to go all-in on lobster, then you have no choice but to trek out to Nick's Lobster House in Mill Basin. Since 1955, it's been the place to get a lobster fix, well, fixed. The menu features two types of lobster rolls (classic and Connecticut-style), a lobster sandwich on a brioche bun with seafood stuffing, lobster bisque, whole lobster or lobster tail, and three types of lobster pasta. It's an all-you-can-eat lobster buffet.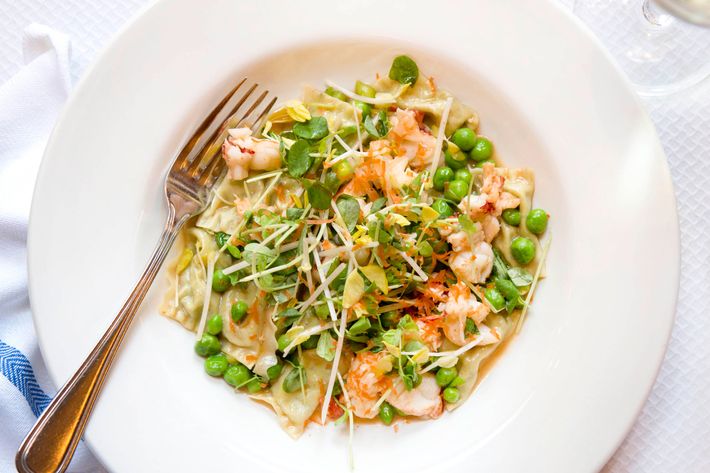 Sweet pea agnolotti with Maine lobster
Where: Balthazar
Price: $26
Market-fresh peas are the centerpiece of this dish, but lobster also plays a major role. It starts with homemade agnolotti filled with peas, mint, ricotta, Parmesan, olive oil, salt, and espelette pepper that's then garnished with fresh Maine lobster, English peas warmed in reduced lobster stock and finished with butter, and baby pea shoots. The whole thing is topped with grated, dried lobster roe.