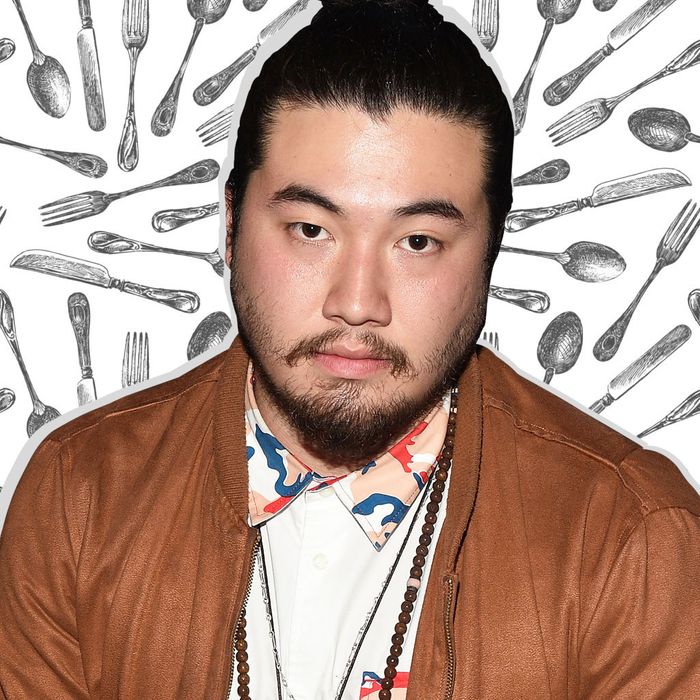 Matt FX.
Photo: Getty Images
Big Tip is a weekly column featuring dining advice from real people who just happen to also love food.
Though not without its shortcomings, New York is really, truly a 24-hour city, which makes it the perfect place for the committed night owl. Take Matt FX, the DJ and music producer behind the far-out, hip-hop-inflected tunes on Broad City and a constant presence on the city's dance-party circuit.
FX's obsession with food started long before his obsession with music. More than two decades ago, he says, his mother started him on adult food (read: shrimp) served baby-style (read: blended). Just a few years later, he was ordering off of menus like a seasoned diner. And after high school, FX discovered a talent for turning leftovers into full-blown feasts. "I see a lot of parallels and similarities between the process of music production and recipe building and mixing flavors," he says. "I definitely am not the first or last musician to have a huge passion for cooking."
So, whether it's the best Chinese-American fusion he's ever had, or the cheapest high-quality cocktails to be found in the Meatpacking District, Matt FX has this particular market figured out. "So often I'm halfway through a gig, looking forward to where I'll be heading to afterward to grab that bite," says FX. Here are his favorite places to do just that.
Coppelia
207 W. 14th St., at Seventh Ave.; 212-858-5001
"It's a 24-hour diner that has a Pan-Latin influence. So, although you can get the classic pancakes and cheeseburgers, you can also get arroz con pollo, oxtail empanadas, and some very traditional Pan-Latin food all the way up and down South and Central America. My all-time favorite is the Frita Cubana: It's a burger that has Cuban roast pork, chicharón, and pickled onions on top of the patty. It's halfway between a burger and a Cubano sandwich. It's really, really special."
Wolfnights
Multiple locations
"It's a wrap spot that's not necessarily a sit-down, but definitely very good for late night. They're open 'til 5 a.m. on weekends. They make the wraps in front of you and they have these doughs made with ginger, chestnut, or other ingredients. As soon as you order it, they'll place the dough through this machine that mashes it, and then they cook it over an upside-down wok that's over a fire. So, you see the tortilla come to life. The one I always get is called the Dire Wolf. It's got fried chicken, lamb bacon, cheese, papaya slaw, and peppers. It shouldn't work, but it's unbelievable. I always get two and then keep one and heat it up in the toaster oven the next day. It's that good."
Strange Flavor
Multiple locations
"This guy, chef Matt Kleine, has taken over the menu at a few different spots in Bushwick and at Smorgasburg. So, the very first one is called Strange Flavor Burger Shack and it's in Welcome to the Johnsons, the Bushwick location. And now he's also taken over Hard Times Christmas Bar, which is next to Elsewhere, as well as Our Wicked Lady. So, it's almost like a Strange Flavor empire now. He does this really interesting thing where he takes these very traditional Chinese flavors like Sichuan pepper spice and bitter melon, but uses them over fried-chicken sandwiches and burgers and crazy nacho plates. Each of the menus are slightly different, but they're all sort of junk food meets Asian food and better than I've seen anybody else do it, frankly. As a half-Chinese person who's been over a dozen times, I can attest that he knows what he's doing."
The Woodstock
446 W. 14th St.; nr. Tenth Ave.; 212-633-2000
"It's this bar off 14th Street and all the cocktails are $10, which I think is super interesting for the Meatpacking District. It's really a lot cheaper than any place in that area. It almost reminds me of an L.A. bar. It's huge, there's so much room, and it has this That '70s Show vibe. There's a pool table in the back that's free to play, and they have coal-oven pizza as well. In terms of going out in that neighborhood, which can sort of be a nightmare in general, I really like this spot."
Black Flamingo
168 Borinquen Pl.; nr. Keap St.; 718-387-3337
"The food there is all vegan and vegetarian, but it's done in such a way that (A) you don't really miss the meat because it's really well-layered Mexican flavors, and (B) it's actually interesting. They do fried-avocado tacos and mushroom quesadillas that have like six different types of mushrooms on them. And then they've got a club downstairs with a fantastic sound system, and it really reminds me of these European rooms that only have 100 capacity, but great house and disco DJs will play. It's got intimate litness. It's fantastic."