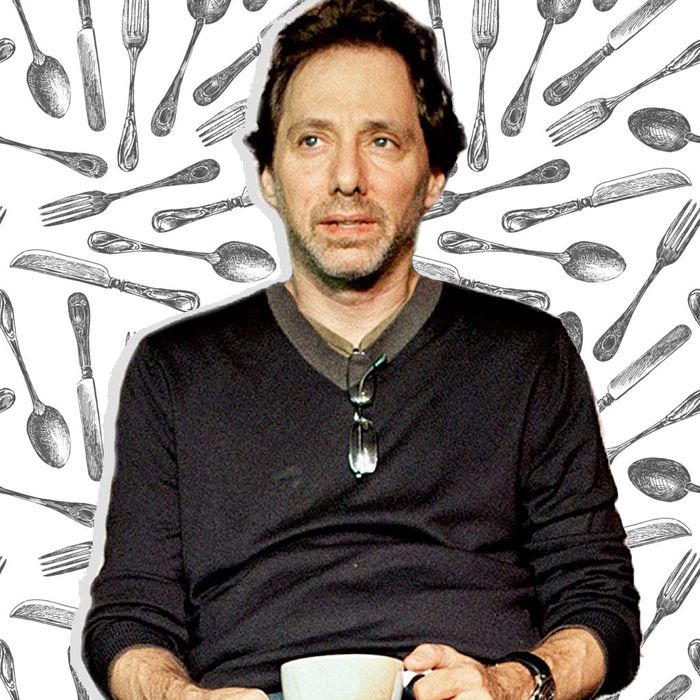 Photo: Courtesy of Noam Dworman
Big Tip is a weekly column featuring dining advice from real people who just happen to also love food.
Like strolling across the Brooklyn Bridge or stepping up to the pastrami counter at Katz's, visiting the Comedy Cellar is one of New York City's great mainstays. Since opening in 1982, the Cellar has not only become the place for up-and-coming comedians to get their material out into the world, but one of the few comedy clubs in the city where you might catch sets from Chris Rock, Amy Schumer, and Jerry Seinfeld on a random Wednesday night in January.
It's the type of place where people come hungry, in a literal and not-so-literal sense. So, Grub thought to ask Noam Dworman, the Cellar's second-generation owner, where he thinks patrons should take care of the former. Don't expect anything too chichi. "My attitude about food is the simpler, the better," says Dworman. "When I go to supposedly esteemed restaurants, I come away disappointed because they're just too fancy for me. I think they should get the best steak that they can get and then stay out of its way. That's kind of my theory about food."
That said, Dworman says he knows where the best Jewish-on-Christmas Chinese food is as well as the name of the place with falafel that he's tried to re-create at his equally famed restaurant, the Olive Tree Cafe, located above the Comedy Cellar. "We have great restaurants in the Village," Dworman concedes. "But these are the places I eat at most often."
Cuba
222 Thompson St., nr. W. 3rd St.; 212-420-7878
"This might be the fanciest of all of them, but it's really good: It's a restaurant on Thompson Street where they have really good Spanish-influenced food like ceviche and empanadas, and there's a guy there rolling Cuban cigars in the front. The atmosphere is kind of dark and romantic. It has little nooks and crannies, and everybody I've ever taken there has gone back and been very, very happy."
Mamoun's
119 Macdougal St., nr. 3rd St.; 212-674-8685
"The best falafel there is. And you know, for years, going back to when my father was alive, we used to sell falafel. And we would do the recipe and do it and do it again and try to get it as good as Mamoun's, and we could never do it. It really is as good as they say it is. There's a line out the door all the time. And I'll add this: The owner is unbelievably nice because our crowds quite often interfere with their business, and they're always nice to me about it. Much nicer than we deserve."
Bar Bolonat
611 Hudson St., at W. 12th St.; 212-390-1545
"The food has a Mediterranean influence. Like a fancier version of the kind of basic foods that they serve at Mamoun's. I was weary about going there when I was invited there, but it was really, really, really good. Like, really good. And I've gone back there. I love to get the everyday cauliflower and the merguez kebabs with eggplant and lentil cream."
Joe's Pizza
7 Carmine St., nr. Sixth Ave.; 212-366-1182
"The Village is lucky because we have some of the best staple items, and Joe's Pizza on Carmine Street is really the best pizza in the city. I know Ray Romano goes there whenever he's around. We have pizza nearby, but all the comedians will walk the extra few blocks to go get a piece of Joe's."
Uncle Ted's Modern Chinese
163 Bleecker St., nr. Sullivan St.; 212-777-1395
"It's like the old-style Chinese restaurant that I remember as a Jewish kid growing up on the Upper West Side. It's a throwback in a way, the way the food is served. And the service is really, really good. And for some reason, there are not that many of that type of Chinese restaurants around the city anymore. They'll make anything you want specially there: I always have a fried tofu in garlic sauce and the Yeung Chow fried rice."