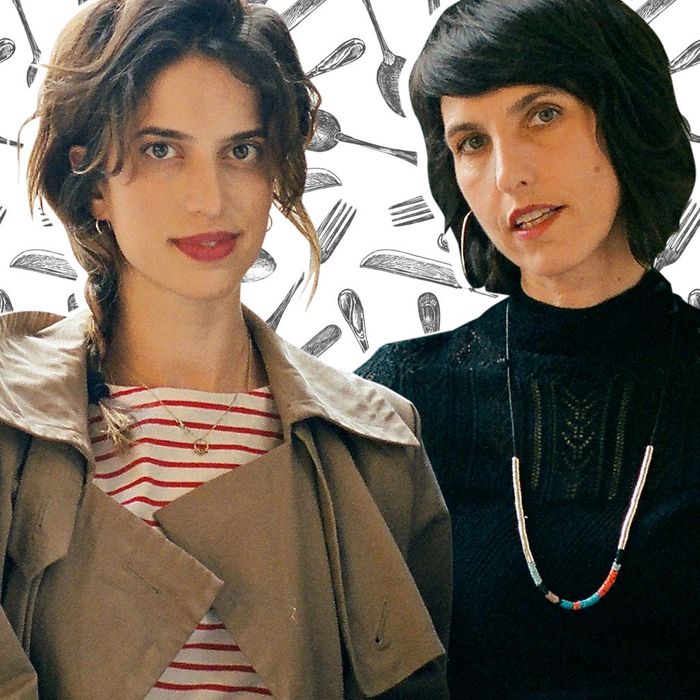 Anna Polonsky (left) and Amy Morris of the MP Shift.
Photo: Ruby Rose
Even before they won this year's James Beard Award for Outstanding Restaurant Design (Under 75 Seats), Amy Morris and Anna Polonsky of the MP Shift were focused on working with clients whose approach to food was as creative as their approach to design. "In the beginning, we were very strategic about going after the clients we really wanted to work with," says Morris. "People who were open-minded, kind, and doing things that were different, really on the cutting edge of food, or people who were really passionate about food and what was happening." Accordingly, they count some of the coolest restaurants in the city among their interior-design clients, including Golda, Seed + Mill, Otway, Annex, and most notably, De Maria, which earned them the James Beard medal.
Though, they now have a staff of 14 working under them, Polonsky and Morris still regularly visit design stores and flea markets looking for inspiration and the next big thing in restaurant design. "It's so much fun to put your own design spin on your place, so it's good to offer places where people can go and be creative," says Morris. "The city is such a creative city, and you've just got to dive into that and find your own point of view." Below, their favorite places to do just that.
Front General Store
143 Front St. nr. Pearl St.; 646-573-0123
"This place is just like a treasure trove of inspiration. You walk in the door and there are so many points that you want to walk to. It's fashion and home. So, they have great glasses and plates and little knickknacks, but they also have a great curation of fashion. And what I love about the owners is that if you're not finding what you want, if you talk to them, usually they've been on a buying trip and there's stuff in the back they haven't unpacked yet, and they'll go back and get that for you. That's why it's always good to talk to shop owners and engage because there's always more than what you see in front of you."
Authentiques Past & Present
255 W. 18th St., nr. Eighth Ave.; 212-675-2179
"Year-round they're an excellent place to go and get Murano glass ashtrays, and they have great vintage tumblers for whiskey or Scotch. But during Christmastime, the entire shop changes into a winter wonderland. And they have just an endless supply of vintage ornaments, but they also do a whole range of these very pop-culture ornaments like a fun taxi cab or a coffee cup. But the vintage ornaments are beautiful, and we decorate our entire tree with those vintage ornaments."
Greenhouse & Co.
387 Atlantic Ave., nr. Hoyt St.; 718-422-8631
"We always find that it's hard to shop Atlantic Avenue. There are a lot of vintage shops there, but they're overpriced and it kind of gets discouraging. But this place is one that is very reasonable. They also have a website called Wynne City Works. What I love about them is that if you don't see an item that you are looking for — maybe it's a special dining table from a certain period — they will look for it for you. They'll let you know when they have something in stock that fits what you are looking for, and they are also willing to work with your budget. Don't be embarrassed in this store to say, 'Here's my budget, what do you have?' They'll even recommend to you a comparable store if they don't have what you need."
Dobbin Street Co-Op
Multiple locations
"This is a favorite of most of the employees at the MP Shift, and many of them have furnished their homes through this place. They have locations in Greenpoint, Bushwick, and one just opened in Williamsburg. They do a lot of big trips down to the South and upstate New York looking for vintage furniture, so they are able to offer very approachable prices, which makes a difference. I highly recommend following their Instagram feed, and they recommend that if you like something on Instagram that you direct message them with your Venmo username."
Global Table
107 Sullivan St.; nr. Prince St.; 212-431-5839
"The owner, Nathalie Smith, has been around forever. She's a really brilliant woman, and I love how she curates her shop because it's not too precious. You feel like you are stepping into the backroom of her shop. There are tables piled high with different bowls and plates, and yet it's curated carefully. So it has this nice balance of not being too precious and making it feel very comfortable to walk through the store and pick things up and place things together and do some of your own styling. It's a great place to go to find an interesting bowl that you would put in the center of your table or an interesting pedestal that you might use or the best salt and pepper shakers."