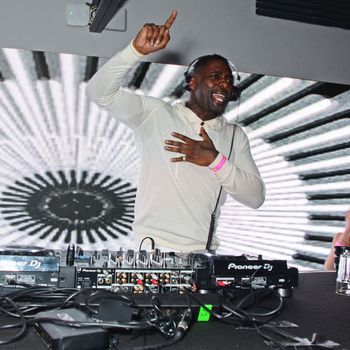 Let Idris Elba soundtrack your weekend.
Photo: David M. Benett/Dave Benett/Getty Images for For Formula E
Events to check out this weekend, July 5 to 8.
1. Come down with case of Lisztomania.
This weekend, French rockers Phoenix take over Brooklyn Steel from Thursday through Saturday (with more dates on Monday and Tuesday). Italian singer-songwriter Giorgio Poi opens.
2. See ballet set to music by Leonard Cohen.
Tonight, as part of Celebrate Brooklyn! at the Prospect Park Bandshell, catch a free performance by Les Ballets Jazz de Montréal. Their Leonard Cohen's Dance With Me, commissioned before his death and with his blessing, explores their usual techniques of classical ballet with latitude for experimentation.
3. Stay cool, stay buzzed.
Looking for something beyond the regular frosé? Head to the Osprey at the 1 Hotel Brooklyn where, through August, they'll be serving Frosecco cocktails with Ruffino Prosecco ($15, especially good when paired with the outdoor seating). There are two versions: one with blueberry and peach and a more dangerous one with vodka, lemon, and St. Germain. It's lucky that you're forced to sip or risk head freeze. And when you're done with that, head over to the Bell House on Friday for the Wet Hot American Summer Drinking Game, where actors perform the classic and when a buzzword arises, everyone drinks. High jinks all around!
4. Catch a historical comedy, in a cemetery.
Rooftop Films takes to the dirt this Saturday with a screening of Wild Nights With Emily, starring Molly Shannon as poet Emily Dickinson. Come early for the live music, stay late for the Q&A and after-party at Greenwood Park.
5. Idris Elba DJing. Because Idris Elba DJing. 
This week Stringer Bell/Luther himself launched a record label, 7Wallace Music. Help him celebrate on Friday when he DJs at Output along with Kenny Dope, Alix Alvarez, Just Blaze, and more. For another artist doing something out of the realm of what you're used to, head to the Journal Gallery in Williamsburg where Michael Stipe's mixed-media art exhibit "Infinity Mirror" opened this week.
6. See a satirical tale set in 2015.
That's the 2015 right before the last presidential election. Log Cabin, starring Jesse Tyler Ferguson, follows a group of gay and lesbian friends as they meet a new transgender pal, with interactions that illustrate that conservatism is relative.
7. Spend the afternoon in Red Hook.
This weekend is the free, monthly Second Sundays event at Pioneer Works, with open studios, live music, exhibitions, and interactive programs exploring art and its intersections with science, technology, and education. RSVP for entry and come at 3 p.m. for a gallery talk with Demian DinéYazhi' about the exhibit "A Nation Is a Massacre."
8. Go up on a Sunday.
Ophelia, the new rooftop bar in the East Side's Beekman Tower, launches its Sundays at Ophelia series this Sunday. Lasting from noon to 5 p.m., this July 8 event will feature jazzy music from Argentine singer Sol Liebeskind; new cocktails like the bourbon, ginger beer, and juice Watermelon Refresher; and a Sunday-only food menu with lobster and corn fritters and bacon steak. Pair that with river views, and you've got yourself a fine way to end your weekend.
9. Celebrate Brooklyn Bowl.
It's the anniversary of NYC's OG bowling and music venue, and they'll be celebrating all weekend, beginning on Thursday. Buy individual tickets to events, from a Donna Summer disco party to a DJ set by St. Lucia, and enjoy $9 bowling lanes, house cocktails, and a nine-piece fried party wing plate.
10. Sharks!
Last weekend, the New York Aquarium at Coney Island finally opened its new shark exhibit. Don't wait any longer to visit. Show up for 18 different species, including Bud Logan, a sand tiger who's the oldest shark there at 34. (Not to be outdone, Ray Charles, the roughtail stingray, clocks in at 42.) Buy them online and get tickets half-off.