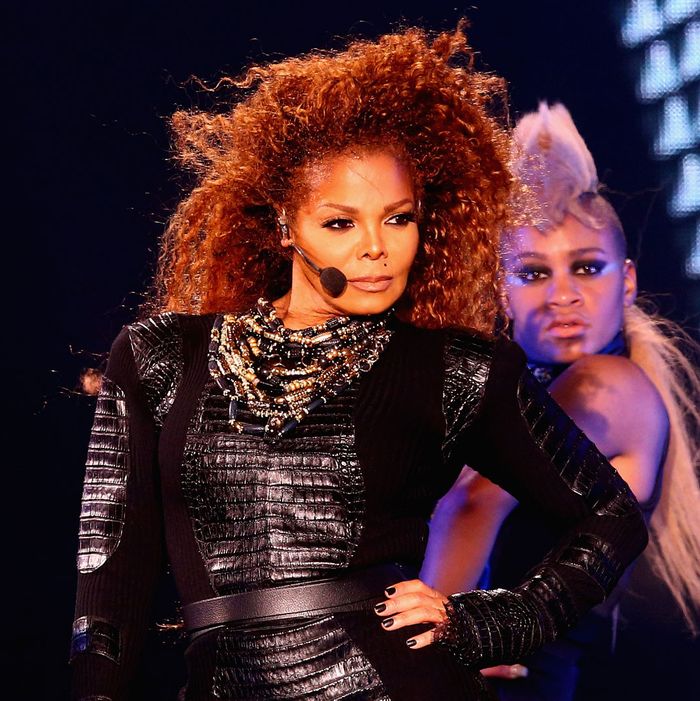 Ms. Jackson headlines Saturday at Panorama.
Photo: Francois Nel/Getty Images
Events to check out this weekend, July 26 to 29.
1. Check out some easy, breezy, free-zy musical theater.
Step out on your lunch break for the Broadway in Bryant Park summer series, which runs on Thursdays through August 16. From 12:30 to 1:30 p.m. today, see musical numbers from Come From Away, Kinky Boots, The Band's Visit, and Wicked with 106.7 LITE FM hosts Bob Bronson and Christine Nagy and co-hosts from The Play That Goes Wrong.
2. Dance and eat your way through the East Coast Coachella.
Janet Jackson leads a lineup of heavy hitters at the Panorama festival this Friday through Sunday, which also includes the Killers, the Weeknd, Lil Wayne, and SZA. In between sets at Randalls Island they've got you covered with the Lab, a 90-foot dome with trippy, immersive installations by NYC-based artists, a tasting dome by Glenfiddich where you can try three different whiskeys and food and drink like Roberta's pizza, Emmy Squared, Mighty Quinn's Barbeque, a sneak peek of the new Williamsburg restaurant Gertie, with a Marlow & Sons alum chef, and more.
3. Go find some culture outside.
It's here! Through August 12 is the Lincoln Center Out of Doors festival, the three weeks of free events to help you get more cultured without spending a dime. Show up on Thursday for Selena for Sanctuary, featuring Latinx artists like Mon Laferte, Cuco, Omar Apollo, and Nina Diaz covering the queen of Tejano music, Selena Quintanilla-Pérez. On hand will be nonprofits like Road NY and Voto Latino providing free services to immigrants and the undocumented. On Friday, catch a tribute to Italian composer and Fellini film-scorer Nino Rota, put together by music producer Hal Willner, see singer-songwriter and guitarist Faramarz Aslani or take a dance class with the Mark Morris Dance Group on Saturday, and on Sunday switch gears for SummerStage, when hip-hop heavyweights the Lox (Jadakiss, Styles P, and Sheek Louch) and Young M.A play a free show at the Ford Amphitheater at Coney Island.
4. Enjoy iambic pentameter on an island.
If author, activist, and Younger heartthrob Nico Tortorella isn't enough to lure you out to the free New York City Poetry Festival on Governors Island this weekend, go instead for five stages of 250 poets, over two days, with an open mic, kids events, food and booze, a swing-dancing lesson, and something called a poetry brothel. If you can't get enough of that sweet, sweet verse and happen to be at Grand Central through October 28, the New York Transit Museum Gallery Annex will host Poetry in Motion at 25, celebrating the program that has distracted subway riders from the failings of the MTA since 1992, when it first displayed an excerpt from Walt Whitman's "Crossing Brooklyn Ferry."
5. Take a trip to Oaxaca.
The massive Mexican Guelaguetza Festival occurs annually over two Mondays at the end of July in Oaxaca and nearby villages. New Yorkers should know that it also happens this Sunday in Queens at the Socrates Sculpture Park. Celebrate indigenous Mexican culture with music, dance, and crafts from the regions of the state of Oaxaca, all for free.
6. Hit a chain steakhouse for a very generous wine tasting.
Hey, do you like wine? Through September 2, for just $28, add the Generous Pour to your meal at any of the city's three Capital Grille steakhouses and get copious tastings of seven varietals from winemaker Dan Duckhorn, including a rosé of Pinot Noir from Goldeneye, California, debuting exclusively in the deal. A shrimp cocktail and seven glasses of wine sound like a mighty fine way to spend a weekend evening.
7. Visit the Love Shack.
Forest Hills Stadium is a time machine this Saturday with a lineup of Boy George & the Culture Club, the B-52s, and Thom Bailey from the Thompson Twins. Spring for a VIP Champagne toast with the B-52s or a photo with Boy George and the opportunity to ask him if he really wants to hurt you. Or not. Either way, start planning your outfit now.
8. Make it an outdoor-movie night.
Or a movie weekend. Go immersive on Friday when Dunkirk is screened on the Intrepid for free, and that same evening pack some cheese and baguettes for the 2012 film Haute Cuisine in Riverside Park, part of the French series Films on the Green. Dress like your favorite character when you see The Princess Bride in Fort Tryon Park on Friday and be rewarded with prizes, or dress for The Last Jedi in the Bronx or Rockaway Beach on Saturday and be rewarded with looks from people on the subway. For more free screenings, check the NYC Parks site.
9. Get animated.
The best in professional, independent, and student works come together for the 15th annual Animation Block Party, running from Friday through Sunday at BAM, with a free opening-night party tonight at Littlefield. Come for the animated shorts, including an exclusive Pingu the Penguin cartoon, stay for the live drawing of comedians as they perform. High jinks will abound.
10. Find some drama!
It's a good weekend to take in some theater. Young Jean Lee's complicated Straight White Men is now open on Broadway, a study of an aging father and his three adult sons, with Armie Hammer and Josh Charles. It's also the last chance to catch a thrilling reimagining of the 1978 Wallace Shawn classic Marie and Bruce, a comedy about a festering marriage starring Gordon Landenberger and trans actress Theda Hammel, which Shawn himself visited last week, before taking some lovely photos. They just added a late show on Friday night.