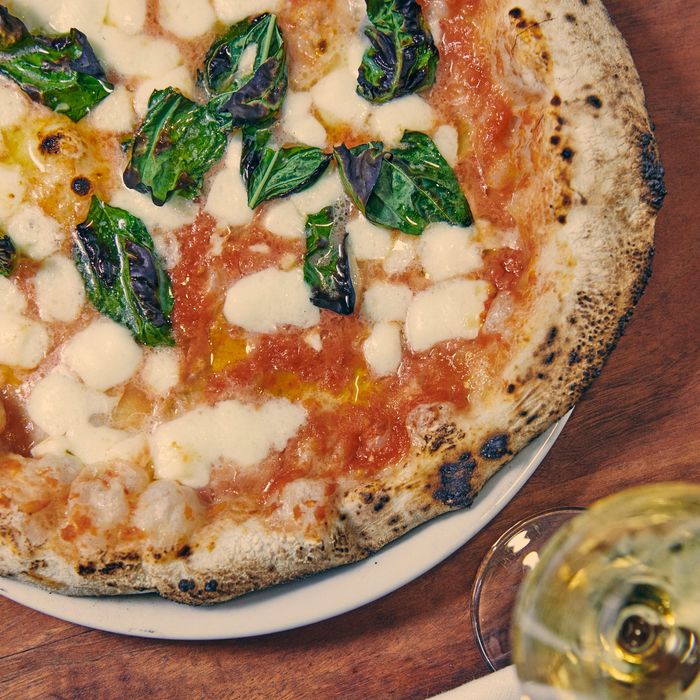 Margherita with Pomodoro San Marzano, mozzarella di bufala, basilica.
Photo: Louise Palmberg
Few things illustrate the madcap, upside-down nature of the dining world over the last decade or so better than the apotheosis of the lowly Neapolitan-style pizzaiolo. Witness the improbable career of Anthony Mangieri, a baker from the Jersey shore, whose tiny, bunkered wood-oven establishment Una Pizza Napoletana helped usher in the great Neapolitan-pie craze when it opened in the East Village back in 2004. Mangieri's intense, hollow-eyed pursuit of the perfectly pure, perfectly crafted margherita pie (he traveled to Naples to divine the secrets of the ancient masters; unlike local slice merchants, he shunned sugary sauces and bleached flour; he made every single pie himself) became the stuff of local legend not just among the city's opinionated, ever-expanding rabble of pizza scholars but among the increasingly craft-conscious, Slow Food–centric food world at large.
True to his rebel, folk-hero status, Mangieri never expanded his brand or cashed in on this success, and after five years in the East Village, he abruptly shuttered the spot and moved out to that mecca of Slow Food obsessives, San Francisco, where he opened another chaste, lavishly praised wood-oven operation. But homegrown New York obsessiveness trumps the relatively tame West Coast variety, apparently, and now Mangieri is back, this time in a much larger space down on Orchard Street. His expansive new digs feature a white-marble bar up front and a dining area appointed with modish-looking black penny tiles and slightly undersize wood-topped café tables. The chef's signature white-tile oven sits in the back of the room, only this time it's behind a long glass window, like a museum diorama, where diners can watch the master, dressed in his flour-dusted cap, at work.

Mangieri's partners in this racier, more user-friendly (and, inevitably, much more antiseptic) iteration of New York's original retro-Neapolitan-pizza joint are the talented young chefs and culinary entrepreneurs Jeremiah Stone and Fabián von Hauske Valtierra, whose portfolio of Orchard Street ventures includes the cutting-edge tasting-menu restaurant Contra and the excellent natural-wine bar Wildair. In addition to helping conjure up this posh new space, the pair have helped procure a modest selection of cool, often fizzy, reliably funky natural wines from Italy, which you can enjoy with the chef's predictably ascetic offering of extravagantly priced $25 pies (there are only five on the menu, not including a couple of daily blue-plate specials), along with a smattering of the kind of highly stylized appetizers and antipasti that you won't find at your average neighborhood slice joint.
While our party of pizza loons waited for a taste of pie, we watched the gaunt (and, yes, impressively tattooed) Mangieri labor grimly behind the glass, shaping and flattening the balls of freshly pulled dough, pouring them with crushed San Marzano tomatoes and olive oil, adding the various sacred ingredients on top (basil, sea salt, buffala mozzarella from Naples), and using a long metal paddle to spin the pizzas evenly around the fire as they cooked. We sampled a little helping of cool raw scallops with lemon juice and white raisins (very good); exceptionally tender carne cruda cut from a chunk of filet mignon, sprinkled with a mix of crushed pistachios and green Sicilian olives (also very good); and a delicate antipasti medley of items — wild broccoli rabe, pickled mushrooms, an anchovy, half a boiled farm egg — carefully arranged around a soft lump of ricotta (excellent).
Our margherita pie was piping hot when it appeared and had the kind of charred puffiness to it that reminded me of something you'd see emerging from the oven of a first-class Indian restaurant. There's an aggressively organic, just-baked breadiness to Mangieri's pizza that threatens to overwhelm his doggedly traditionalist choice of toppings (sadly, there's only one meat-themed pie here, served Saturdays only), but our margherita had that classic combination of bright acidity and sweet, cheesy smoothness that you find in the finest versions of this old Neapolitan classic. The same was true of the properly garlicky, gooey, white-cheese Bianca, although the slice of tomato-only marinara I sampled had no special magic to it, and neither did a lumpish, undersalted, not-quite-ripe-cherry-tomato-and-arugula creation (Ilaria on the menu), which was bombed with wads of smoked mozzarella.
New York's pizza culture has expanded and matured since Mangieri burst onto the scene, of course, and there's not much about this latest reboot that feels revelatory or groundbreaking, especially at these prices (the marinara pie at Kesté in the West Village costs $9). But like music fans who'll pay to see renditions of the songs they've heard again and again, you'll find there's a certain value to catching the performance of a quirky, uncompromising master of the genre practicing his craft night after night. As with the appetizers, the performance is enhanced by the house desserts, in particular the malty, salty, just-churned ice creams (ask for the vanilla) and a rich, high-angle version of tiramisu, which has the thickness of a buttery sponge cake and is flavored with slivers of caramelized sugar and a hint of the bitter liqueur Cynar, which, in case you didn't know, is distilled largely from artichokes.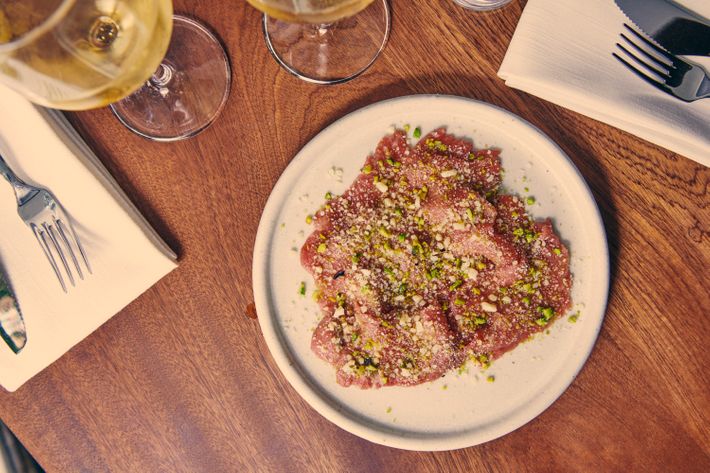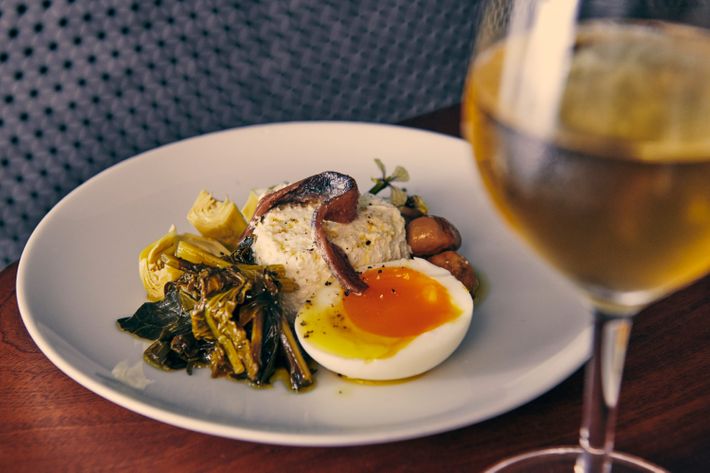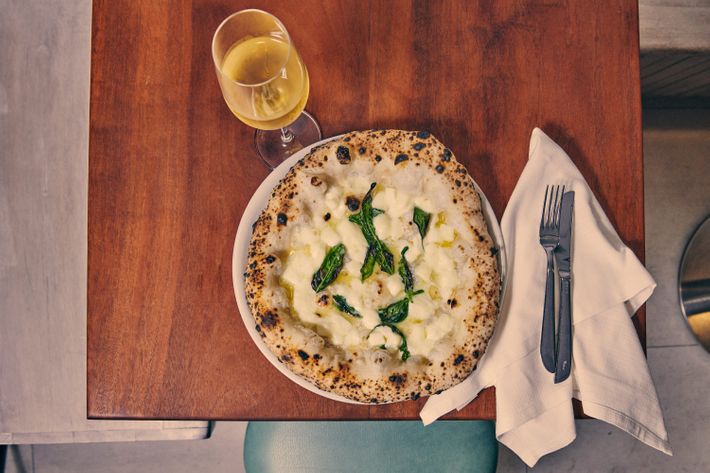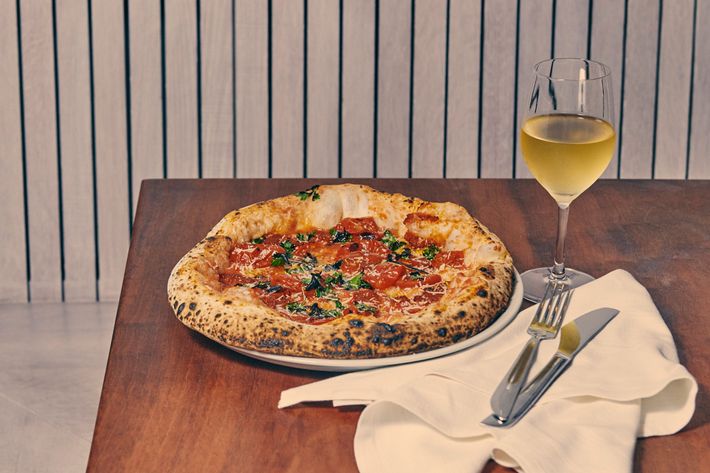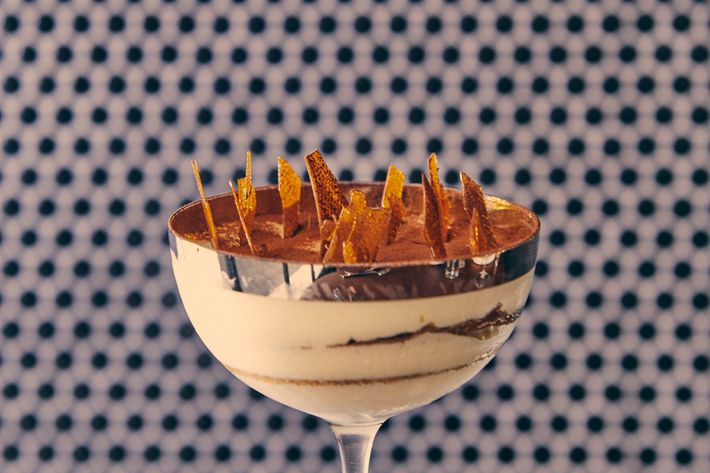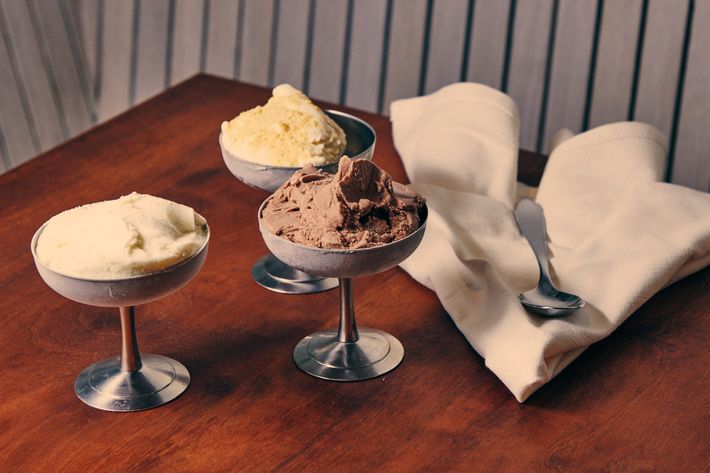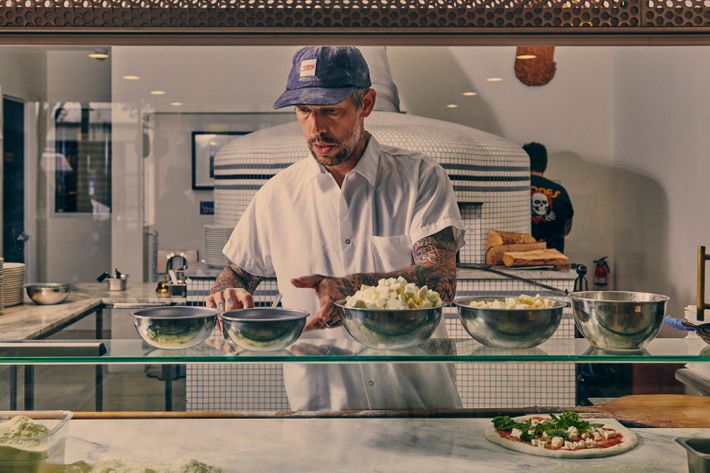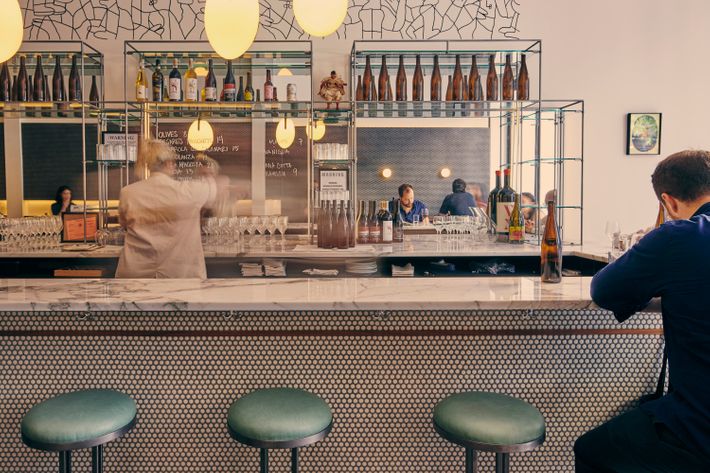 Una Pizza Napoletana
175 Orchard St., nr. Stanton St.; 646-692-3475; unapizza.com
Open: Dinner, Monday to Saturday.
Prices: Appetizers and sides, $9 to $20; pizzas, $25.
Ideal Meal: Carne cruda, vegetable "antipasti," margherita pizza, ice cream and/or tiramisu.
Note: I never made it on Saturday evenings for the salami-and-egg Apollonia pie, but the Friday-only Concetta, made with three kinds of tomatoes, is worth a special visit.
Scratchpad: One star for the newfangled appetizers and desserts and another for the best of the pies.
*This article appears in the July 23, 2018, issue of New York Magazine. Subscribe Now!