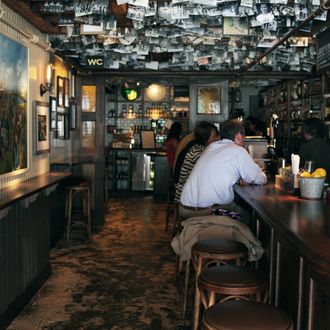 Nearly three weeks after a two-alarm fire caused extensive damage, the Dead Rabbit in the Financial District has reopened with cocktails as well as a limited cold-food menu, which will stay in place until the building's gas service is restored.
In an interview with Forbes, co-owner Jack McGarry says contractors had to rerun all the building's electricity, an undertaking that took "a huge amount of work." He also reveals that other bar owners reached out, offering to employ Dead Rabbit bartenders until the cocktail spot was up and running again. McGarry, however, declined the offers.
"They were trying to be nice, but we invest hundreds of thousands into training these guys," he said. "We have to look after them."
Luckily, the bar's investors stepped in and put together a $200,000 emergency fund that kept the bar afloat and paid to fix the extensive damage, which was isolated to the back of the bar. (Quick-thinking staffers made sure to turn off the gas in the kitchen before exiting.) McGarry and his team were also able to do a few renovations, including updating or replacing the music system, electrical system, on-site cameras, furniture, and flooring. According to McGarry, the bar looks as good as it did when it opened in 2013.
This particular renovation is part of a much larger push to refurbish and expand the bar, a project that should be complete by October 2018.