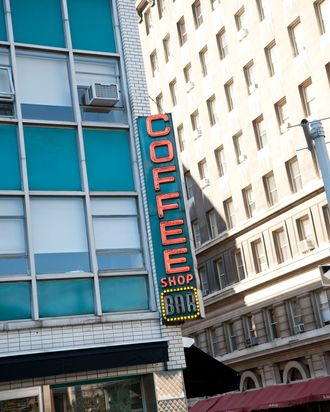 A beacon of caffeine and caipirinhas, since 1990.
Photo: Getty Images/Gallo Images
It looks like the Coffee Shop will serve its last cup in October.
Even to diners who aren't regulars, the always busy, famously "open late" diner and Brazilian restaurant at Union Square West at 16th Street stands out because of its red-lettered neon and the building's blue enamel paneling.
Co-owner Charles Milite did not immediately respond to a request, but told the Post that employees learned about the closing today. High rents were cited as a factor.
When people talk about Union Square, they usually talk about Union Square Cafe. Coffee Shop is a close second. Soon after former Wilhelmina models Charles Milite, Eric Petterson, and Carolyn Benitez opened Coffee Shop 1990, it was so emphatically embraced by fashion people who made the cover of Women's Wear Daily.
New York got a close look at the late-night scene thriving beyond the restaurant's doorman, in a profile that name-checked Isaac Mizrahi, Kevin Bacon, Robin Christopher, and "Downtown" Julie Brown, as well as some baby-faced runway models. The super-trendy menus featured cold caipirinhas, coconut shrimp, and guava crêpes. The renovated space had green vinyl booths and its now-famed snaking bar, but also plenty of greasy-spoon chrome trim and heavy mugs, relics that came with original owner Nick Sidorakis. It was, in other words, a place that served beat cops and cabdrivers in the odd hours that it wasn't bedazzling and gentrifying the immediate neighborhood.
A few years later, the restaurant appeared in several Sex and the City episodes. It also appeared in The Devil Wears Prada and Jessica Jones.
Longtime customers and Anne Hathaway cosplayers will have until October 11 to get their final frozen caipirinha.