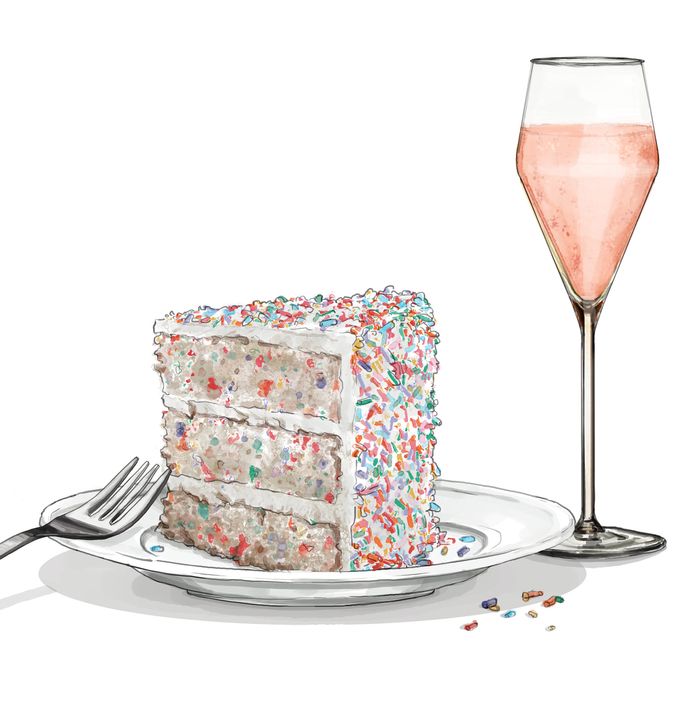 Just try not to smile.
Illustration: The Ellaphant In The Room
Funfetti cake has always been one of the world's great inventions, made even more clear by its relatively newfound ubiquity on Instagram. That is because it is impossible to say, eat, or even think about "Funfetti" without smiling, at least a little. Funfetti cake — any confetti cake, really — is a party by itself (but the bonus is that it is, usually, served at actual parties), and yet, there is a way to make the Funfetti party even more fun: by serving the cake with a chilled bottle of spumante rosé from the Prosecco area of Northern Italy.
You have had Prosecco. You know it. You love it. You drink it in Aperol Spritzes. But few people know how Prosecco differs from other sparkling wines, most especially Champagne. Prosecco is made via a process called charmat, in a large tank. It's similar to how Champagne is made, but Champagne's bubbles are added in individual bottles (instead of in a tank). Many people also might not realize there's a rosé — or rosato — version, because pink wines can't be labeled as "Prosecco" due to the grapes that need to be used. What you need to know is that most Prosecco producers nevertheless make a pink bottling that they simply label as "spumante" — the Italian term for sparkling wine.
Even though these spumante rosés have similar levels of sugar to Champagne, the wines often taste sweeter because the grapes that are used — they run the gamut, but there's usually some Pinot Noir or the little-known Raboso Veronese in the mix — give riper fruit flavors and have less acidity than the wines used in actual Champers. These wines are really good with birthday cake for a few reasons: The charmat method results in a softness to the fizz (so the bubbles aren't sharp, like Champagne's), which will help make the cake feel even lighter and fluffier. The wine's fruity, floral flavors and vanilla-bean-like notes are also a perfect match for the Funfetti's sweetness and those Technicolor sprinkles. Grab a few bottles, and some friends, and give it a shot. Here are three options to get you started:
Mionetto Rosé Extra Dry ($13)
One of the biggest players in the Prosecco game, this will be a soft, easy, peachy, and sweet wine. ("Extra Dry" is a bit confusing in this case because it actually means it will be a little sweeter than a typical Brut.)
Lamerti Rosato Spumante ($15)
From a well-respected producer in the heart of the Prosecco territory, this wine is made from Pinot Bianco, Pinot Nero, and Raboso Veronese. There will be a lot of apple and pear with a tangy juiciness and soft bubble.
Altaneve Rosé ($28)
This is a refined version of what these niche wines can offer. It will be pretty and floral with a rainbow of of berry aromas and flavors. The blend here will be 70 percent Pinot Nero and 30 percent Glera, which is the grape used to make traditional Prosecco.