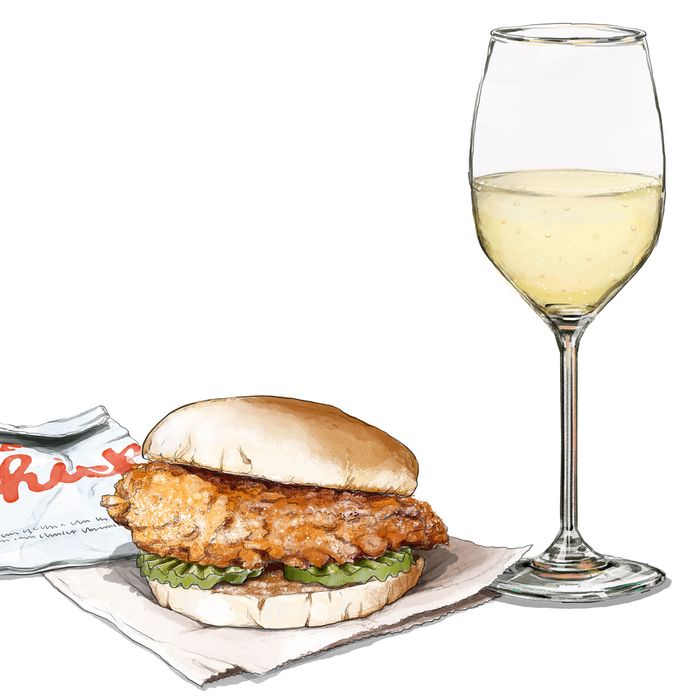 The pét-nat is from the verdant Loire Valley; the chicken is fresh out of the fryer.
When the first stand-alone Chick-fil-A in Manhattan opened in 2015, I braved the block-long line to eat my first classic chicken sandwich in years. It still tasted like home, and the sandwich I loved as a kid in Kentucky pulled on all sorts of nostalgia strings for this adult in New York. Of course, it also feels like something of an indulgence now, but that just means it's worth doubling down and grabbing wine that also feels like a treat. And with Chick-fil-A's soft, comforting sandwiches, I'd reach for a pét-nat.
This category of sparkling wine has made a major comeback lately, so let's talk about it real quick. First, it's short for pétillant-natural, but the name is always truncated for the sake of both brevity and affection. Second, it is one of the oldest known methods of wine-making: It predates modern technological wine-making and is a method of making sparkling wine in what is perceived as a more natural way, which is quite different from the way that other sparkling wine, Champagne especially, is made.
Champagne is made by putting still, low-alcohol wine in a bottle and adding a little sugar and yeast to start a second fermentation in the bottle. When the fermentation and aging is done, the sediment is removed and a little sugar known as the dosage is added, which balances out the raging acidity in the Champagne. This method produces sparkling wines of unrivaled elegance and complexity, but requires additional steps and expense. It is also a relatively recent discovery in wine-making, thanks to Louis Pasteur in the 1850s.
Pét-nats, on the other hand, are made in a way that is so old, the French call it Méthode Ancestrale because it is indeed ancient. The fermentation is allowed to start naturally before the juice is moved to individual bottles mid-fermentation, so there is no need to add anything more to inoculate the process from grape juice to wine. In the end, the wine isn't disgorged and no dosage is added. The grapes used to make pét-nat are also picked a little riper than those that are used for Champagne, so there isn't the same need to add sugar because the acidity is naturally more balanced. The resulting wines can vary pretty widely, but there is usually some cloudiness, and there are fewer bubbles than what you'd find in Champagne. Pét-nats also tend to have a tartness and are usually dry (though sweet options do exist). It probably won't surprise you to learn that they also tend to be made by producers who believe in minimal inputs in both the vineyards and winery (hence the term "natural").
Here's why it works: With Chick-fil-A's sandwiches, I would pick a pét-nat from the Loire Valley, which is ground zero of the movement to bring these types of wines back into mainstream wine-drinking culture. Specifically, we should look for wine based on the grape Chenin Blanc, which is naturally high in acidity — a key element in pairing wine with fried food, since it helps cut through the grease. The wines will also have a yeastiness to them, all the better to complement the chicken's fried goodness. Lastly, Chenin Blanc–based pét-nats are usually a little citrusy, which will match all the sweet and sour sauces; and the sandwiches' pickles will even find a match with the wines' gentle funk.
Here are a few suggestions to get you started.
La Grapperie La Bueilloise ($25)
A blend of Chenin Blanc and a little-known grape called Pineau d'Aunis, this wine will be a little tart, very dry, and packing a super citrus punch.
La Grange Tiphiane Nouveau-Nez Brut ($23)
This is a monovarietal (winespeak for one grape only) Chenin Blanc made by Damien Delecheneau. His property is farmed biodynamically, and the electricity from these efforts shines through with all the melon-y, citrusy, appley, and yeasty notes.
Les Capriades Pet Sec ($68 for a 1.5-liter bottle)
The winemaker here is Pascal Potaire, who is very well known for producing different styles of pét-nats. This pét-sec style (sec means dry) is a majority Chenin Blanc style blended with a little Cabernet Franc. This very drinkable rendition is great as a magnum, since you can grab a group of friends. They will very much thank you.