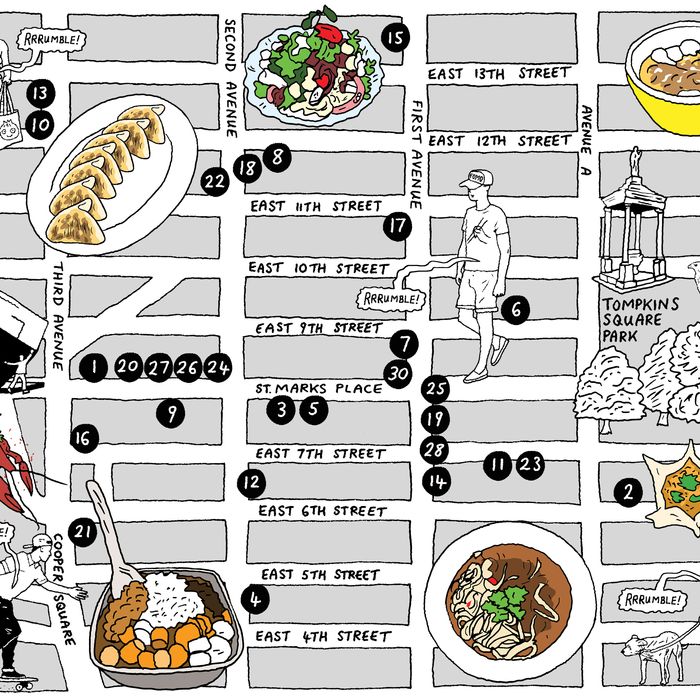 Illustration: Map by Peter Arkle
The historical hub of Polish pierogi, Ukrainian borscht, Indian vindaloo, and Japanese ramen has recently become an epicenter of Chinese and Taiwanese restaurants, both homegrown and imported — from Flushing and (much) further east. Here, where to find the neighborhood's newest Yunnanese, Hunanese, and more.
1. The Bao
13 St. Marks Pl.
Home of the city's best soup dumplings, including wasabi and "super-spicy" versions.
2. Carma East
507 E. 6th St.
Taiwanese "dim sum bar" with a chef connection to soup-dumpling mecca Din Tai Fung. Also: Cumin-beef tacos and mala dry pots.
3. Chi Ken
58 St. Marks Pl.
Taiwanese-popcorn-chicken proto-chainlet that's been threatening to open here for over a year.
4. Chong Qing Xiao Mian II
82 Second Ave.
This offshoot of a Hell's Kitchen noodle shop adds a selection of the Sichuan-hot-pot dish, mao cai, to its menu, somehow managing to coinhabit its petite premises with a sushi bar.
5. Clay Pot
58 St. Marks Pl.
The main attraction of the customizable bao zai fan, or Hong Kong-style clay-pot rice, is the crispy bits you scrape from the bottom of the bowl.
6. Dian Kitchen
435 E. 9th St.
Mom-and-pop Yunnanese-rice-noodle shop; try mu-gua shui, a sweet-jelly foil for the chile heat.
7. Drunken Dumpling
137 First Ave.
Home of the XL XLB, a monster soup dumpling served with a straw to extract the broth.
8. Dunhuang
300 E. 12th St.
Showcasing the cooking of Gansu province in China's northwest, specifically Lanzhou beef noodles, mutton on the bone, and barbecued skewers, from chicken heart to lamb kidney.
9. 886
26 St. Marks Pl.
Next-generation Taiwanese from an owner of the Tang nearby.
10. Han Dynasty
90 Third Ave.
Sichuan juggernaut from Philly with three local branches and a one-to-ten heat scale that means business.
11. Ho Foods
110 E. 7th St.
Taiwan-beef-noodle specialist with long lines and delicious soup.
12. Hot Kitchen
104 Second Ave.
Truth in advertising at this consistently good Sichuan spot.
13. Hunan Bistro
96 Third Ave.
A Hunanese alternative to Sichuanese Han Dynasty virtually next door.
14. Hunan Slurp
112 First Ave.
Refined technique, artful plating, not-so-cheap Hunanese noodles, and more.
15. Just for Fen
229 First Ave.
A spare rice-noodle shop representing the southwestern province of Guizhou.
16. Le Sia
11 E. 7th St.
Beijing-style shellfish boils, distinguished by your choice of sauce, heat level, and add-ons.
17. Little Tong
177 First Ave.
Yunnanese rice noodles from a wd-50 alum.
18. Lumos Kitchen
188 Second Ave.
Fancy French-Chinese (black-truffle-foie-gras terrine) and baijiu cocktails.
19. Málà Project
122 First Ave.
A destination for Sichuan dry pot, in which you pick and choose from 70-odd ingredients and have the kitchen stir-fry it up with an arsenal of spices.
20. Mango Mango Dessert
23 St. Marks Pl.
The eponymous fruit as a juice, a sundae, a mille cake, a pancake, a slush-o.
(Etcetera.)
21. Meet Fresh
37 Cooper Sq.
Taiwanese desserts in all their taro-ball, grass-jelly, tofu-pudding, bean-soup, shaved-ice glory.
22. Mimi Cheng's
179 Second Ave.
Taiwanese-American dumplings for the Instagram age, with monthly guest-chef collaborations that keeps things interesting.
23. Mochii
116 E. 7th St.
Chinese-owned shop dedicated to the Japanese art of mochi, mentioned here for its trio of Chinese tang yuan, glutinous-rice dumplings in an osmanthus-ginger soup.
24. 99 Favor Taste
37 St. Marks Pl.
Bilevel hot-pot spot with requisite table grills and condiment bar.
25. NuNoodle Noodle + Bar
130 First Ave.
Look for more Taiwanese-beef-noodle soup from this forthcoming branch of an Elmhurst shop as soon as Con Ed turns on the gas.
26. Shimiaodao Yunnan Rice Noodle
33 St. Marks Pl.
Yunnanese rice-noodle soup a dozen ways, including pickled fish, tomato ribs, and the legendary Crossing the Bridge.
27. Szechuan Mountain House
23 St. Marks Pl.
The signature dish of the Flushing Sichuan import is the strips of pork belly and cucumber slung over a rack like socks on a clothesline.
28. The Tang
120 First Ave.
A self-identified "contemporary Chinese noodle bar" that riffs on authentic regional flavors.
29. Tim Ho Wan
85 Fourth Ave.
This dim sum specialist is the first American branch of "the world's cheapest Michelin-starred restaurant."
30. Xi'an Famous Foods
81 St. Marks Pl.
Flushing-food-hall stall made good, spreading the Western Chinese gospel of liang pi cold-skin noodles and spicy cumin lamb burgers.
*A version of this article appears in the July 9, 2018, issue of New York Magazine. Subscribe Now!