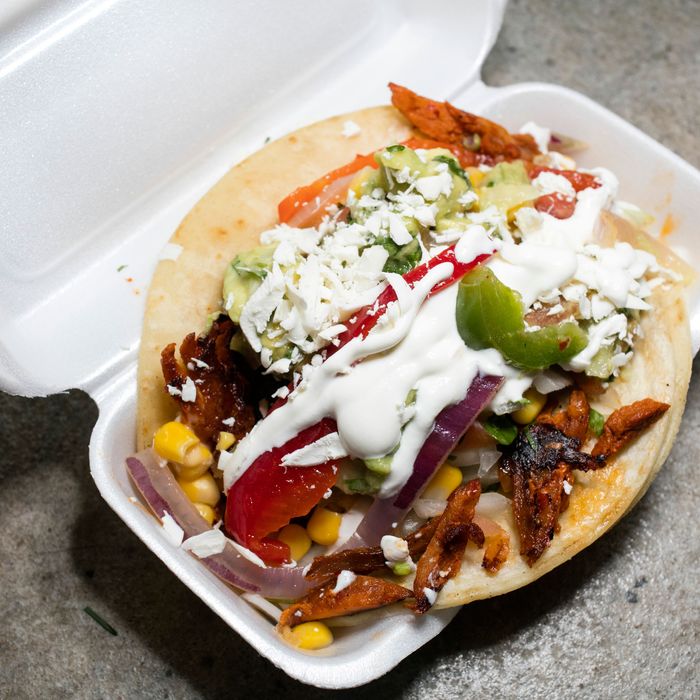 A Taco Mix masterpiece with the works.
Photo: Melissa Hom
Here's some pretty great news out of the blue: Taco Mix, East Harlem's 27-year-old al pastor specialist, is just weeks away from opening its third location, at 90-04 37th Avenue in Jackson Heights.
Taco Mix figured into this site's survey of the city's best taquerias, in part because of its brawny trompos. In traditional al pastor style, cooks load up the spiky apparatus with several pounds of chile-marinated pork, which slowly caramelizes on an open flame while rotating on a revolving spit. The technique keeps the one part of the meat basted with fat while the other develops a charred, crisp edge, and cooks wield scimitarlike knives to shave slivers of meat directly onto warm tortillas below.
The first Taco Mix debuted in 1991, on a frenetic stretch of East 116th Street, with a menu of spit-roasted pork tacos and not much else. Over the years, and at the request of customers, the menu has expanded to include pumpkin-blossom quesadillas, ham-and-cheese sincronizadas, and more. "We're very careful with what we do," partner Alejo Sanchez told Jackson Heights Post. "The recipes really distinguishes us from other places."
An Industry City location sprouted up in 2015. And there's more good news. Sanchez, who runs the restaurants with his parents, says that a Delancey Street location will also open this fall.