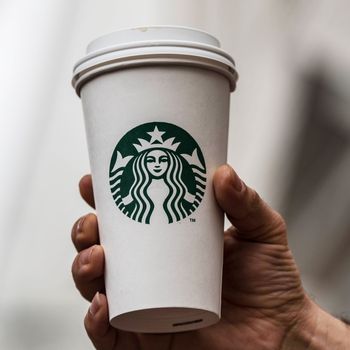 Photo: Yasin Ozturk/Anadolu Agency/Getty Images
Bad news for Starbucks's already spotty reputation: Yet another employee displayed deplorable behavior toward a customer. The encounter took place in Philadelphia, where a patron with a stutter was allegedly mocked twice by the same barista.
NBC 10 reports that a customer named Tan Lekwijit was grabbing coffee with his friend Sam at a Starbucks in the University City neighborhood. Sam, who stutters, told the barista his name — an everyday experience already imbued with certain anxiety — the barista apparently responded, "Okay, S-S-S-Sam." When the pair received their orders a few moments later, the label on Sam's cup read "SSSam."
Sam reached out to Starbucks's customer service, which responded by saying that they apologized for the fact that he "felt disrespected" over the way his name was spelled. They offered him a $5 Starbucks gift card.
Dissatisfied with the response, Lekwijit took to Facebook, where he wrote, "I am writing this not because I want to get anybody into trouble, but because I want to raise awareness among the employees. There are many people with speech disorders who are in a worse position than my friend's and struggle with self-esteem and self-confidence. Getting this kind of treatment from people, especially service employees, only scars them — and I beg Starbucks employees to have this in mind."
Starbucks responded in kind, saying, "Our local leadership has reached out to Sam to better understand what took place and the specifics of his experience and apologize directly. We have zero tolerance for discrimination and are addressing this immediately." According to company leadership, the offending barista was fired.