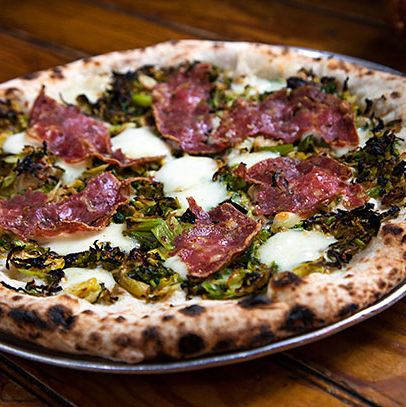 More pizza is never a bad thing.
Photo: Dominic Perri
Roberta's will finally get its sequel. As had been floated, the Bushwick pizzeria will open a second location at 260 Kent Avenue in the Domino Sugar Factory redevelopment with a planned debut in fall 2019. According to a statement from developer Two Trees Management, the restaurant will occupy just shy of 2,300 square feet in a ground-floor space.
Roberta's is the latest major talent acquisition for the developer, which has also lured in Lilia's Missy Robbins; Clinton Hill beer bar and gourmet grocer Mekelburg's; and Danny Meyer, who opened Tacocina in the adjacent Domino Park. Like other developers, Two Trees is essentially creating a culinary playground for a new neighborhood. The space that Roberta's will move into in this $3 billion, 11-acre project is a far cry from the restaurant's beginnings in a former garage that, initially, didn't even have gas. Suffice it to say, the rough-around-the-edges, DIY charm of the original probably won't be the same at this shiny new location. But still, more great pizza!