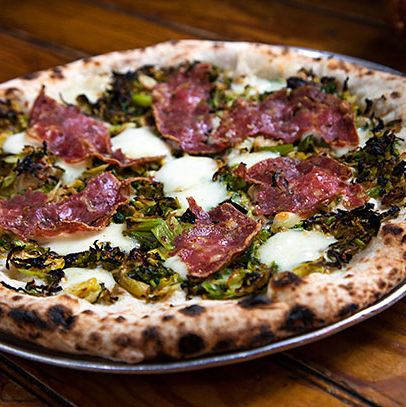 Roberta's pizza.
Photo: Dominic Perri/Dominic Perri
Bushwick pizzeria Roberta's has had expansion plans for years now, but nothing has come of it except a few food-hall stands and a robust pop-up business. Those plans may finally come to fruition, as Eater NY reports that the restaurant's owners are set to sign a lease in the Domino Sugar development. The news comes from developer Two Trees' managing director of external affairs, David Lombino.
Domino is a $3 billion, 11-acre project that includes a waterfront park and several buildings, including 260 Kent, which, when it opens, will be the neighborhood's tallest building. (It will also be home to Roberta's if the deal goes through.) It's the latest example of the master-planned neighborhoods that have been popping up in New York, including Industry City, and most famously, Hudson Yards. To lure in residents, the developers often bring in big-name culinary talent to open restaurants. Along with Roberta's, there will be a new restaurant from Lilia's Missy Robbins, who won this year's Best Chef: New York City at the James Beard Foundation Awards; Clinton Hill favorite Mekelburg's; and Danny Meyer's Tacocina in the aforementioned park.
Since opening a decade ago, Roberta's has been a roaring success, defining a particular north Brooklyn aesthetic and style — while also having a rocky history that includes a bitter lawsuit between its founders and a wage lawsuit. In 2016, the billionaire Tisch family was supposed to make a serious investment in Roberta's that would allow for expansion, but it didn't work out. Despite not panning out, it led to the exodus of staff, including key players like Anthony Falco, the man responsible for Roberta's gonzo pizza. This, too, represents a change for the ramshackle restaurant. What will the Tiki Bar in this dressed-up Williamsburg development look like?