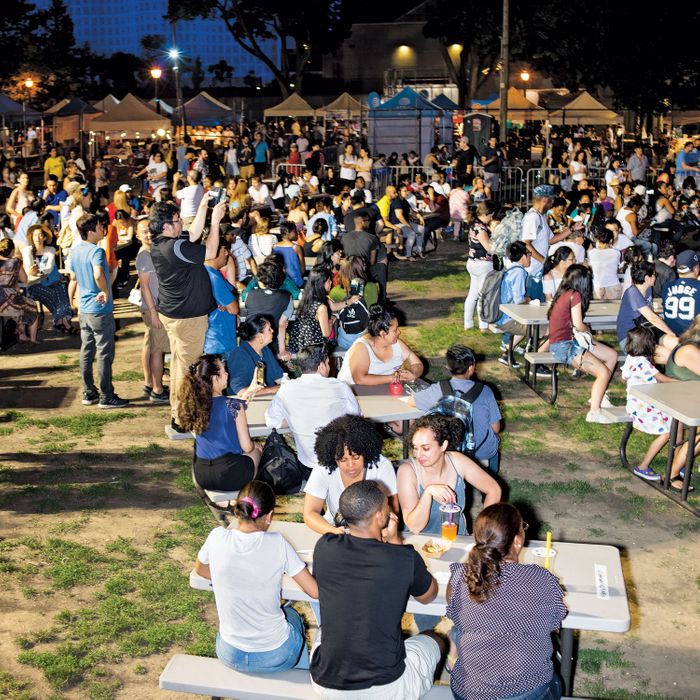 A world of flavors under the Queens night sky.
Photo: Brian Finke
All outdoor food-festival opportunities fall somewhere on the spectrum from street fair to Smorgasburg, but to jaded New Yorkers weary of the lines and the Instagram bait, they all start to look (and taste) the same. This is not for lack of trying. But personality, and food personalities, are hard things to manufacture, even in the most industrious of home kitchens. The stars must align to make a food market a true destination, an intentionally temporary, easy-to-construct-and-disassemble world that has its own smells, its own flavor, its own terroir.
Such is Queens Night Market, midway through its fourth season behind the New York Hall of Science in Flushing Meadows–Corona Park. When you first arrive a little before the gates open at 6 p.m., the alfresco food bazaar seems, with its concrete lot and frenzied vendors bracing for the mob, much like any other. But as the evening progresses, you start to notice the distinctions: the diverse crowd, both in ethnicity and age; unexpected amenities like portable sinks and a curtained ATM; the calm and patient geniality of the vendors, happy to explain their food and culture; the aromas permeating the lot, uniting farflung points on the globe in one gloriously multicultural cookout.
Inspired by the Taiwanese night markets of his own heritage and this city's polyglot population, founder John Wang has stated his mission as representing every country that has a presence in New York (at last count, he's up to 80, with 55 or so rotating food vendors on any given night). On one recent evening, smoke curled skyward from Percy's Jerk Hut in one corner and Gi Hin Mama Food in the other. Between the bookend plumes ensued brisk sales of Indian chat and Sichuan "naanwiches," Taiwanese popcorn chicken and Italian porchetta sandwiches, al pastor tacos and Malaysian kaya toast.
Beyond the edible (and, with everything going for $5 or $6 a plate, affordable) geography lesson, much of Queens Night Market's magic can be ascribed to the setting and the hour. At night, in the dark, perspectives shift and the city falls away.
Children roll down a grassy hill in rented Knockerballs; adults unwind in the wine-and-beer section; all ages boogie down on the dance floor. Eventually, the food lines shrink to a manageable hum, and even after the hordes have had their fill, they linger.
A Queens Night Market Five-Course Feast for $26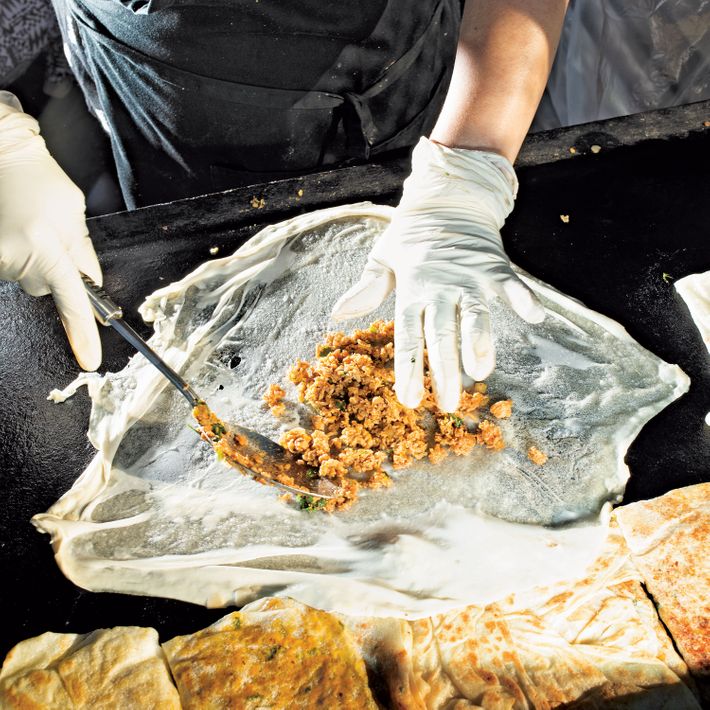 Keema Palata from Burmese Bites, $6
Spicy minced chicken gets wrapped in paper-thin flatbread, griddled, and cut into bite-size pieces.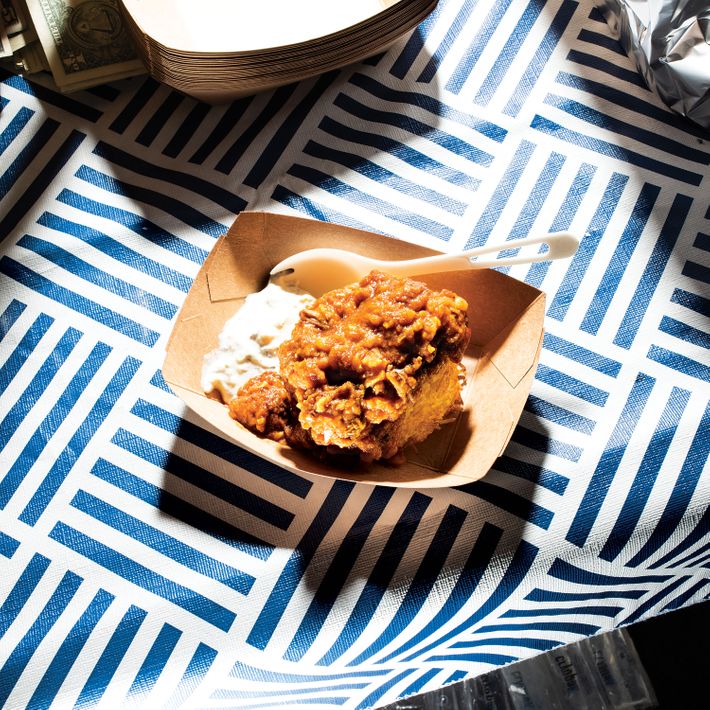 Persian Rice Cup at Joon, $6
Like a miniature bread bowl but made from crispy saffron rice; get it topped with turmeric-spiked beef stew.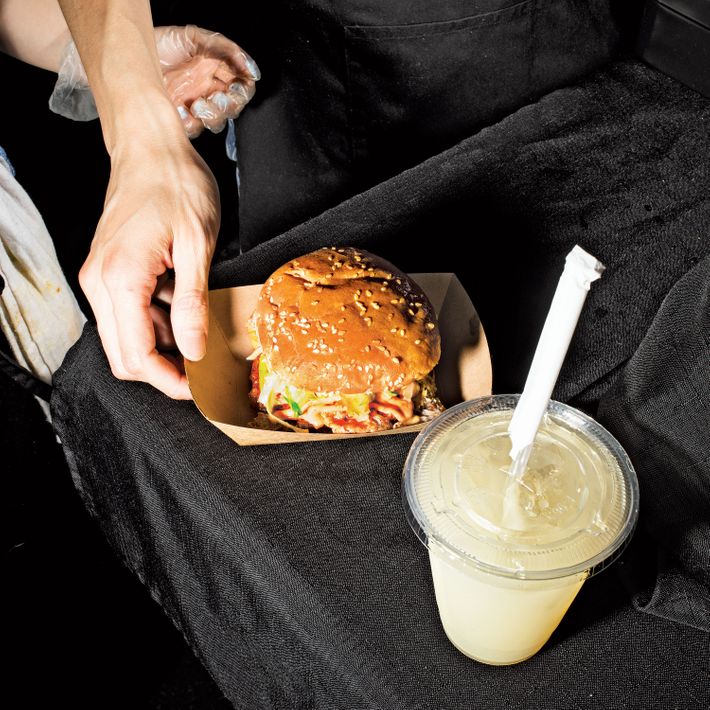 Malaysian Sensation #1 at the Malaysian Project, $2
This refreshing stuff is made from soursop juice, pandan syrup, and lime zest (pictured with their egg-wrapped Ramly burger).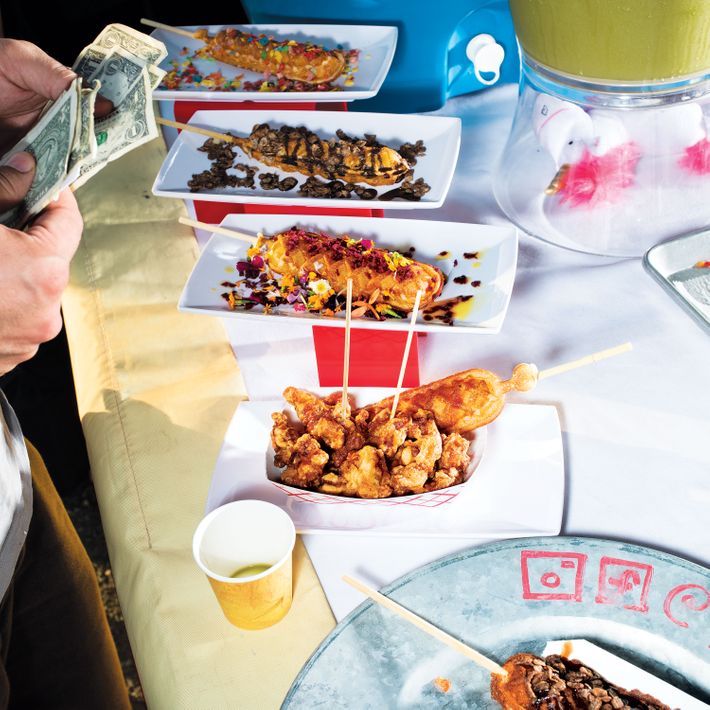 Japanese Chicken N' Moffles at Moffle Bar, $9
It's mochi in a waffle on a stick. Plus fried chicken. Pure street-food dynamite.
Pastel de Nata at Joey Bats Sweets, $3
This Portuguese egg tart is like the love child of a crème brûlée and a croissant.
Saturdays, 6 p.m. to midnight; 47-01 111th St., Corona; queensnightmarket.com.
*A version of this article appears in the July 9, 2018, issue of New York Magazine. Subscribe Now!