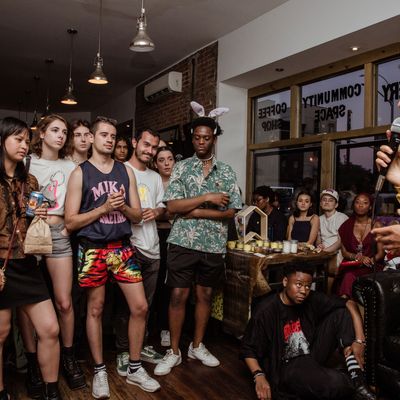 On July 7 and 8, Playground Coffee Shop–associated nonprofit Playground Youth hosted its Midsummer Playground Art Fair.
Photo: Scott Heins
When in 2005 a 60,000-square-foot Home Depot opened in Bedford-Stuyvesant, Brooklyn, it was one of many omens of what was to come. The home-improvement giant did what big-box retailers tend to do when crash-landing in local communities with fertile real-estate potential: By offering a high volume of low-cost construction supplies, it inadvertently encouraged large-scale redevelopment of the historically black neighborhood, and precipitated the closure of small local businesses. This was the same time period that Brownstoner revealed "the secret to finding a brownstone for under a million bucks": just look in Bed-Stuy, one of "the ripest spots in Brooklyn." Over a decade later, Bed-Stuy is now America's tenth most gentrified area.
Zenat Begum's father, Zainul Begum, owned the hardware store Abedin Construction Supplies on Bedford and Quincy. Long having felt the effects of Home Depot's takeover, and after 20 years of business, he closed up shop in 2015. "When we cleared everything out, he was like, 'Do you want to do something with this?'" Zenat Begum, who is 24, told me last week.
At the time, she had just graduated from the New School with a degree in economics, Chinese, and history. A freshman during the Occupy Wall Street protests, she was full of radical ideas for what the space could become. Seeing an opportunity to push back against the neighborhood's changing face, Begum told her dad she wanted to open a coffee shop, but one with a more politicized mission. It would be centered around people of color and marginalized communities, eventually with a bookshop, events, and an educational nonprofit. The result is Playground Coffee Shop.
"Over time, I was like, 'Fuck it, I'm just going to create my own nonprofit and do shows for kids who look like me,'" explained Begum, who is Bengali-American. (Her parents emigrated from Bangladesh.)
Her dad, uncertain the idea was sustainable, told Begum that if it didn't work out in a year, they were going into real estate.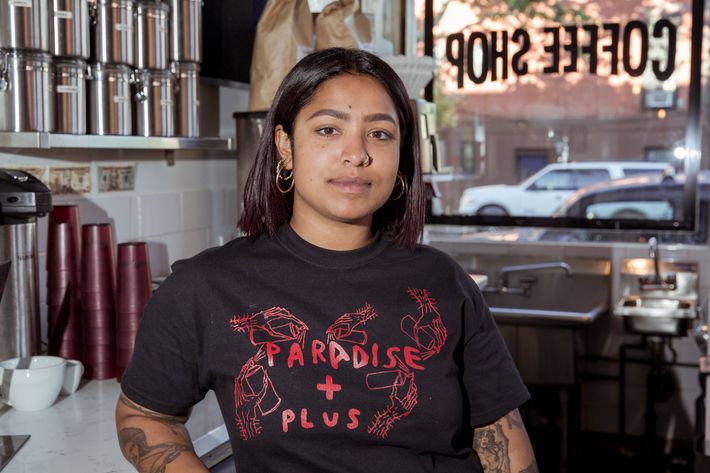 On Saturday, July 7, Playground Coffee Shop had been open for more than 20 months. Begum, along with a community of artists, friends, family, and staff, was celebrating the launch of Playground Youth, the nonprofit that she had dreamed up in the nascent days of her business. The shop, normally an open space with solid wood tables where people crib free wifi and drink $2.50 coffee, was transformed.
The celebration took the form of a weekend-long art fair, with stick-and-poke tattoos, zines, and miniature paintings by Fizz Publishing, art by Kelechi Azu, VHS tapes from the Basement Labs, body butters from Asana Ra Holistic Care, and handmade goods from a handful of other vendors. There was free popcorn and cans of Brooklyn Summer Ale. The vibe was convivial — many of the people who filtered in and out knew each other, particularly the shop staff. And the bookstore that Begum had talked about from day one was open, selling art books, zines, jewelry, and merch (frequently made by artists of color).
Currently, the entire coffee shop and nonprofit's staff are people of color. Tann Parker, the events manager and nonprofit secretary, says this tends to have the effect of making white people feel left out.
"People get caught up in like, 'Oh, I can't [come to events] because I'm white.' If you're thinking that, then maybe you shouldn't," Parker explained. "If your intentions are to help build, then you're welcome. We prefer to support marginalized people because our voices get lost."
To help those voices stand out, the shop is deliberately radical: Coffee and bookstore sales support their events — like open mic nights, opportunities for women to have their nameplate necklaces photographed, self-defense workshops — most of which are free or donation-based. In the instance of a yoga class that was geared toward creating a safe space for POC, one white woman took offense. "We put POC-preferred on the flyer," Parker told me, which didn't mean POC only. "She was like, 'Well I don't define myself as white.'"
Juxtapose this ethos against the local controversy of Summerhill, which opened in gentrifying Crown Heights in 2017. Co-owned by a white woman from Toronto, the bar advertised its "bullet-hole ridden wall" and Forty Ounce Rosé, which many saw as tone-deaf and racist. Protests, and an open forum for residents, followed, and the bar's owner, Becca Brennan, issued a formal apology. It was only after the protests that Brennan vowed to participate in the community around her. (Interestingly, Summerhill has attained a more positive reputation after Crown Heights native Wallahi Oyo came on as chef and co-owner, though there are still skeptics.) In contrast, Playground hasn't had to grandstand: Those community-forward values were baked into the business model from the beginning.
"As often as we want to refer to socialism as a thing and we want people to benefit from that and get on the same level, I think it's important for me as a business, within a capitalistic structure, to give back to my community," she explained. Begum grew up in Park Slope but feels deeply connected to Bed-Stuy after years of hanging around her dad's store. "You can do events out of a small-scale shop and have its magnitude be larger than [its physical size]." (In the interest of disclosure, I should mention that Begum loaned sidewalk space for two bake sales that I organized to benefit World Central Kitchen and the Young Center/RAICES Texas.)
With Playground Youth launching free or donation-based alternative educational classes this fall — on sewing, zine-binding, baking, barista training, and more — Begum and her nonprofit board members, Parker and Rifat, Begum's sister, hope to fulfill their larger mission. The "Youth" in Playground Youth is merely suggestive — "Youth is about anyone who wants to join and help contribute to our neighborhood," Begum explained.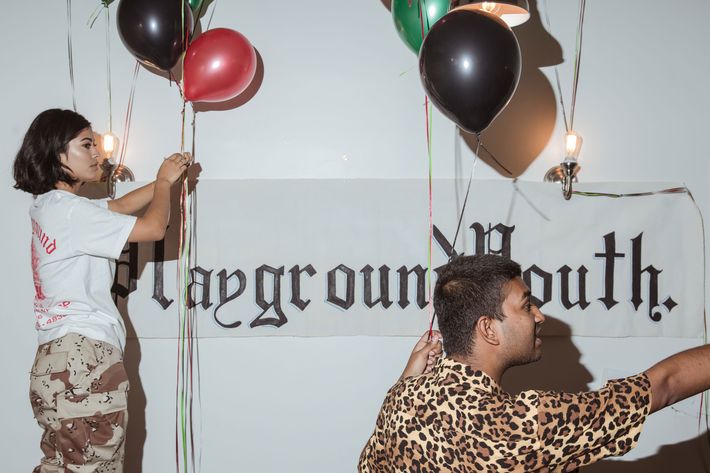 As a new establishment in a close-knit community, Playground is not off the hook when it comes to gentrifying. Both Begum and Parker think often about this dissonance — Begum as a nonblack woman with the privilege of higher education, and Parker noting that the shop is frequently in service of gentrifiers who opt for matcha lattes over bodega coffee. "We are trying to serve everyone in the neighborhood and be accessible to everyone, but one demographic that is coming in are living in those brand-new, renovated five-story apartment buildings," Parker told me. (There is one of those buildings — with a "virtual doorman," game room, and roof deck — and another being built across the street, all within two blocks of the shop.)
Begum tries to think about her efforts in a Robin Hood–ish way. "Okay, yeah, I serve gentrifiers every day, but I'm taking their money and putting it back toward something really cool." She continued, "There are white people who care and white people who don't. They're going to live here for a few years, raise a family, then leave. That's not my community."
Begum's community is the crowd who came through for the art fair, the people who wear Playground shirts and share their posts on Instagram, and the marginalized groups that both her changing neighborhood and the world beyond it have historically tried to keep out. Playground is staffed by people who want to bring them in.
"We're kids running our own shit, not 40-year-old people curating galleries," she said. "It's personal to us."