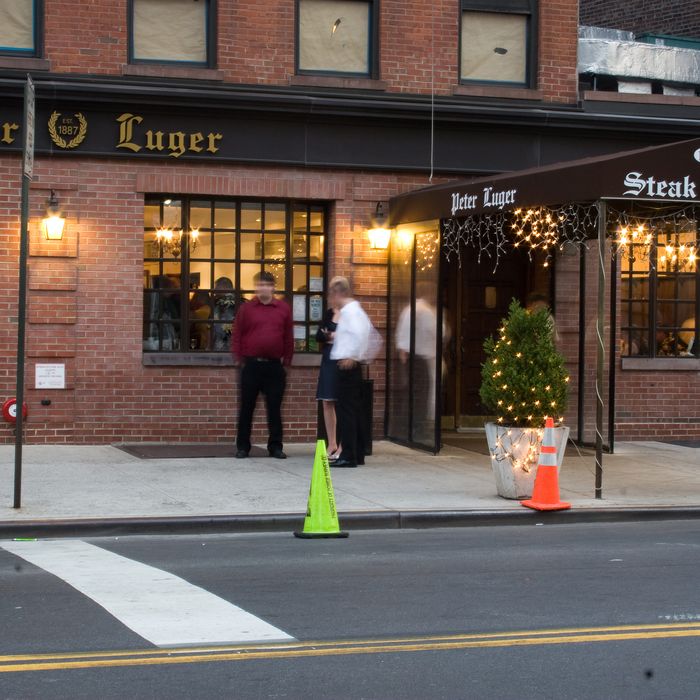 The original Peter Luger in Williamsburg.
Photo: unknown
They're taking the porterhouses to Tokyo. Peter Luger is the most famous steakhouse in Brooklyn, if not all of New York (and, therefore, the world), where it's served chops in the shadow of the Williamsburg Bridge for 130 years. It's so popular that people at least accept that it's cash-only — except for holders of the golden Peter Luger's credit card. When the owners expanded for the first time, they played things close to the vest and went to nearby Great Neck. Not this time. Peter Luger has announced that it will expand to Tokyo — a bit of a longer trip than, say, Montauk — in 2020.
The Tokyo Luger will be the first outside of New York and is part of an exclusive contract with the Wondertable, Ltd., the restaurant operator behind Union Square Tokyo. Still being planned, the restaurant is expected to be 7,000 to 11,000 square feet. You could call it another chapter in the ongoing romance between New York and Tokyo (see, in New York, the obsession with "Japanese bartending," high-end omakase, and those crazy-expensive katsu sandos). Unsurprisingly, it sounds like Luger's will grumpily, stubbornly remain the same place New Yorkers know and love to go to for steaks, lunch burgers, thick slabs of bacon, and bad creamed spinach. And while it'll be in the land of wagyu, they'll ship over the same USDA Prime beef used in the States.
There are, of course, some important questions that need to be answered. Will they export any of the old, crusty New Yorkers? Will they instead find old, crusty Tokyoites to work the floor? Will they still look at you like you're speaking Martian when you ask for a classic cocktail that isn't a Martini or Old Fashioned? And will they eventually give in to the katsu sando, but refuse to make it with wagyu? Stay tuned to find out!