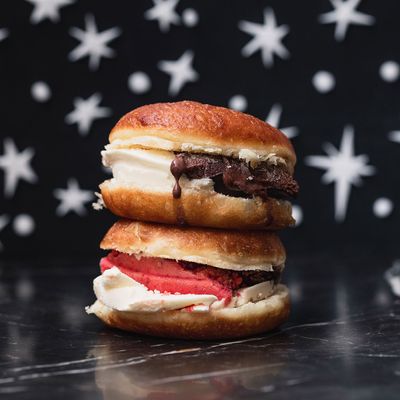 There's strawberry compote in there somewhere.
Photo: Kate Previte
Questlove recently enlisted a bunch of chef friends to do various cooking stunts on his Instagram account, for reasons that are opaque but also entirely consistent with everything we know about Questlove. Mark Ladner of Pasta Flyer put on a bonnet and made breakfast sandwiches with ice cream.
His brioche con gelato is a faithful rendition of the Italian original, which some Sicilians eat on the go in the early mornings when it feels too hot to move otherwise. At Pasta Flyer, it consists of chocolate, strawberry, and vanilla gelato doled in thirds into a fried brioche bun slicked with strawberry jam. It costs $5.
Originally, this was a one-day special, breakfast hours only. Yesterday, Ladner told Gothamist that the soft brioche sandwiches will be sold all day. Today, the news out of Greenwich Village is that the breakfast (or dessert) gelato sandwich will become a permanent part of Pasta Flyer's menu.
Sure, it may sound strange, even for folks who reflexively might otherwise agree that the world needs this. People in Sicily tend to be correct about food. "No hamburger has ever been improved by a brioche bun," Anthony Bourdain once declared, in ten words of crystalline truth. The opposite is true, of course, for gelato.