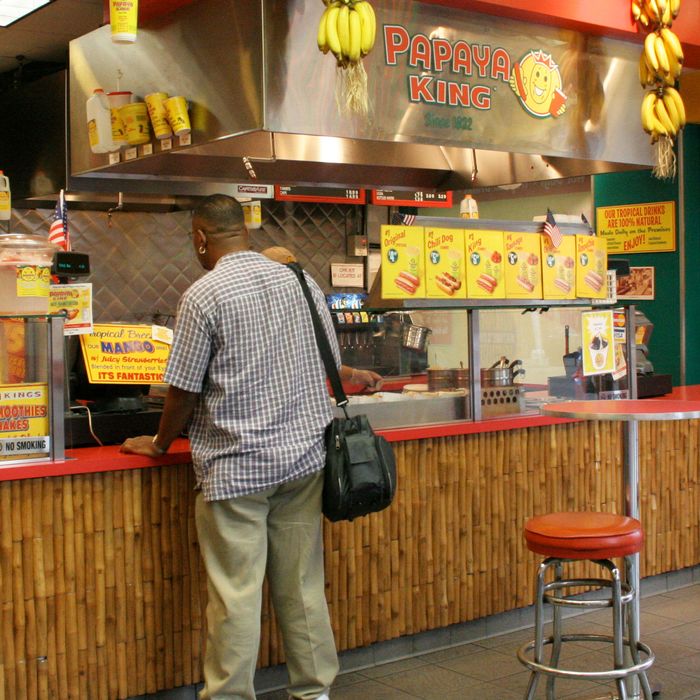 We'll always have the Upper East Side. QVC, also.
Photo: Photos by Shanna Ravindra
Last night, a reader sent in a photo of the two-year-old Papaya King on Flatbush Avenue Extension in Brooklyn. Instead of the expected throngs of customers eating frankfurters topped with yellow mustard and tangy-sweet "NY onions," there were just a pair of sad-looking locked doors. A "STORE FOR RENT" banner replaced Papaya King's signature neon.
Today, Papaya King owner Wayne Rosenbaum confirms the closure. "We are currently concentrating on other channels of the frankfurter business," he says. The company will work on national distribution of its signature dogs and tropical drinks, a rollout that includes availability through Goldbely and QVC. The mini-chain will soldier on at its Upper East Side location, which was an enduring favorite of Anthony Bourdain, who famously put out an entire spread of them at his 50th birthday party.
The famed New York City frankfurter purveyor is one of the last remaining players in the archaic meat-and-fruit-juice bargain-meal system, which also includes Gray's Papaya and Papaya Dog. "Tastier than filet mignon" is its oft-endorsed and catchy motto. New York bestowed "Best" honors on Papaya King as far back as 1985, and as recently as May of this year.
Rosenbaum didn't state a specific reason for Papaya King's closure, but the area is central to a intensifying real-estate boom, which includes sprawling food halls, like DeKalb Market nearby, that are designed to offer an exhaustive supply of meal options under one roof. "I was two years too early at that location," Rosenbaum says.