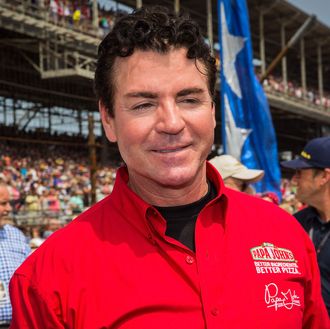 John Schnatter.
Photo: Michael Hickey/Getty Images
They are taking the "John" out of "Papa John's." John Schnatter is being excommunicated from Papa John's, the crappy pizza chain he founded 34 years ago. After Forbes reported that he used the N-word during a conference call meant to help him avoid public-relations incidents, Schnatter resigned from his role as the company's chairman last week. Now the company's board says it has ended Schnatter's role as spokesperson, will remove him from all marketing materials, and evicted him from its headquarters.
A special committee, which ordered the termination of his role as spokesperson, has requested he stop making media appearances. In a statement, Schnatter acknowledged his use of the slur. The fast-food industry in general is highly problematic, and Papa John's is no exception. Until recently, Papa John's was an NFL sponsor and Schnatter attempted to blame poor sales on anthem protests held by NFL players.
While Schnatter resigned, he's still on the Papa John's board and owns roughly 30 percent of the company's shares. That stake amounts to hundreds of millions of dollars; his Anchorage, Kentucky, mansion is assessed at $11.2 million; and he's contributed millions to centers at Universities of Louisville and Kentucky that are also supported by the Koch Foundation. In other words, he's going to be more than fine. Maybe he'll buy an island and turn it into a museum of bad pizza. Who knows?
No doubt the board is trying to save face and money. Papa John's stock has gone up and down since the Forbes report came out on July 11, and is actually slightly higher than it was that day. Still, over the last year, it has fallen 4.43 percent from $76.60 to $51.18. Same-store sales in North America, similarly, dropped 5.3 percent during the first quarter, as its lost ground to Domino's and Pizza Hut.