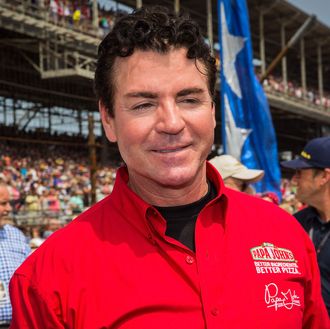 John Schnatter.
Photo: Michael Hickey/Getty Images
John Schnatter, the 56 year-old chairman, founder, and former CEO of fast-food chain Papa John's, resigned yesterday hours after apologizing for using a racial slur during a conference call. Details about how he used the word are scarce, but the thing is, it doesn't matter.
Forbes reported that the May conference call with Laundry Service, a marketing company, was meant to serve as "a role-playing exercise for Schnatter […] to prevent future public-relations snafus." Schnatter was asked how, in the future, he might distance himself from racist groups including neo-Nazis, which have declared open admiration for Papa John's. Multiple people included on the call confirmed that Schnatter said "Colonel Sanders called blacks …" the N-word.
This, and another comment Schnatter made, in which he talked about his upbringing in Indiana, where "people used to drag African-Americans from trucks until they died," were apparent attempts on Schnatter's part to distinguish himself as slightly less racist compared to more outspoken racists, in some imaginary pantheon of racist fast-food titans.
"News reports attributing the use of inappropriate and hurtful language to me during a media training session regarding race are true," Schnatter wrote, in a statement in response to the Forbes article. "Regardless of the context, I apologize. Simply stated, racism has no place in our society."
Hours later, in a separate, 50-word statement, Papa John's announced it had accepted Schnatter's resignation, and that it would announce a new chairman soon.
This isn't exactly an isolated incident in the fast-food industry, which despite endless reinventions, launches, and fetishization, is still the worst. In recent years, Papa John's has been investigated for wage violations, and workers have been accused of racism.
The chain is a longtime NFL sponsor, and last year Schnatter publicly blamed sluggish sales on the ongoing controversy over football players who knelt during the national anthem in an act of civil disobedience. This prompted the Daily Stormer, the neo-Nazi website that lost its domain host after celebrating violence during the Charlottesville protests, to dub Papa John's the "official pizza" of alt-right white supremacists with a Photoshopped "Sieg Heil" pie sporting a swastika doled out in pepperoni slices. Two weeks elapsed before Papa John's issued a statement in the form of three tweets that attempted to make peace with NFL player-protestors, and shareholders, presumably, plus distance itself from its apparent neo-Nazi fan base. In November, instead of condemning hate and racism in words, phrases, or even complete sentences, the chain opted to use a middle-finger emoji. In December, Schnatter stepped down as CEO.