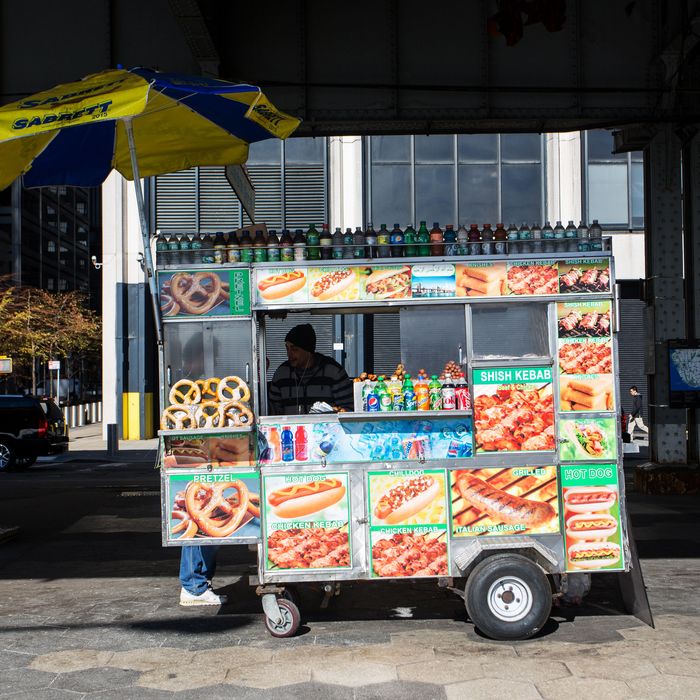 Photo: Karl Blackwell/Getty Images
On Monday, New York City's Department of Health and Mental Hygiene published details of a potential new rule requiring street carts and other food-vending operations to be outfitted with GPS trackers. The Post reports that the measure is part of a larger effort by the government organization to give every vendor in the city a letter grade, a strategy officials say would be impossible without knowing the location of every single cart. (DOH officials say they can only locate about 80 percent of food vendors at present.) Critics of the proposed rule, however, say that because a majority of vendors are part of immigrant families, GPS trackers seem like a good way to let ICE know exactly where they are at all times.
In the wake of thousands of migrants being forcibly separated from their children for illegally crossing the U.S. border and a serious uptick in ICE raids, activists and the city's immigrant community are understandably on edge.
Health Department officials said they wouldn't share the GPS data with any agency, including ICE, unless legally required to do so. But that's cold comfort to the people it puts at risk.
"This is really on de Blasio," Sean Basinski, a co-director of the Street Vendors Project advocacy group, told Gothamist. "Every time I hear him on the freaking radio he talks about how it's a sanctuary city. And if you're going to be a sanctuary city, you cannot be tracking our immigrant street vendors."
If the measure passes next month, Basinski says his organization will consider suing the Health Department for violating the Fourth Amendment, which offers protection from unlawful seizure, search, and surveillance.