A provider of a wide-reaching service that facilitates cash-free transactions at farmers' markets will end its service at the end of the month, the Washington Post reported earlier this week. This could present a serious challenge to people who shop for bread, meat, and fresh local produce using SNAP benefits at 1,700 or more farmers' markets across the country. Novo Dia Group, the company that provides the platform, cited a number of reasons for the decision, including profit loss and apparent signals from USDA that suggest the agency has new plans. In New York City, all 50 of GrowNYC markets use the soon-to-be-discontinued platform.
"It's very alarming," said Barbara Turk, the mayor's director of food policy. "It's absolutely a New York City story, as well as a Boston story, an Austin story. I put out feelers to my colleagues in other cities, to see who else is in the same boat. We're all very concerned about this."
Cheryl Huber is the Greenmarket assistant director at GrowNYC. "We have about 20,000 individual SNAP recipients who shop at the markets, 60,000 total transactions a year," she said. Low-income families, people with disabilities, and others spend a combined $1 million each year on fresh food.
In the last decade, the ability to spend SNAP (or Supplemental Nutrition Assistance Program, once known as food stamps) benefits at farmers' markets has become indispensable to those on public assistance, as well as to the city's economic health. New York City has 1.7 million recipients on SNAP; that's one in five New Yorkers.
At greenmarkets, SNAP users get a bonus of $2 for every $5 they put on their electronic benefit transfer card, or EBT card for short. The 40 percent incentive, known as Health Bucks, can only be used on fruits and vegetables. Some $400,000 Health Bucks were redeemed last year.
Huber said that a third of all SNAP redemptions happen at the Union Square Greenmarket, probably because it remains the city's most accessible public market, despite its associations with high-income couples from Gramercy Park doting over Thumbelina carrots, or earnest celebrity chefs loading up granny carts with Tristar strawberries. Bargains abound; not all prices are fixed. People on SNAP can buy hake or cherrystone clams from P.E. & D.D., for example, which sells better-quality seafood, and often at a lower retail price than at supermarkets.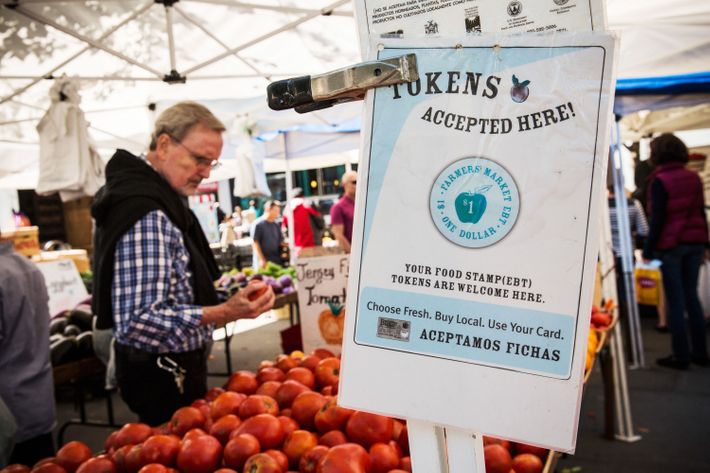 For market operators, Novo Dia Group's upcoming service interruption isn't a straightforward case of migrating from one tablet-powered payment system like, say, Square to another off-the-shelf merchant service. Its platform is highly specialized, allowing users of SNAP to buy directly from food vendors by converting SNAP benefits into tokens or other market currency, through a state-issued EBT card, which works like debit.
Josh Wiles, who founded Novo Dia Group and serves as its president, told the Post that SNAP program administrators brought in a company called First Data earlier this year, and its platform was at odds with Novo Dia's app Mobile Market Plus.
Then, in April, the USDA awarded a $1.3 million contract to Financial Transaction Management to run the SNAP payment system, and moved forward without Novo Dia toward a replacement platform, the specifics of which have not yet been made clear. The development confused Wiles. "Our assumption was that we would be able to, for lack of a better word, bid on [the government contract], or at least be contacted [about our services]," he told Modern Farmer.
It's unclear how long Financial Transaction Management's replacement strategy will take to implement. Speaking on the condition of anonymity, a person familiar with these systems said that platform swaps are not unexpected, but typically they are introduced over time, with plenty of warning and built-in adjustment periods.
Huber indicated that GrowNYC has been working around the clock to solve what will likely be a food-stamp blackout. "We found out last Tuesday," she said.
Novo Dia Group's platform is also deployed at Youthmarkets and at distribution sites for GrowNYC's Fresh Food Boxes, which serve underserved neighborhoods by offering pre-filled, CSA-style bundles of home-cooking staples such as beans, eggs, and root vegetables. In all, that's 30 sites that aren't counted in Huber's figure of 20,000 SNAP users who visit markets.
More than 100 markets across the state currently accept SNAP through an EBT card swipe. Harvest Home is another example of a group that runs many smaller-scale markets throughout the city, often in neighborhoods with endemic health issues.
Down to Earth operates nine markets in New York City, including a vibrant sprawl of vendors who set up Sundays in Park Slope near the Old Stone House. Emily Lee, who serves as territory manager and oversees community relations for the organization, cited a government-mandated security update as a cause for an earlier, temporary outage of Novo Dia's Mobile Market app. "As these updates were taking place, we couldn't process transactions," Lee said. She said the prospect of a longer blackout was devastating.
The Post reports that Financial Transaction Management, the Reston, Virginia, company that was awarded the USDA contract, was only recently created — Financial Transaction Management LLC began operations on October 25, 2017 — and that FTS will start to accept applications for replacement equipment starting July 14, but that it "will take at least several weeks for applications to be approved and the equipment to be distributed." This points to a blackout in service of at least a few weeks, and possibly longer.
Financial Transaction Management doesn't have much of an online footprint. Its Bloomberg company profile offers no information. According to GovTribe, a company that provides "tools and data to help federal government contractors" through data mining, Financial Transaction Management has one employee and was awarded a contract of $1.3 million on April 19.
An online search of the listed street address matches a suite within a Reston, Virginia, industrial complex building. It's home to a company called Intelligent Office, which provides online and real-world services, such as meeting rooms and phone-answering solutions. Several small businesses — including a senior-citizen transportation service, a nonprofit, a real-estate company, a mover, and a financial planner — share the same physical address. FTM and the USDA did not immediately return requests for comment.
Major changes to the administration of SNAP were part of the $867 billion 2018 farm bill that failed in the House in May. In February, the White House's fiscal budget for 2019 floated a proposal that would have gutted SNAP benefits and replaced them with something called "America's Harvest Basket," poorly described as a "Blue Apron–style" box of mass-produced food.
Just as this week's so-called attack on breastfeeding was seen as a thinly veiled effort to bolster the profits of corporations, critics dismissed the "Harvest Basket" as a scheme to boost the bottom line of multinational food companies.
The five boroughs are home to 500,000 undocumented immigrants who, despite New York's sanctuary-city status, are still targeted by ICE. U.S. Citizenship and Immigration Services states that receiving SNAP or other food assistance will not affect the outcome of immigration cases, and that refugees, asylees, disabled noncitizens, victims of domestic abuse, and others can all qualify to receive benefits.
Regardless, public assistance is increasingly becoming a battlefield for immigration issues. In March, Reuters reported on a prospective Department of Homeland Security rule that would allow applicants for certain visas and green cards to "establish that they are not likely at any time to become a public charge." Officials would check to see if an applicant or family members received SNAP, and scrutiny would extend to the applicant's American-born children. (The Times relayed the results of a study showing that the majority of children within immigrant-headed households receiving SNAP benefits are American citizens.)
A 52-year-old undocumented immigrant from Mexico last year told the AP that she discontinued SNAP, even though she was mostly feeding her teenage daughter, a U.S. citizen, because she was "afraid of being in the food stamp system." Similar stories have been reported in Texas, Maryland, and California. A 2017 NPR report cited extraordinary difficulty finding on- or off-record sources for their own story, which an advocate chalked up to heightened concern among immigrants.
The market system's inability to process SNAP payments may also have serious consequences beyond SNAP users and greenmarket regulars. Because it effectively channels money to produce growers, fruit purveyors, fishermen, cheese makers, livestock farmers, and bakers, markets strengthen local food systems and economies in ways that large corporations cannot.
"It's one of the things that makes me come to work in the morning, to democratize food access," Turk said. "Why would we go back? It's a vendor change, not a policy change, but there's this unintended policy consequence that's huge."
It's unclear how long the outage might last, but as Emily Lee noted, any effects in New York City will be felt immediately. "We have people who will walk a mile to shop at a market," said Lee. "When we can't accept payment, it's significant."