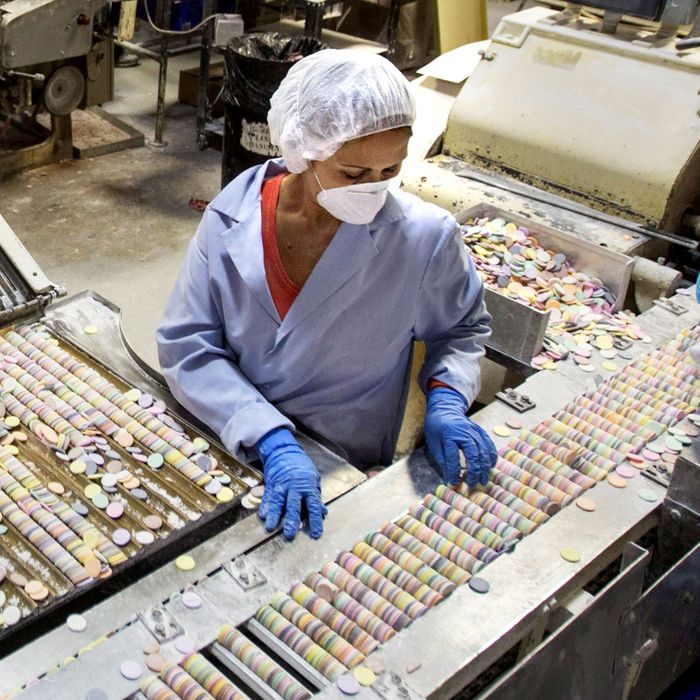 Photo: Scott Eisen/Bloomberg via Getty Images
Last Tuesday, a new chapter unfolded in the Necco-factory saga after hundreds of workers were abruptly laid off by owners Round Hill Investments LLC. In a statement, Round Hill told the Boston Globe that just two months after purchasing the 171-year-old candymaker in a bankruptcy auction, the company had decided to sell the makers of Necco Wafers and Candy Hearts to another as-yet-unnamed national candy company and would cease operations at its factory in Revere, Massachusetts.
Now, MassLive reports that two former factory workers, Dexter Main and Francesco D'Amelio, have filed a class-action lawsuit against Round Hill — owned by the billionaire Metropoulos family — accusing the company of failing to give workers advance notice of the factory's closure, which they say violates the Worker Adjustment and Retraining Notification Act.
Until last week, many Necco employees believed they would have their jobs at least until the end of November when the factory's lease was set to expire. That no longer being the case, Main, D'Amelio, and others are asking for 60 days of back pay in addition to attorneys' fees.
This isn't the only lawsuit Round Hill Investments is facing. The company is also being sued by the trustee handling Necco's bankruptcy case for allegedly trying to avoid a final payment of $1 million for the candymaker, which Round Hill officials say they were withholding because they were not made aware of a warning issued by the FDA to Necco for health-code violations.