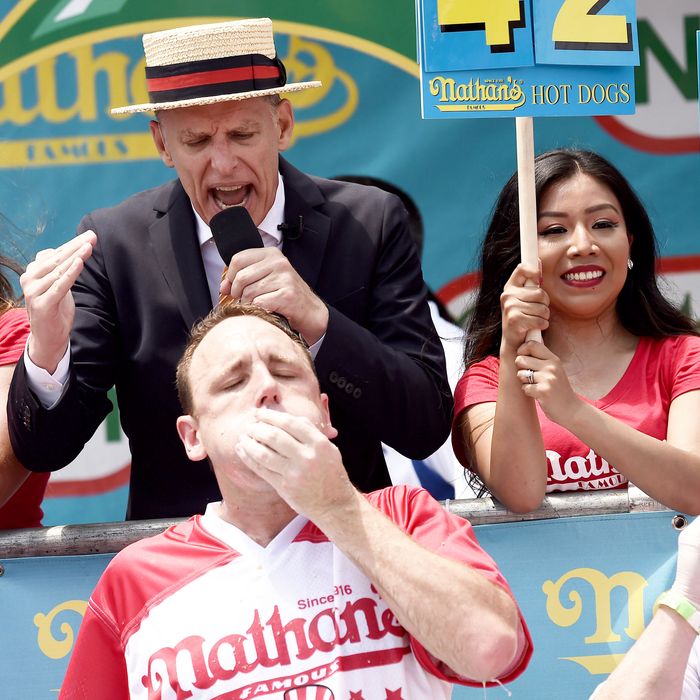 Joey Chestnut set a new world record at this year's contest.
Photo: Steven Ferdman/WireImage
There's no doubt that competitive eating is a real sport that takes real skill. Like other sports, things can get a little messy when it comes to keeping track of details, maybe messier, because let's face it: It's really easy to lose count after watching someone slam a fourth or fifth hot dog into their mouth, like a human pile driver.
That was the case at this week's Nathan's Hot Dog Eating Contest. Joey Chestnut, the Michael Jordan of competitive eating, consumed a world-record-setting 74 hot dogs and buns in just ten minutes. But when the buzzer went off, only 64 hot dogs and buns had been counted because two empty plates were missed by officials.
It was a "Moonlight, not La La Land"–level embarrassment for Major League Eating, the organization behind the competition, leading MLE president Rich Shea to tell ESPN that the incident "might be the impetus to bring competitive eating into the digital age."
Just how MLE will do that isn't completely clear. Shea says they're considering tracking the weight of each plate, saying he doubts "we can put the microchip on the tongue or in the esophagus."