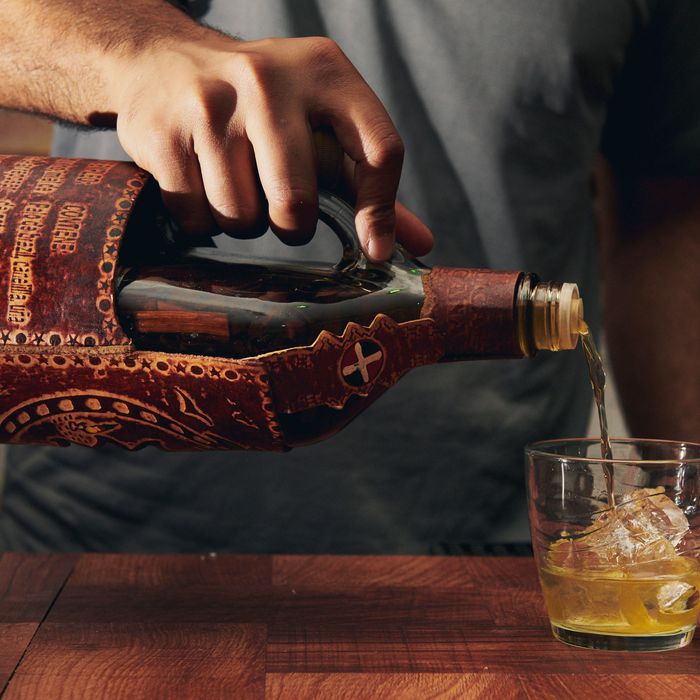 Mamajuana at El Rey de Caridad, in Morningside Heights.
Photo: Louise Palmberg
Sandy José Nuñez works as a bartender at the Aviary, the city's de facto home of molecular mixology, tucked away in a svelte corner of the Time Warner Center's 35th floor. Nuñez is usually preoccupied with deconstructed Bloody Marys and Champagne and Sichuan-pepper-infused Scotch cocktails, but his thoughts often gravitate toward a less flashy but still regal drink. His parents, a shoe salesman and schoolteacher in Inwood, keep a bottle of it in their home, as do many of the city's 800,000 residents who have ties to the Dominican Republic.
Mamajuana, which is often spelled out as two words, is the Dominican national cocktail. In a glass, it exudes smoke, spices, and caramel notes that drop off into an abyss of flavors that include the occasional herbal-sharp, tincture-like edge. As a kind of home brew, recipes vary, but the steps are deceptively simple: Start with rum, ideally molasses-heavy Brugal or cane-based Barceló. Add red wine, plus honey steeped with what often amounts to proprietary herbs and spices. Wood chips often figure in; sea-turtle penis, too, apocryphally and unfortunately. In most cases, bottles of mamajuana steep and mature in the farthest reaches of kitchen cabinets, forgotten about just long enough for bottles to develop their unique characteristics. Imagine a bottle of moonshine left on a monastery's doorstep and raised to believe it was sangria, and that's a start.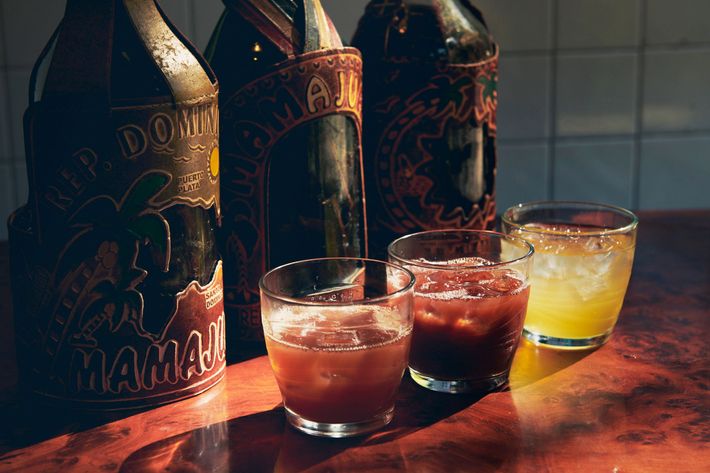 "It's rum trying to be whiskey. Well, amaro really — it's so many things, which is so nice because, for real, my people are more than one thing," Nuñez said, sipping a glass of it at Mamajuana Cafe, a few blocks from where he grew up. "You can taste the clove, the anise, the nutmeg," he said, taking another sip.
In the Dominican Republic, dictatorial ruler Rafael Léonidas Trujillo infamously prohibited mamajuana production while making an exception of medical professions. The move backfired, and enthusiasts infuse their bespoke mamajuanas with a kitchen sink's worth of ingredients that purportedly treated everything from muscle aches to arthritis, which broadened the drink's identity by extension.
Mamajuana is also called the "baby maker," and various ingredients used, like the essential oils derived from the Preciosa tree, have in fact been studied for their vasorelaxant properties. The thing to know is that around 70 years ago, a man named Jesus Rodriguez popularized a style of mamajuana that paved the way for its modern commercialization, which includes small-batch distillers and DIY kits. However, homemade mamajuana is still misunderstood — bottles filled with twigs and roots tend to freak out tourists — because of its under-the-radar existence, and a lore that calls for some ingredients to be reinfused in perpetuity.
"It's not weird," said Nuñez. "There are mainstream things we age forever, too, like Glenfiddich 50. With mamajuana there's the same level of specificity that goes into bottles of Jack Daniel's No. 7. And using the same stuff over and over is like saving the peat from Scotch." As for its low-key presence in bars, Nuñez explained: "Dominicans in big numbers are new here, though, relatively speaking. We have other things to focus on right now."
Given that New York's first immigrant settler, Juan Rodriguez, who arrived in 1613, was Dominican himself — not British or Dutch — there's a strong likelihood that mamajuana was the city's first cocktail. So what happened to it?
It's unclear, but if you can find it, drink it. There are three at El Rey de Caridad, in Morningside Heights, that are three different "hit or miss" herbal mixtures. A manager there adds that he's been trying to find the ideal rum for it ever since Brugal Gold was discontinued. At Mamajuana Cafe, the Inwood flagship of a local chain that expands to the Bronx and Queens, the mamajuana sits off to the side of the bar in five seemingly forgotten one-gallon growlers. At Caridad in the Bronx, mamajuana is off the menu, and goes for "around $10." At Bonao, in Cypress Hills, house mamajuana is $8 a shot. Order in Spanish.
"My grandparents — all of them — came here from the island and lived here in the city for 30 or 40 years without ever learning English," said Nuñez. "They didn't need to. We're like Spanish Chinatown up here."
New York has the country's second-largest Spanish-speaking population — a third of the city — and Dominicans are the city's largest group of Spanish-speakers. There's a stubborn myth that there's a "secret menu" in every Chinatown restaurant and it misses the real point, which is that it's best to find "authentic" food or drink as someone's guest in their apartment. Nuñez suggests that no one's made a big fuss about mamajuana for reasons along the same lines. "You don't see it for sale so much even in Dominican neighborhoods because we all make our own at home. But also, do you know how many people make fun of Americans for buying, like, croutons?" he said. "Why would you buy something when you can make it yourself better?"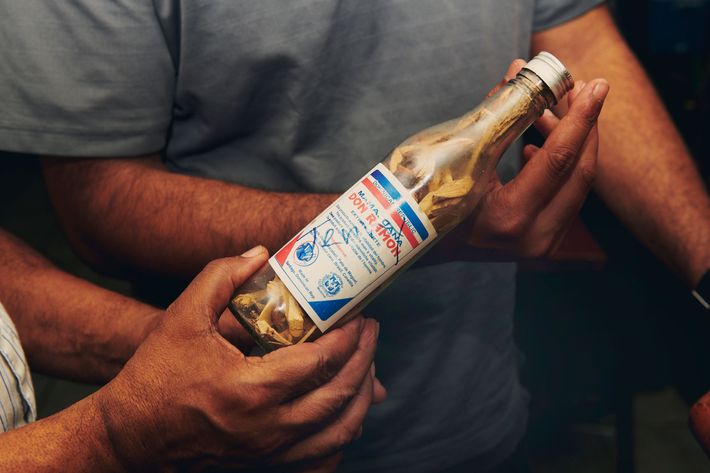 In other words, there is very little "craft" mamajuana because most of all mamajuana is actually crafted. It's not barrel-aged because the barrel is already inside the bottle in the form of wood. Mass-produced bottles can be found at, say, airport shops in Puerto Plata, Punta Cana, or Santo Domingo, but no one compares the two. Mamajuana is often aged for decades and passed from generation to generation. No two bottles are exactly alike — some are actual antiques, wrapped in stitched leather — which is what gives each bottle meaning.
"There is a magic to Dominican life. We're a happy people. But there was a price to pay. We had nothing. We lost everything. So we brought joy out of ourselves. And the fruits are magic, like mamajuana," said Robel Luan, a Dominican bartender on the Lower East Side. "It's the opposite of New York: It's not about making money off it; it's not about coolness or trendiness. It's as private and beloved as a family recipe."
Uptown, under the pulsing beat of guirra-filled bachata music, Nuñez finished his glass. "The closest that people in the rest of the city get to mamajuana is making punch." The drink does, in fact, bear a similarity to the Aviary's punchy, enigmatic steeping cocktail, the Lovely Bunch.
"It's fine that nobody knows about mamajuana," Nuñez said. "It was only like three or five years ago that anybody got into mezcal. Or elderflower liqueur. We just haven't had our moment yet."
He finished his drink. "Nobody is going to know about this unless, like, DJ Khaled blows up our spot by putting it in a song. Or Cardi B, actually. She could make it happen. She might be the only one."